If you haven't seen 'Planes, Trains, and Automobiles', well you should… then think back to the movie 'Speed'. Yes, the one with the miserable people on an LA bus…. ok, now that I've set that stage, let's move on to Day 4 of our EPIC trip.
We said our goodbyes and left Pala heading west down the canyons to Oceanside to pick up our 12:45 train. Before we even left the area, I recieved a text from Amtrak stating that our train had been delayed and wouldn't leave until 2:15. That's fine, it gave us time to stop and ship the package of stuff we bought in Temecula, along with some dirty clothes. Yup, they make great packing cushion.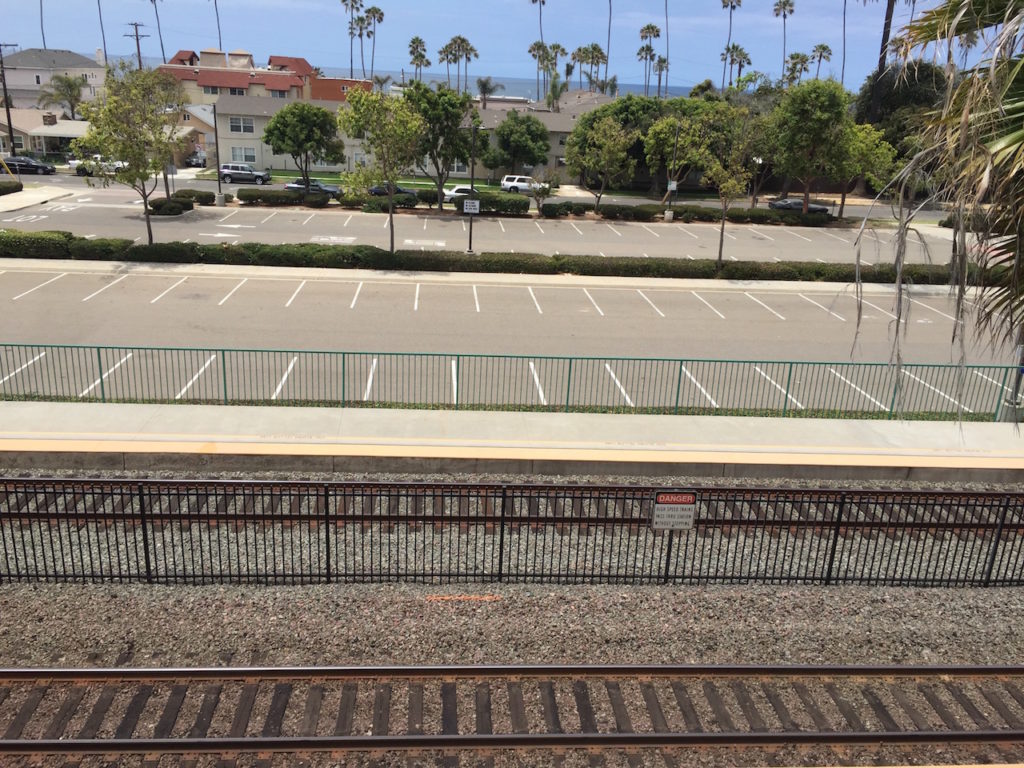 We found the Amtrak station in short order and couldn't believe how close to the beach it was. Since our train was leaving late, we ventured down to the beach to check it out.
Jon had pretty much been dubbed 'Tour Guide Jonny' after our 5 mile trek in San Diego, so he had to advertise his skills after finding the absolute perfect parking spot. Seriously, we got out and looked for the 'no parking' or 'handicap' sign…nope. This was the first spot on the corner at the Oceanside Pier.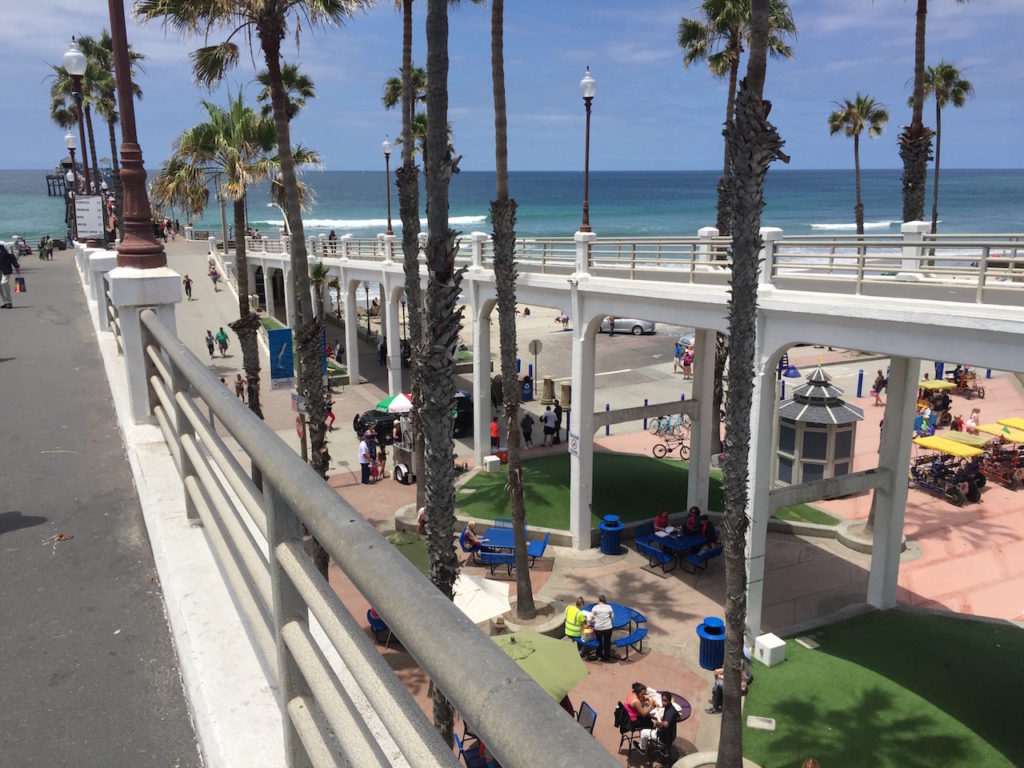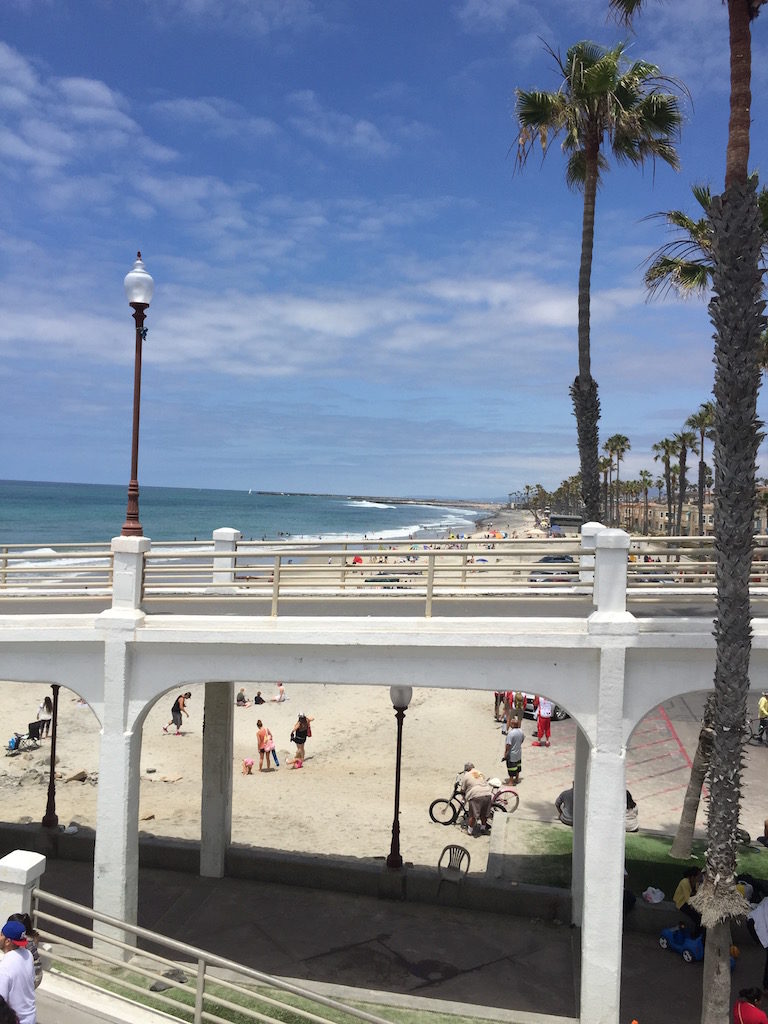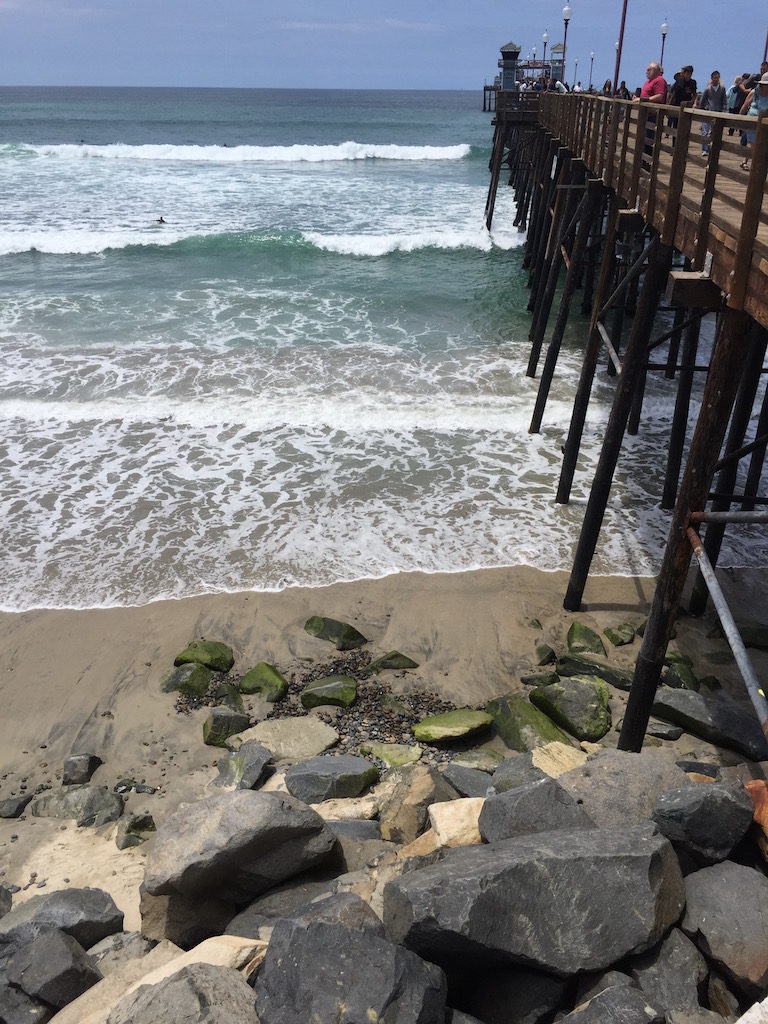 The surf was mesmerizing. The tempreature was cool and the sun was hot. Once again – I get California, I hear your call.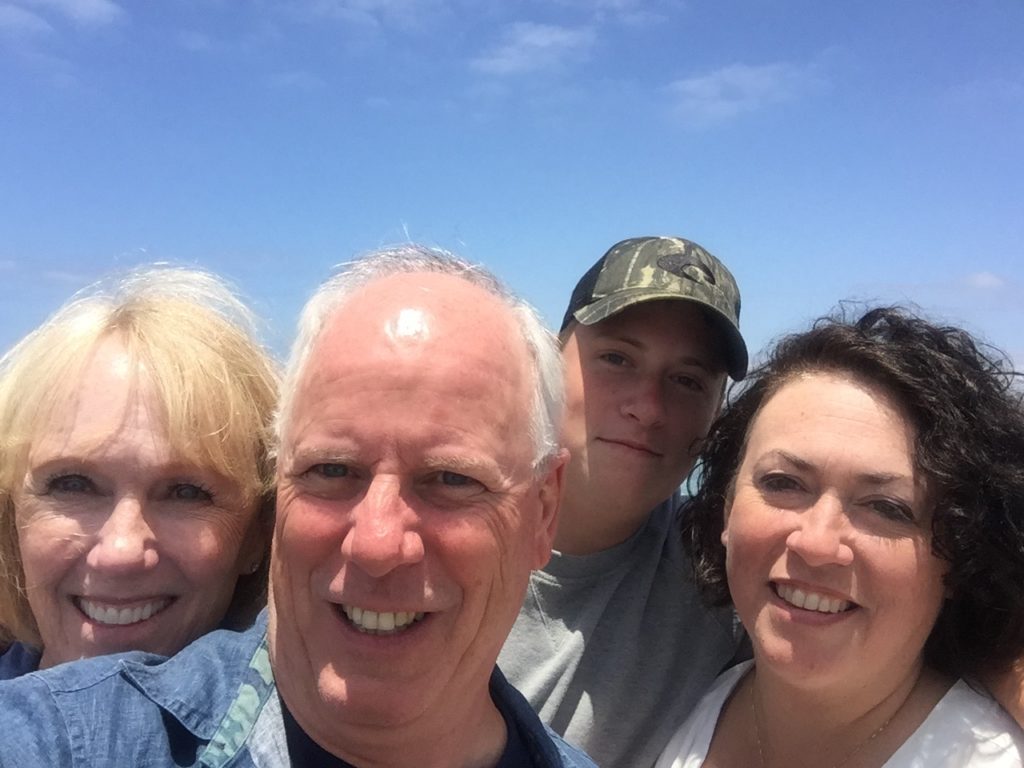 It's time to head back to the train station. At this point our traveling gang had to split up. Cyndie left us at the station and took the rental car back down to San Diego, where her flight home was leaving later that evening. Perfect.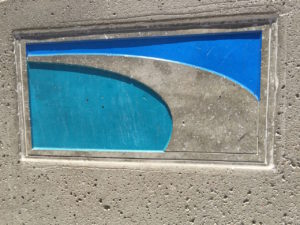 And so what was planned to be a long and comfortable journey to San Luis Obispo, degraded from the time we checked in.
We parked ourselves in a shady spot and waited…and waited. Our trip had been so good, we didn't mind, nor did we really mark the time.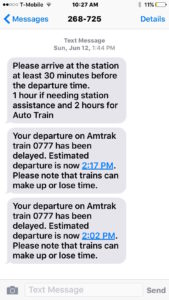 Remember when I told you about the texts I'd gotten telling us the train was late? Those weren't the first, but they were certainly the last. I'd gotten emails from Amtrak weeks before telling me of changes in departure times – within like 5 min. After that, I more or less assumed they'd keep us informed. NOT !
After a couple of trains had come and gone, Jon asked where we should really be. Were told to be on Platform 1. The whole platform on the north bound tracks was #1. Also, that the Business Class boarded at the far end. We had met some folks headed to the Northwest and was an older woman with her even older mother. We'd made room in the shade for them, but when the announcment that the train was on it's way, everyone made their way, quickly, to the far end, and waited. And waited. We lost track of the traveling ladies but thought of them later. Another 30min. … nope not our train,… then finally The Train. Or so we thought.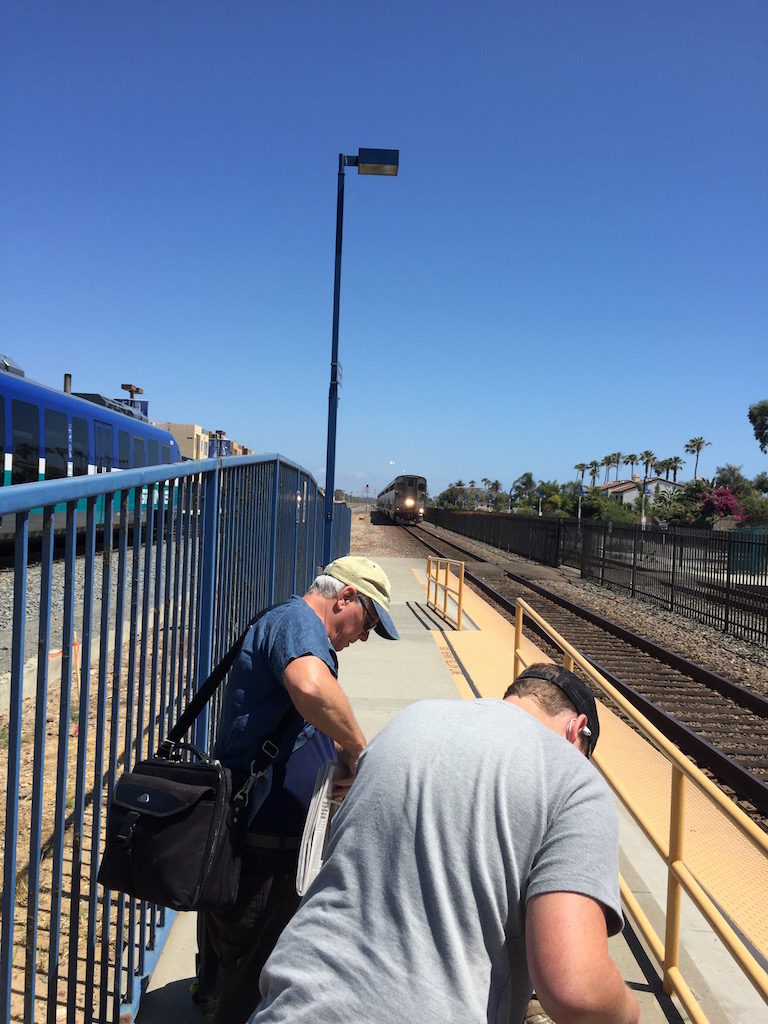 Now that the rental car was gone we were on our own to carry luggage. We all took care of our own and Jon had one extra rolling bag for hanging clothes and was about 40lb. The deal was to get aboard and relax all the way through and around the famous LA traffic. The train would end at San Luis Obispo, where we'd spend the night and pick up a rental car (suv) and continue over to Yosemite.
This train blew through and we all ended up running to the OTHER end of Platform 1 to board. Should've been the first clue. Another image of note was the lack of personnel. I guess they just assume everybody's ridden the train before.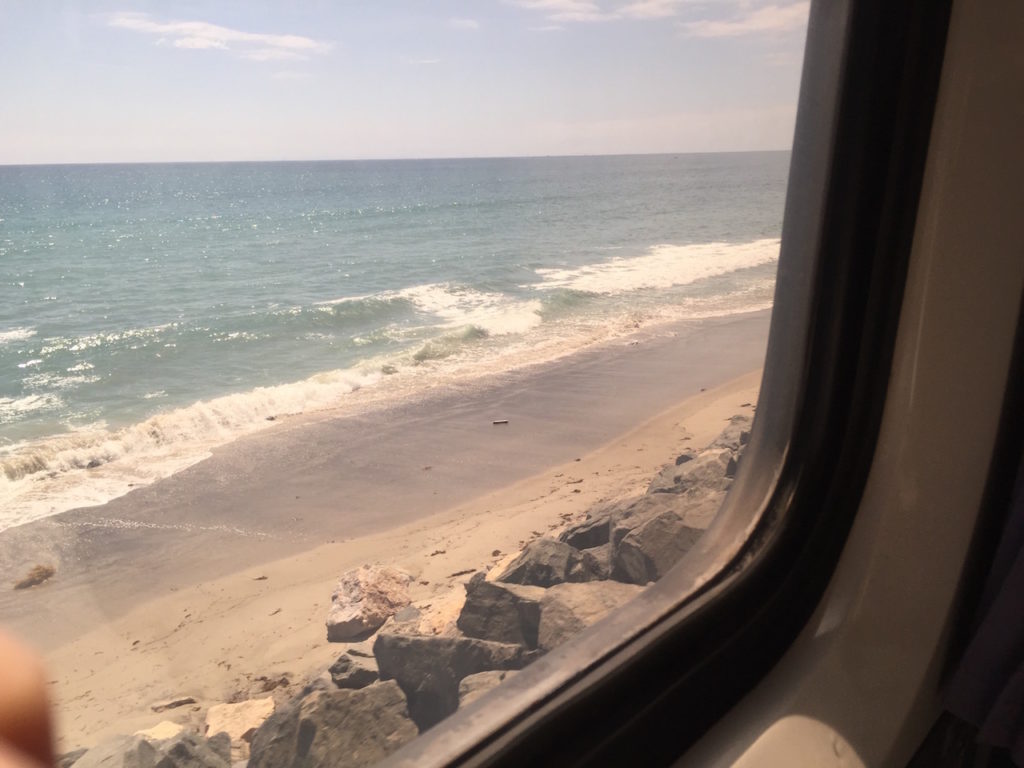 We got settled in and I thought to myself "Thank You Janet – this was an excellent call !" My sister-in-law Janet, yes the one from the wedding, is a Califonia girl and told us about the train. The locals use it all the time. I still believe it was a really good idea.
After we departed, Jon went to the dining car for a more substantial snack. He came back with a sandwich and a couple of drinks. Behind us we heard questions from other travelers asking about 'the bus to Bakersfield'. I didn't pay it much mind, since I knew from when I booked the trip that poeple going to Bakersfield had an Amtrak transfer bus, even though it was all billed as a train transport. That was until the Conductor walked up the aisle making an announcment that "This train will be stopping at Fullerton,… you will be transferred to buses and taken to Union Station to board another train going north….there has been a gas leak in LA that hasn't cleared yet,… trains cannot transit the lines through that area." Wow – gas leak?! OK, we can handle that,…I guess. Not much choice anyway. As Fullerton was a ways up, we continued to listen to people talk of this 'gas leak', that it happen last night at about 10pm and it still wasn't safe. Wow, this is pretty big. Right? A check on the cell phone came up with NOTHING. No big CNN coverage, nothing. Ok, there was one small article from the LA Times about people inconvenienced by a disturbance in the Metro service. Keep in mind, this is less than 24hrs from the mass shooting in Orlando. Either way – I smell B.S.
Jon went back to the dining car thinking to pick up something extra. The server there told him he was down to chips at this point since they normally re-stock in LA and they had been going back and forth to only Fullerton. What!? They've really been doing this all night…no text on that one. (THAT is what pissed me off – No text)
Then we arrived at Fullerton. A lovely station, with a walk-bridge over the tracks from our side of the platform to the actual station. At this point I was too busy gathering luggage to take pics. I wish I had. What started as a somewhat leisurely exit from the train quickly descended into an every-man-for-himself trek up 3 flights of stairs that were clearly not designed for the crush of several hundered people at once. Over the tracks we went and down the other 3 flights….with luggage, with babies, and little old ladies. This is when I thought of the ladies headed for Washington state. *sigh* Poor old girls, they were nowhere in sight.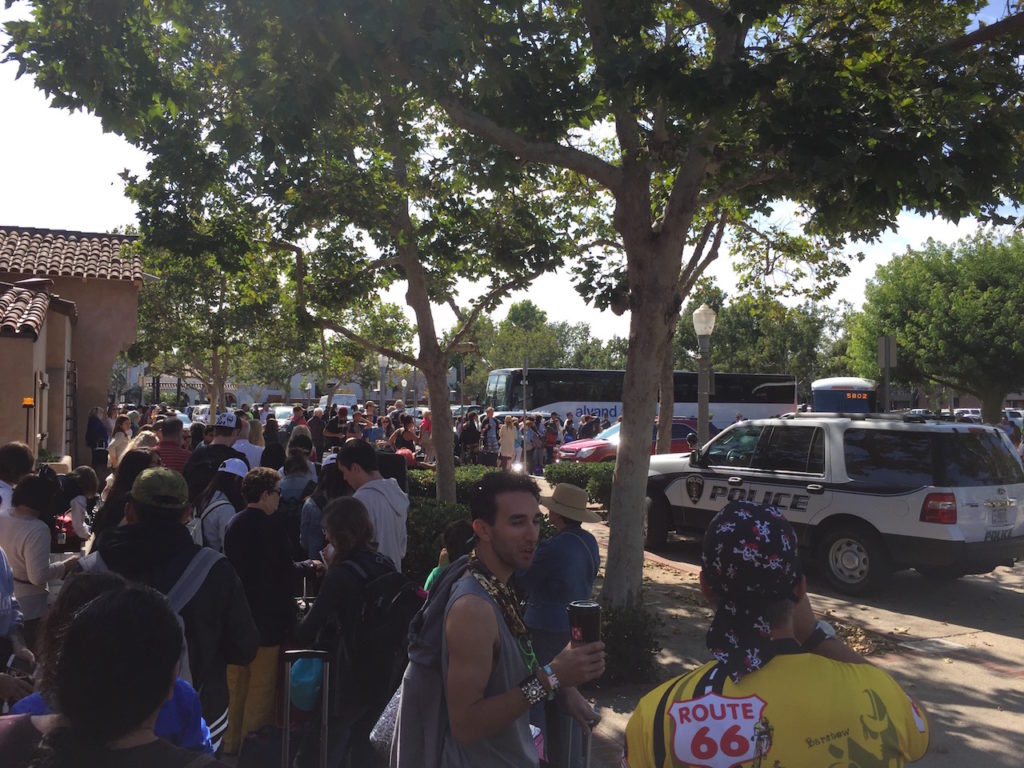 Once through the station we ended up in the parking lot area with 2 buses. Two – and one only went to Bakersfield. Keep in mind NONE of us were prepared for this. The guy in this shot with the yellow shirt had a bike with him – yeah, a bike. He'd ridden south and was taking the train back, and he had nothing. No clothes, minimal cash, and his car was miles away. At that point The Beals sort of became the entertainment selection for the ride. As I snapped this pic I said, a little too loud, "Take the train they said, it'll be fun, they said…!" Which was met with a wave of laughter and a lighter mood than was previously brewing. Note, the police presence. Jon announced he was looking for the Beer-Cart-Girl, and we had other funny people joining in. As the minutes turned into an hour or more (who knows), we finally made our way to the front of the line for the next bus….which was missing.
Our only savior from the Amtrak personnel assigned to the task, which looked to be an extra from The Beverly Hillbillies in an Amtrak jacket and holding a pda, was the coordinator from the local metro bus service. Beth, with the OCTA (Orange County Transit Authority) had several city buses sitting a stones throw from the parking lot. All cued up waiting for an ok. THAT woman was not having these people stand around any more. She was done!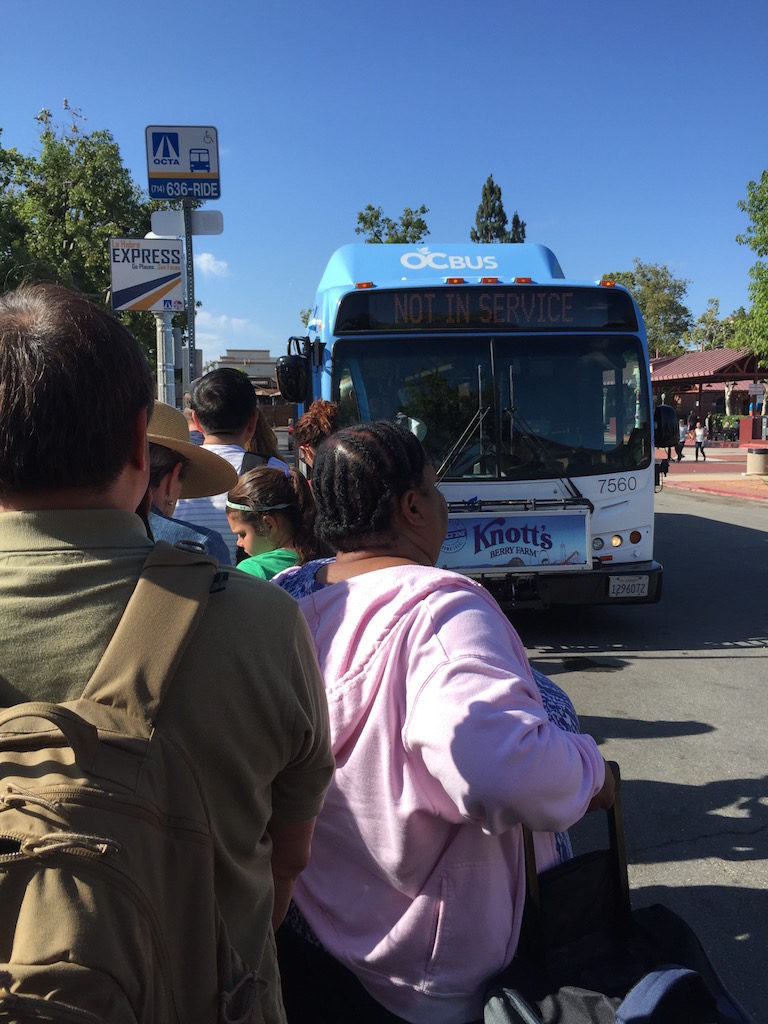 There was standing room only on both buses. We thought, sure, we can stand…"How long is the bus ride?", Jon asked. "About 45min.", Beth said. What!? Um, no, we'll get on the next bus. An we did, but being first in line meant that we ended up in the very back. Literally crammed in. We stuffed luggage behind seats, in the wheel-well, under my legs – anywhere.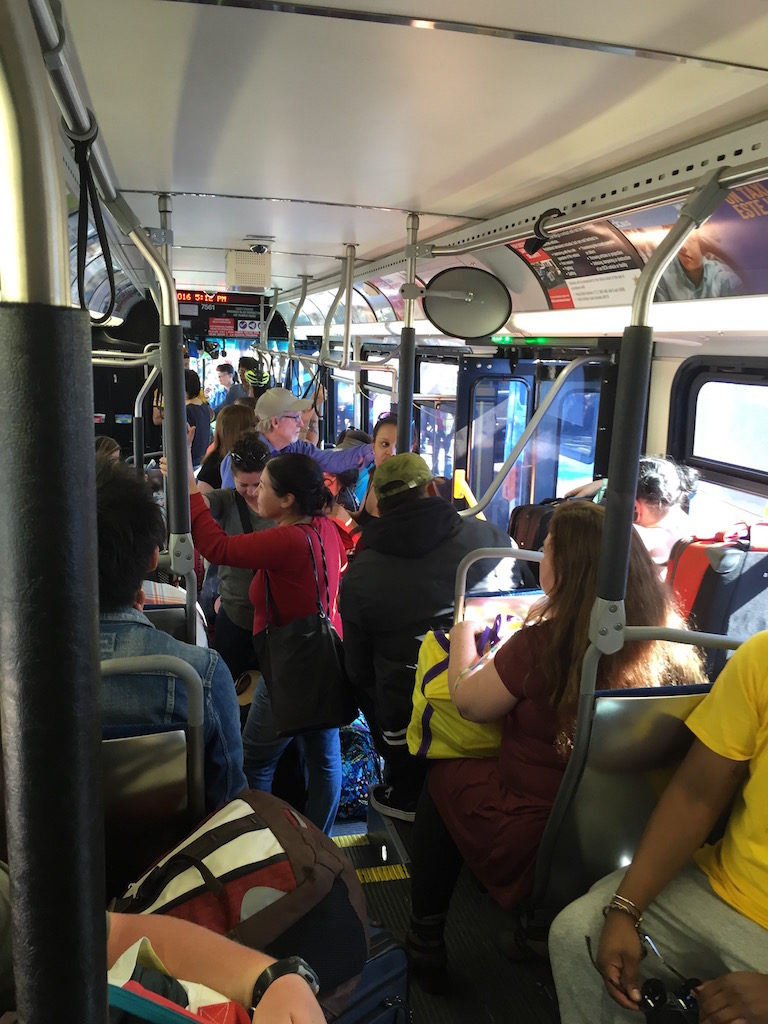 As we took off – the ride got interesting as The Beal comedy show ended and the Mexican Hermosa Loco took over!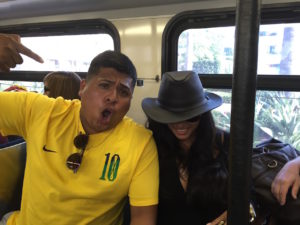 Yes, he was as loud as he looks.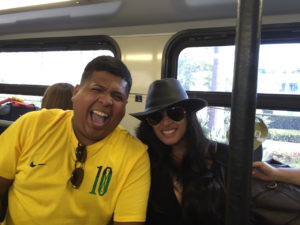 She was gorgeous even with the sunnies. She teased Will, and wanted to trade hats with Jon.
By the end of the ride, we knew too much about our traveling compadres. In the beginning they asked who spoke Spanish. Nobody said yes, although at the end, I discovered the guy next to me was named Enrique and spoke perfect Spanish, but clearly had a distain for his Latin cousins…as I would have for any loud-mouthed redneck.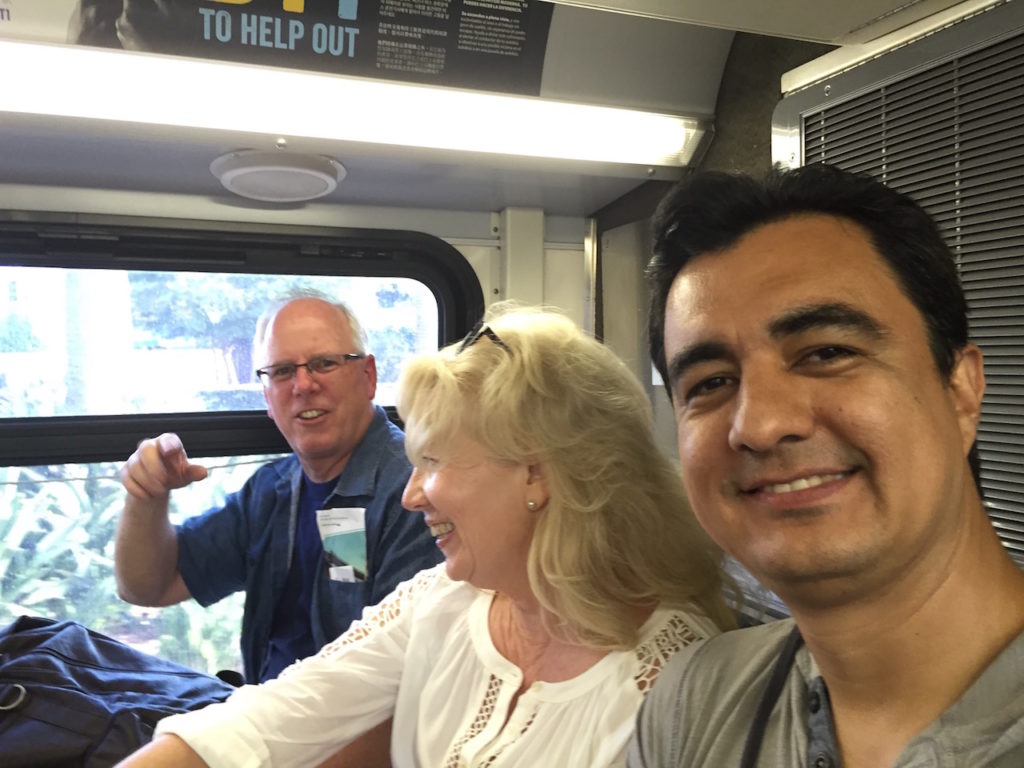 This is the point in the trip that I started to take pics of the people along our way. The lady in this pic worked in Mexico with some non-profit for kids. Enrique was happy to grant a me smile (but none for 'Hermosa').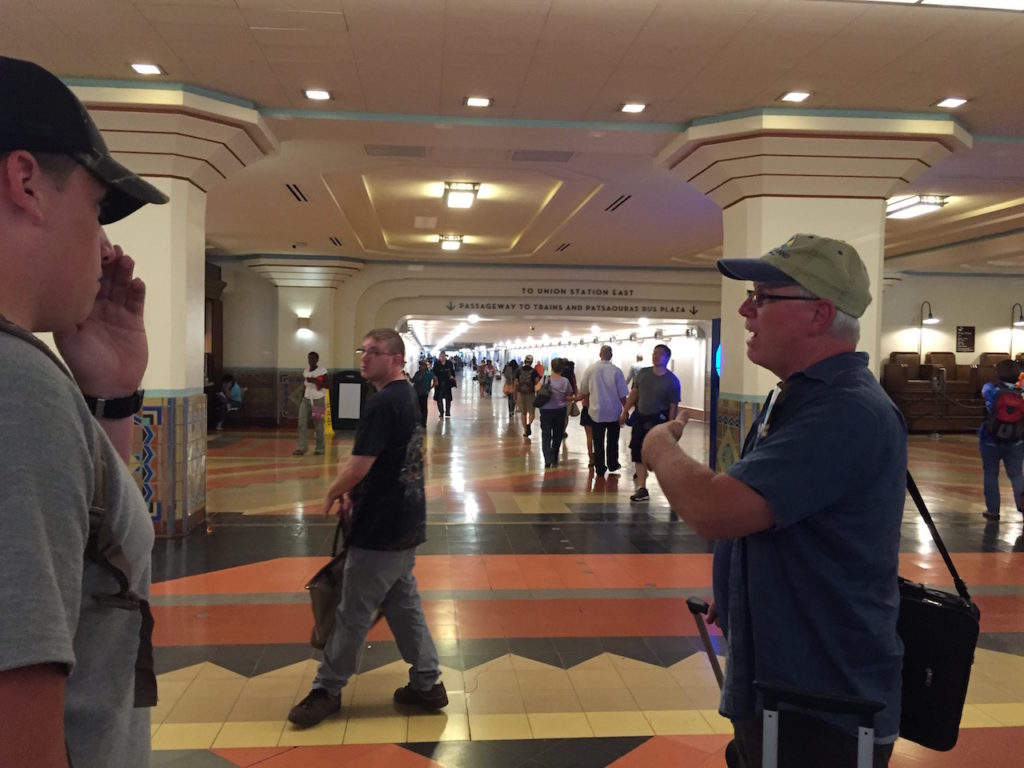 Union Station is quite large. Notice the Amtrak personel to direct us? No? Because there weren't any. Oh, no, Jon's speaking to another confused passenger. It got so bad that we started to buddy-up and run with people going to San Luis Obispo. We'd gotten off the bus, as Jon said thank you to Beth from OCTA, another official looking person pointed to the building and said, "Trains are that way." (that was a quote)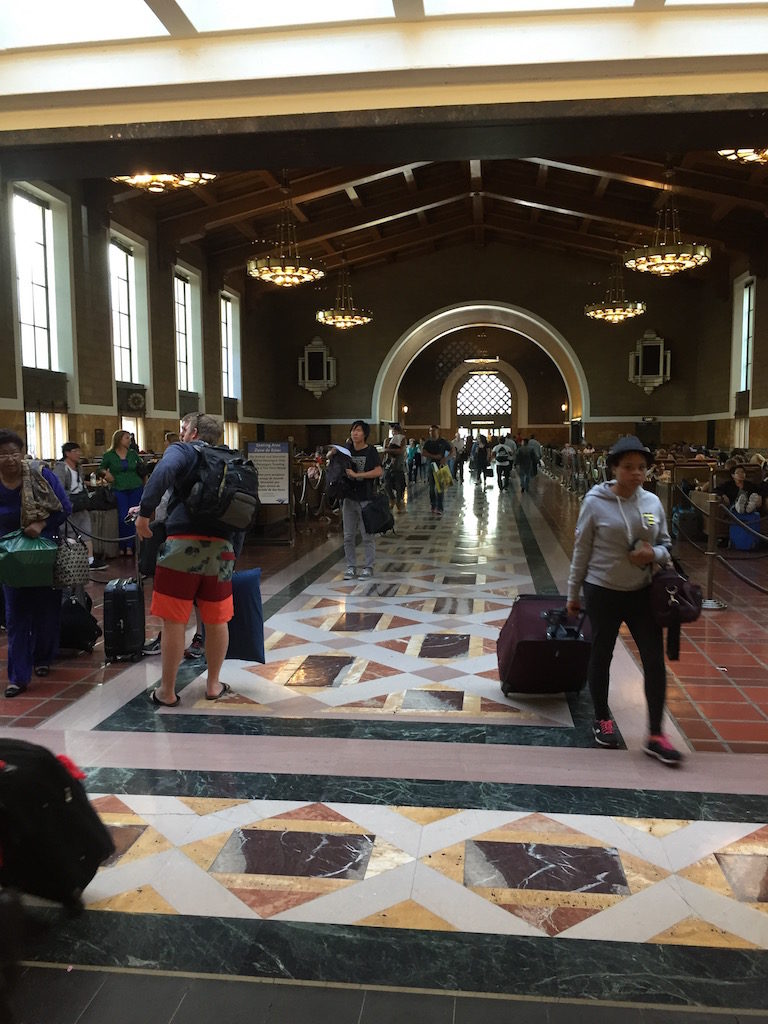 After that, we checked the boards and made a provisioning stop. No telling when we'd eat again. We started up the long walkway to the platform noted as our train. In going up the ramp/tunnel to 9B an Amtrak official on a golf cart stopped and asked if we were going to SLO (San Luis Obispo), "Oh, no, that's on 11B..next tunnel up." WTF – when were they going to tell us that!?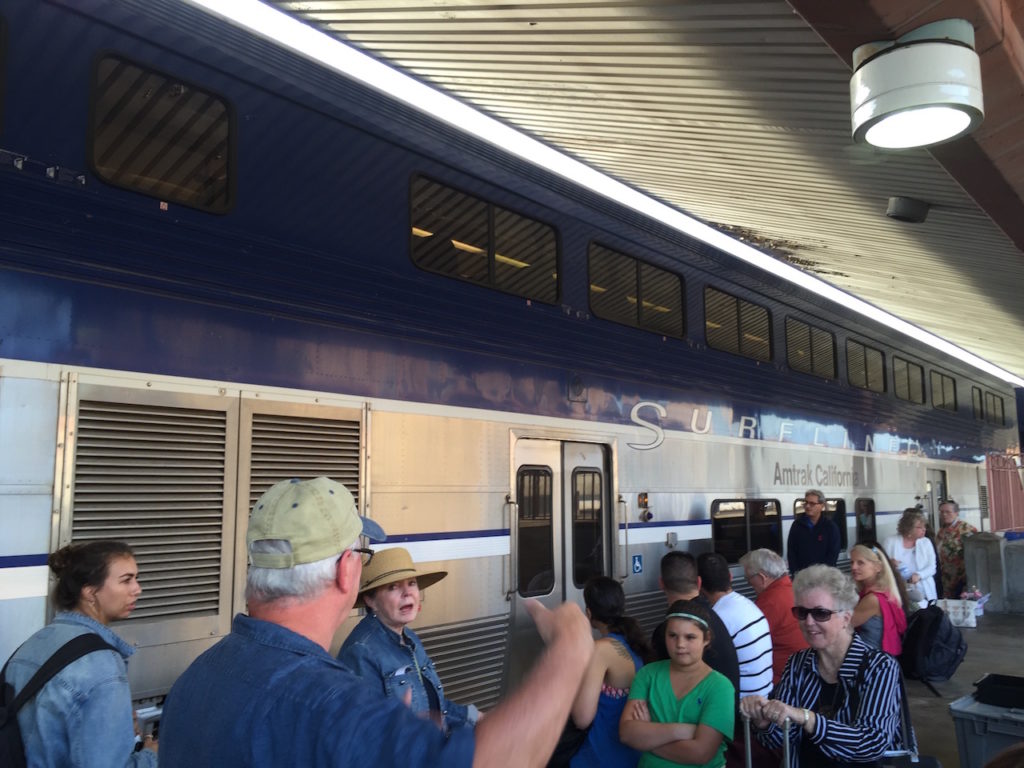 Finally, some familliar faces! This Grandmother was traveling with her GrandDaughter to Santa Barbara. Neither was happy. Oh, it gets better.
So we wait…and wait. The sun is going down. Then to what do my wondering eyes did appear? A tall man in a conductors uniform, with a badge and a small carry-on and all ! Wait…what did he just say? He said, "I'm not here to drive the train to SLO…honestly, I thought I was, but I'm taking it back to the yard. They're bringing you another train on the other platform. I'm so sorry, they haven't told me anything…." This was the most communication with Amtrak we'd had since the lady at Oceanside printed out our tickets. Had we known then, we'd have rented a car and already been in SLO by now.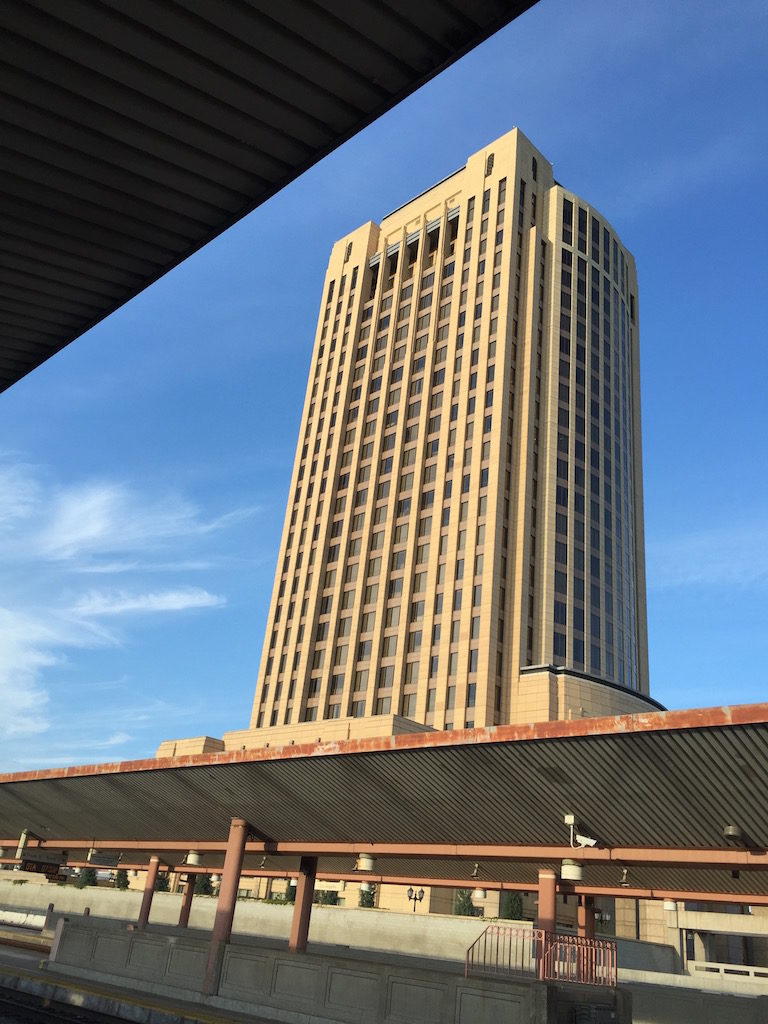 I'm bored and taking pics… I finally ran into the older ladies from Oceanside and I asked how her Mom was holding up – "Not good, she's so tired. But we'll make it." This whole day became a lesson for Will on how to deal with adverse situations that are out of your control. We made lemonade out of our lemons. (Jon has no idea about 'lemonade' but some was quietly brewing in my head! Where's my bat?)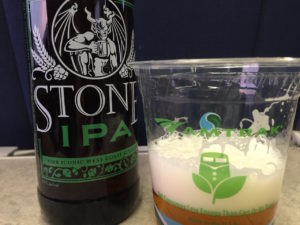 Finally our train arrived and we hustled to get on. Glad we did because we found out there weren't enough seats for everyone who'd paid extra for business class. (more good news)
We all ended up seated with other people, but clustered together. Jon practically ran to the bar car for something to sooth 'Lemonade Wench'…that would be me.
Jon was seated with, what looked to be, a young professional with his laptop and a beer – perfect! I was seated across the aisle with a young girl ingrossed in her phone, and Will was behind me with young woman with a laptop who'd begun tracking the train's progress online. All of them had been regular train travelers and couldn't believe our trip. Jon, my non-drinker, had a beer as well and enjoyed his ride next to Devon. The two of them talked and talked. I slept. What was to be a lovely view of the California coast was simply a series of streaks of light and dark. Devon jokingly point out at the pitch black windows "…and over there's the beach,….oh, here's this town, it's lovely…" . Then there were rumblings… and another announcement.
"This train will stop at Goleta – you will be transferred to buses for the continuing trip north to SLO." WTF – the lady with Will said the bus ride was to be an extra 4 hours. Four f#@!*ing hours,…on another bus! Jon just looked at me and didn't have to ask – he opened the laptop and punched up rooms in Santa Barbara, the stop before Goleta (a sleepy town with no real hotels). He had to work fast, that stop was coming up in 15 min. The Amtrak wifi cut off Jon's service mid-call and Devon came to the rescue. The had his set up and gave us the number to the Beachside BestWestern. Jon booked rooms just as we pulled into the station. We asked Devon, who was getting off at Santa Barbara as well, if taxis were available that late. He said he lived walking distance and would be happy to drop us off at the hotel. Wow – we love Devon!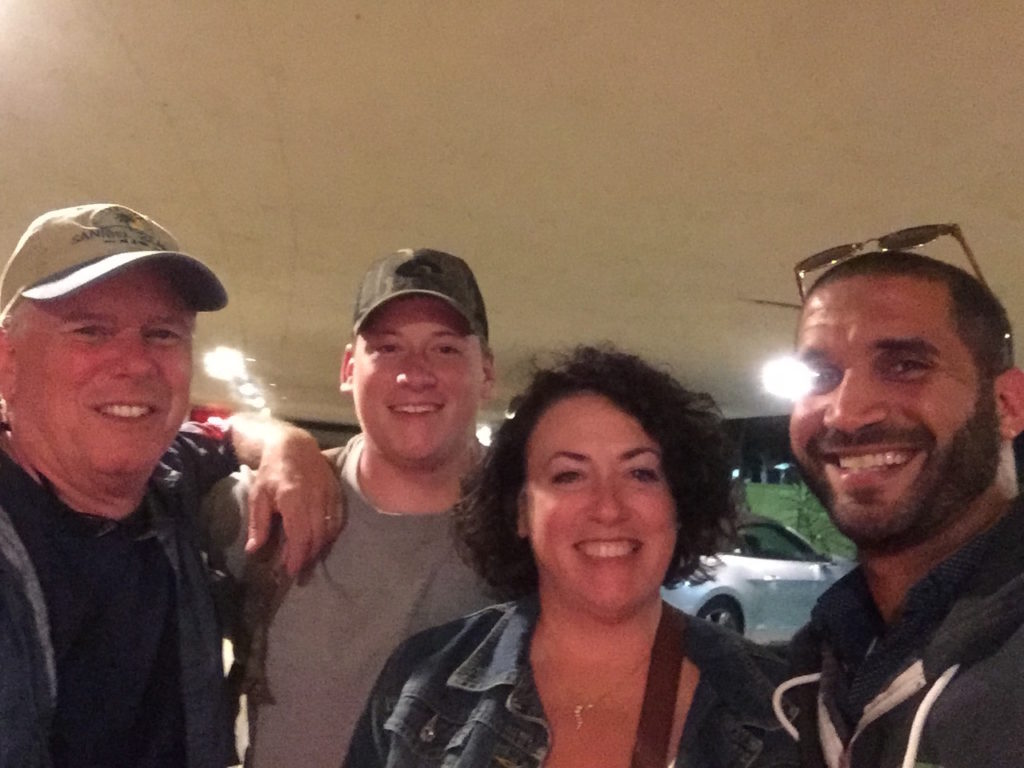 He was just the best ! Brilliant, and kind – loving the Cali people! I soon learned that I loved pretty much everything about Santa Barbara. I'll show you, but that's tomorrow.