OK it's a New Year, and even Kathy, my super-fit Auntie, has said it's time to work off those pounds. I know I've got plenty to work off. Although, we still have to eat…but eat well. This week I bring you something super healthy, tasty and maybe even a relief for your food budget. There are three stars for this show, or maybe 4. First, the meat. At Christmas this family serves a standing rib roast….ahhhh, roast beast. Remember yesterday's post? Not a bit is wasted. We feast, then slice up and save what's left for later (can you say prime-rib-nachos!!). Bag the bones for stock, and give one to the pup. After all, it is Christmas. This year there was a healthy amount of meat left on those bones, so I was looking forward to a really good soup. While I'm at it, I'm going to make this a an even more healthy soup for our new years waist watching.
The next star is the wheat berries. Yes, instead of barley…they're more nutritious and have a great nutty flavor. These are basically the real whole wheat – like, the actual wheat (minus the hull) before it's cooked and mashed and ground into something else. This means it also retains all the original fiber and vitamins.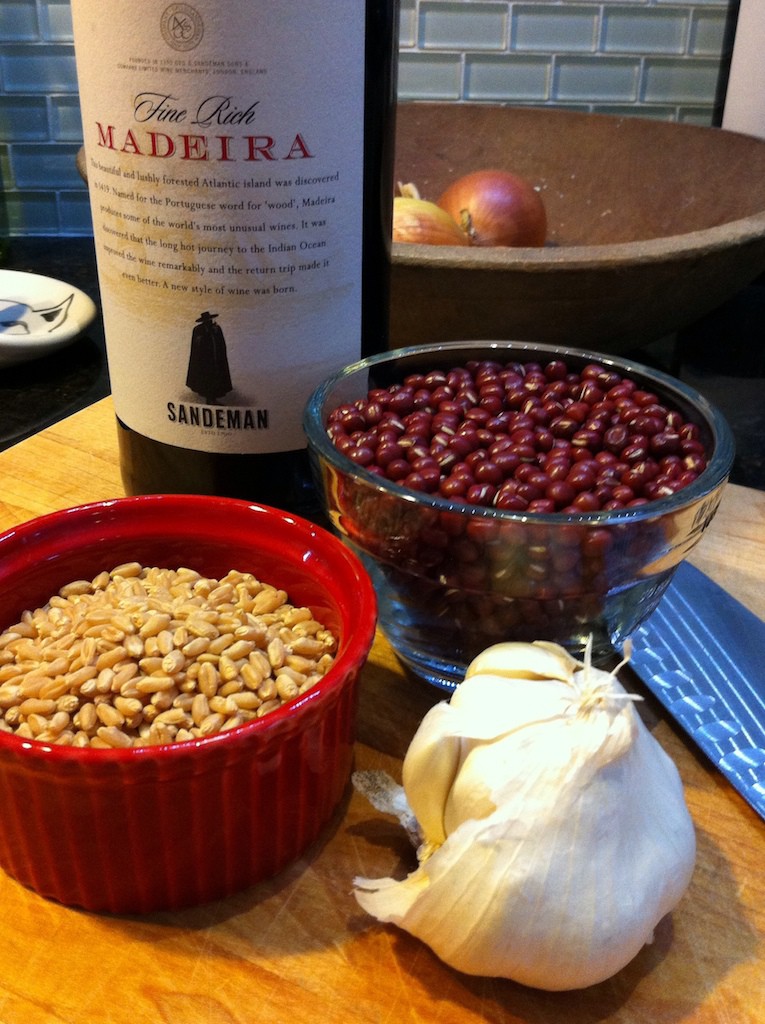 Next up is adzuki beans. (http://www.newhealthguide.org/Adzuki-Beans.html) What? Yup, the newest in the lineup of new things for you to try this year, if you haven't already. These little lovelies are used all over the world and are now used all over my world. I get them at the health food stores bulk section for a good price (apprx $2.79/lb), but you can find them at the supermarket these days for a bit more. Quick to cook, mild tasting and packed with everything good for you. Put them on your next shopping list.
Last, but certainly not least, Madeira wine. This cooking wine, I normally keep for special recipes, but why not use it everyday dishes. OK, so I did have to search for it at the liquor store which makes it kind of special, but this is a new year. I'm breakin' out the good stuff. This brownish wine has a slightly sweet and earthy taste. Soooo good. Like fond in a bottle. (Fond is that brown yumminess that's scraped off the bottom of a pan after browning) Alright, now go and pull those leftover rib bones and lets cook. No? You don't have any…well, you could probably sub a couple of beef shanks.
Rib Bone Broth Soup : Healthy Holiday Leftovers
2 or 3 (depending on size) Leftover roasted rib bones*
1/3 Cup Wheat Berries
1 Cup Adzuki Beans
1 or 2 Carrots, chopped
1 med Yellow Onion, chopped
Celery Tops* or a celery rib chopped
1 Clove Garlic, minced
1/4 Cup Madeira Wine (or just a splash)
1 Bay Leaf
Salt & Pepper to taste
5 or 6 cups Water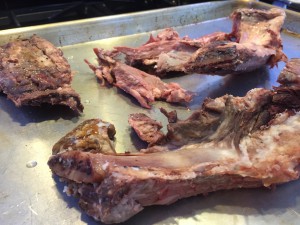 *Roasting the bones for 30 min at 400 degrees gives them the browning that the outside of the big roast originally got. As well as melting off much of that artery-clogging fat.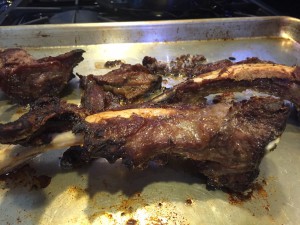 The crispy, roasted pieces will make the broth sing! This is what they mean by 'umami'. Not to mention, your house will smell amazing.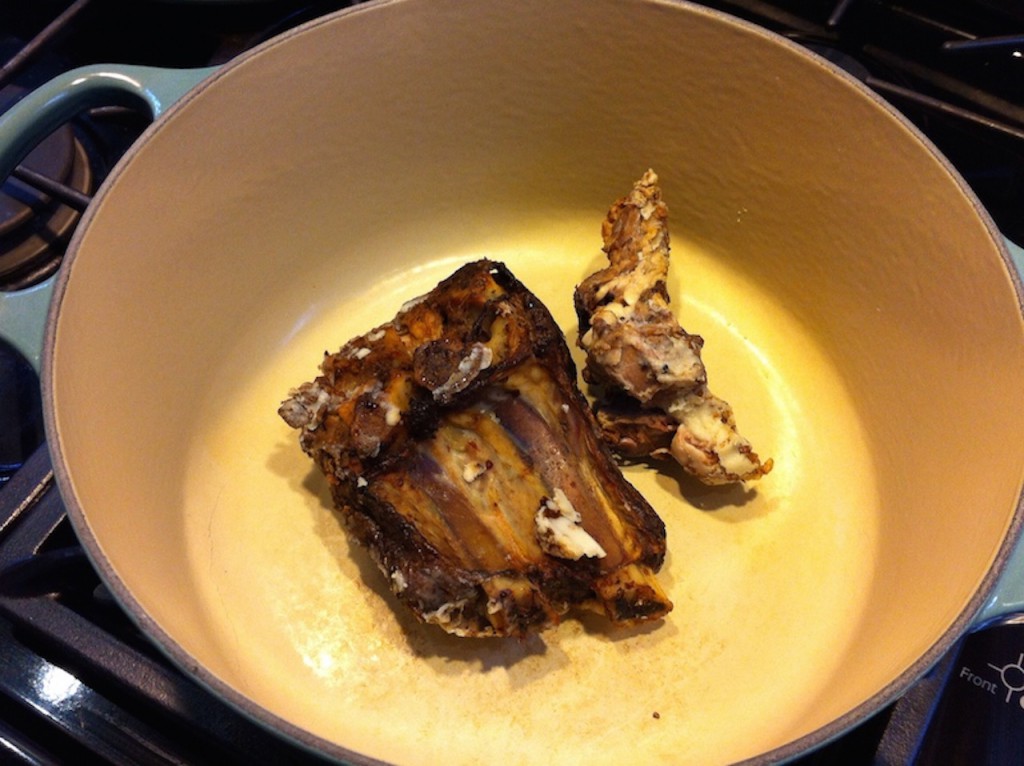 Step 1:
In a heavy pot heat up the bones and cook off a bit of the fat. Yes, I said fat…you need to sauté the veggies in something! There really shouldn't be much and it adds to the flavor. (If you're using shanks, give them a good sear and a hit of salt & pepper)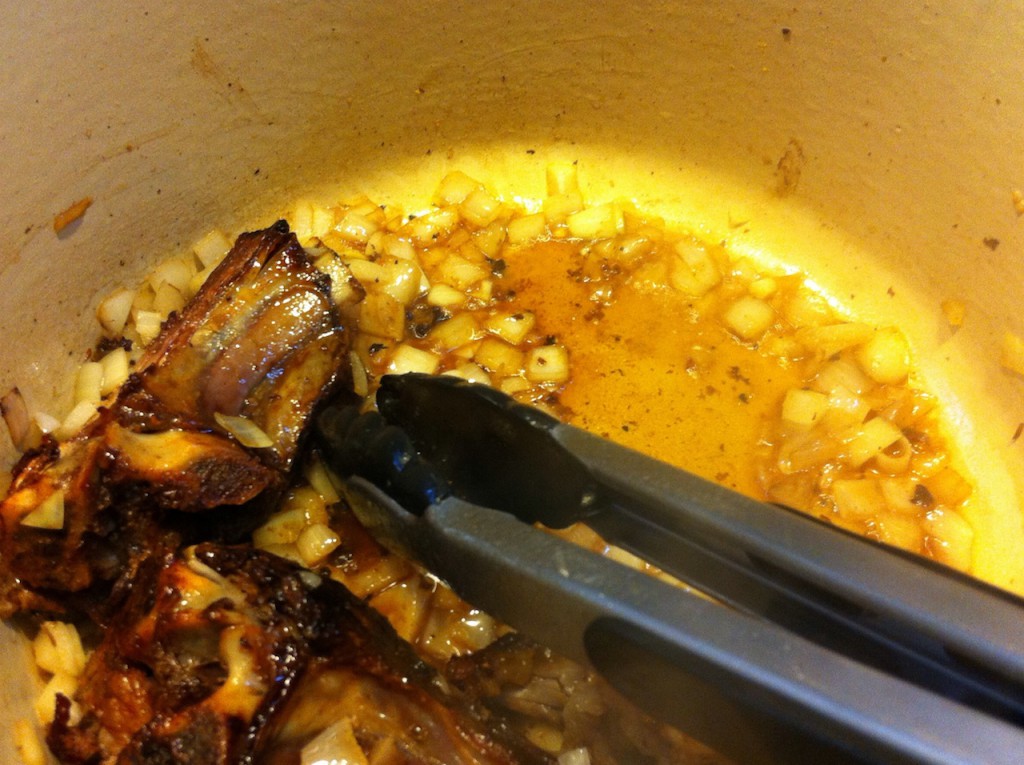 Step 2:
Now toss in the onions and get them softened. Then deglaze it with a hit of the Madeira wine. (Mmmmmm – can you smell that!!?) Alright, if you don't have the wine I'll let you sub a little beef broth and a sweet white wine.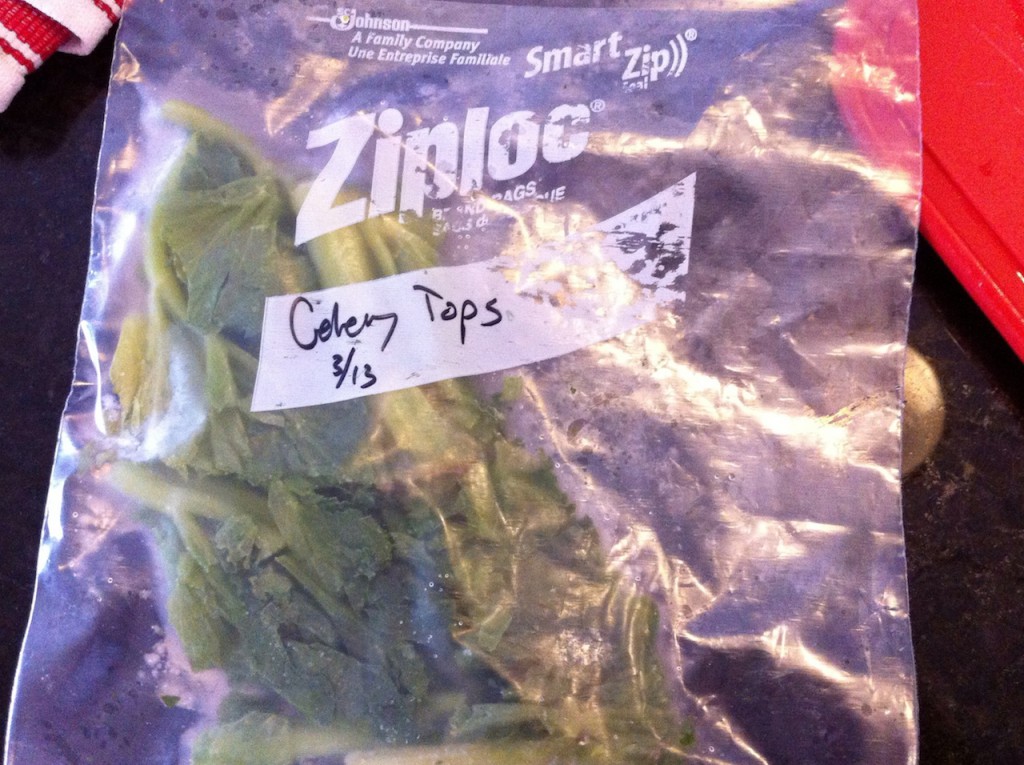 Step 3:
Remember way back when, I told you about not tossing those celery tops in the disposer? This is why. You don't need much for this soup. Pull out a small bunch (like 3 Tbl) and chop it up with the other veggies.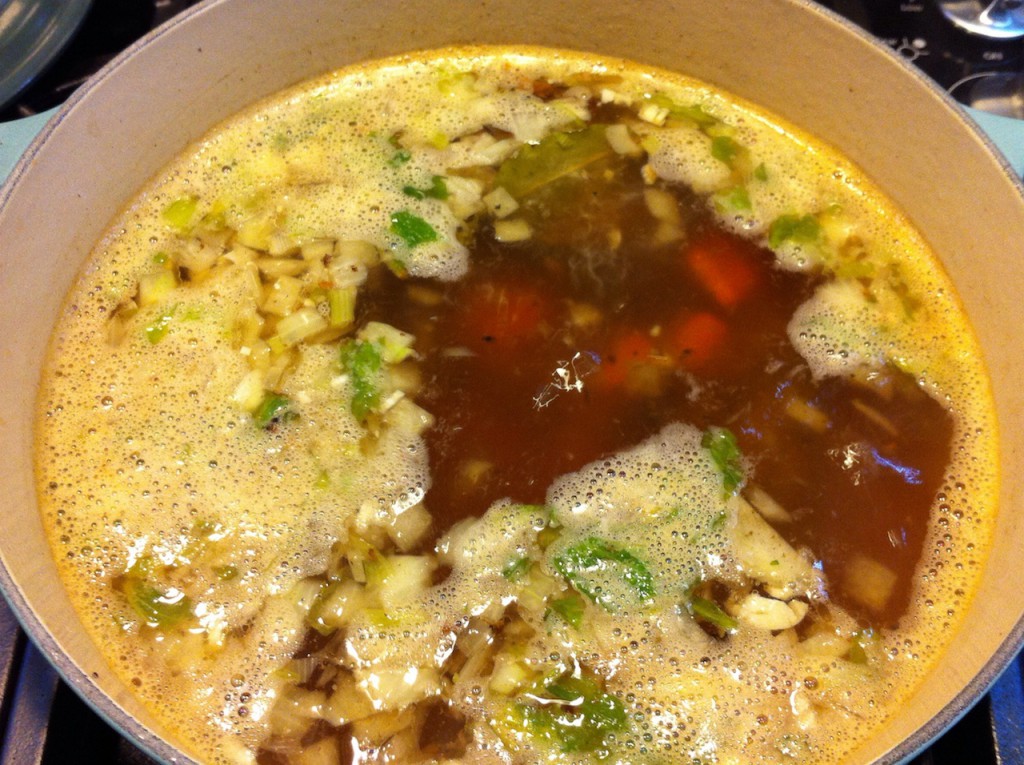 Step 4:
Now it's so easy. Just add the rest and simmer.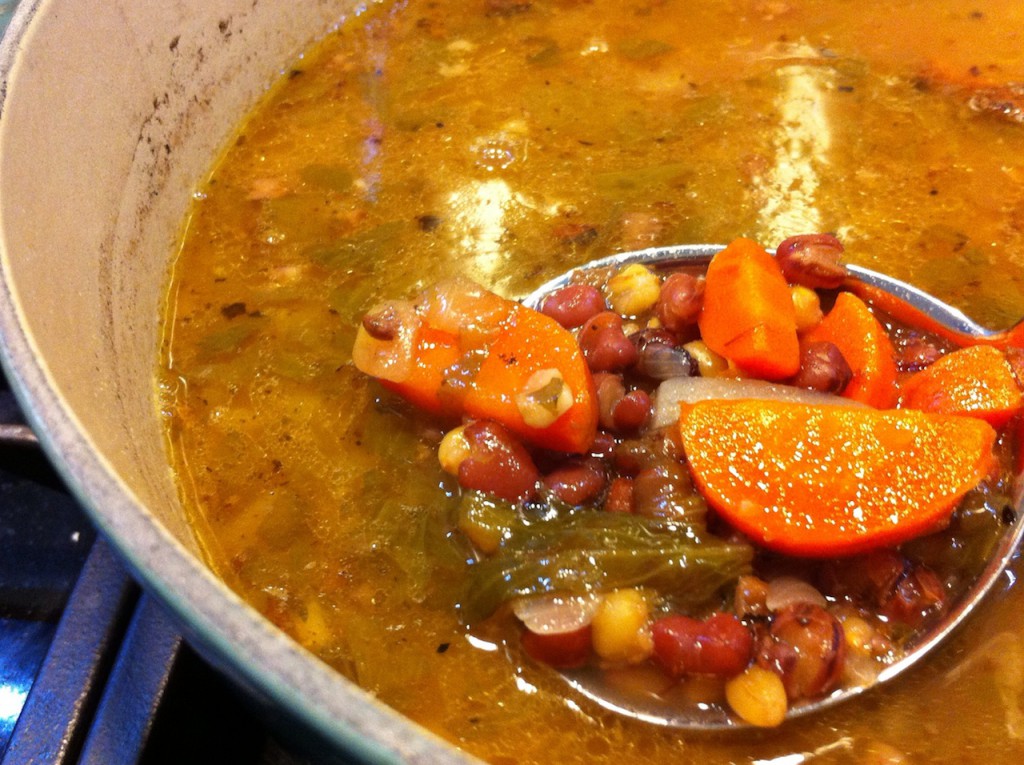 Step 5:
In an hour or so, this is looking really good! The berries and beans have softened and given up some starchiness. Along with the meat and collagen in the bones, that's enough to be a bit thickened.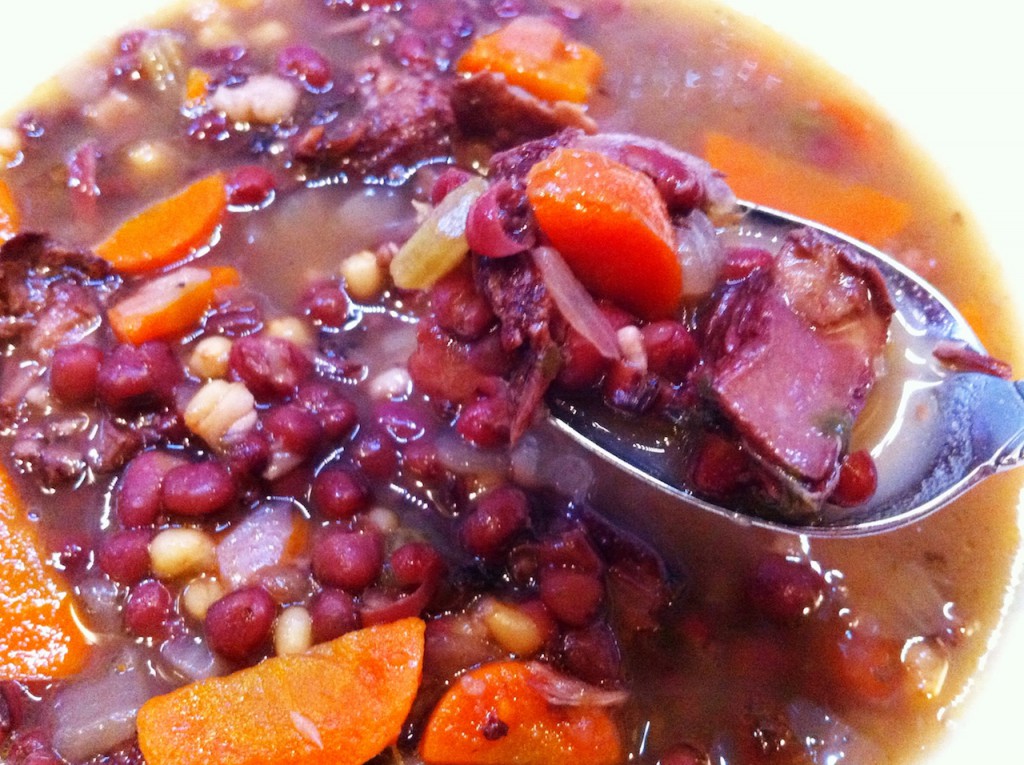 That's it – low fat – high energy – high fiber – high taste. And so very easy to make! Oh, and did I mention that this is just as good with a leftover HAM bone ? Oh, yeah! Yummy