A while back I picked blueberries – a lot of blueberries ! Most of them got frozen for use in smoothies, jams and for my morning cereal. Some I'd been eating from the fridge and decided to find another use. When I was a little girl, my Grandmother would pull out a special bottle of blueberry syrup for Sunday pancake mornings. She would carefully monitor how much was used – this was her private stash of sweetness. Even though it came from the store bought bottle, it didn't quite have that natural thickness that maple syrup has. The berries made it different, having to thicken it with sugar. It would be more like making a thin jelly.
I could do that ! …and so can you.
I went looking for a recipe. Yet again, it's all over the map – mostly the easiest way. They take pre-made syrup and add berries. No, that's not what I want. Then I stumbled upon a post from 2010 on SimpleBites.net, a fun recipe site, that looks to make 'real food'. She wasn't happy with the store bought, corn syrup laden options either. So I modified her version to suit my own, lower sugar requirements. Here's what I did – so simple!
Blueberry Syrup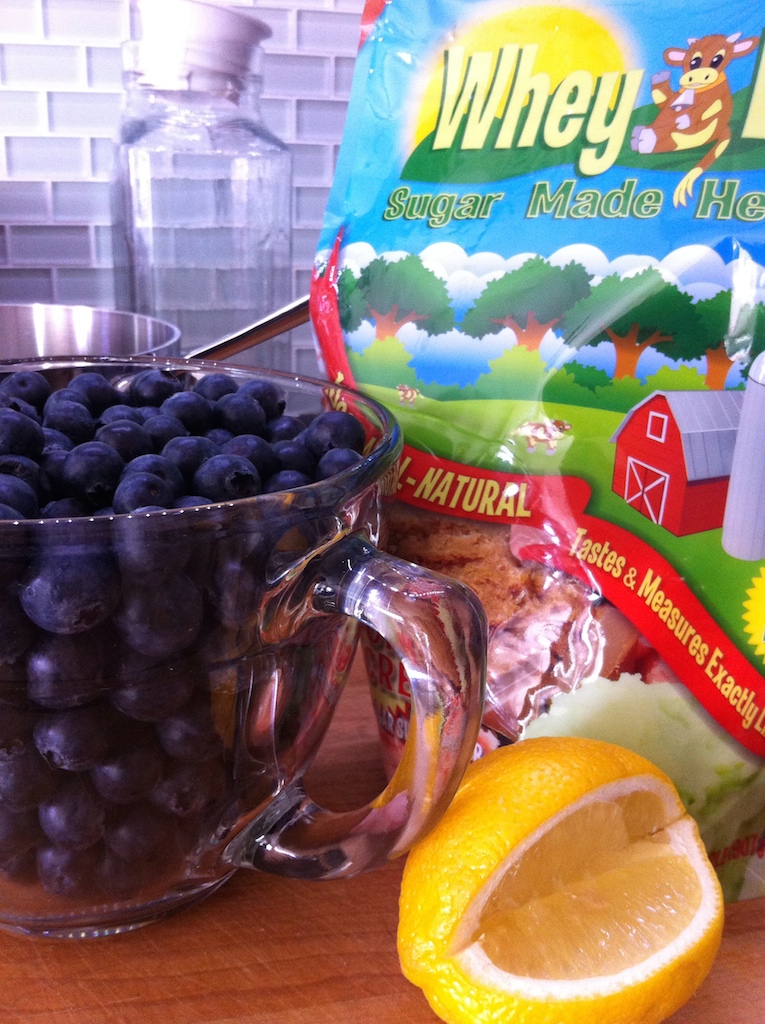 Step 1:
5 Cups Berries
1 Cup Water
1 Cup Sugar (I used 1/2 Turbinado sugar, and 1/2 Whey-Low)
1 Lemon, zest & juice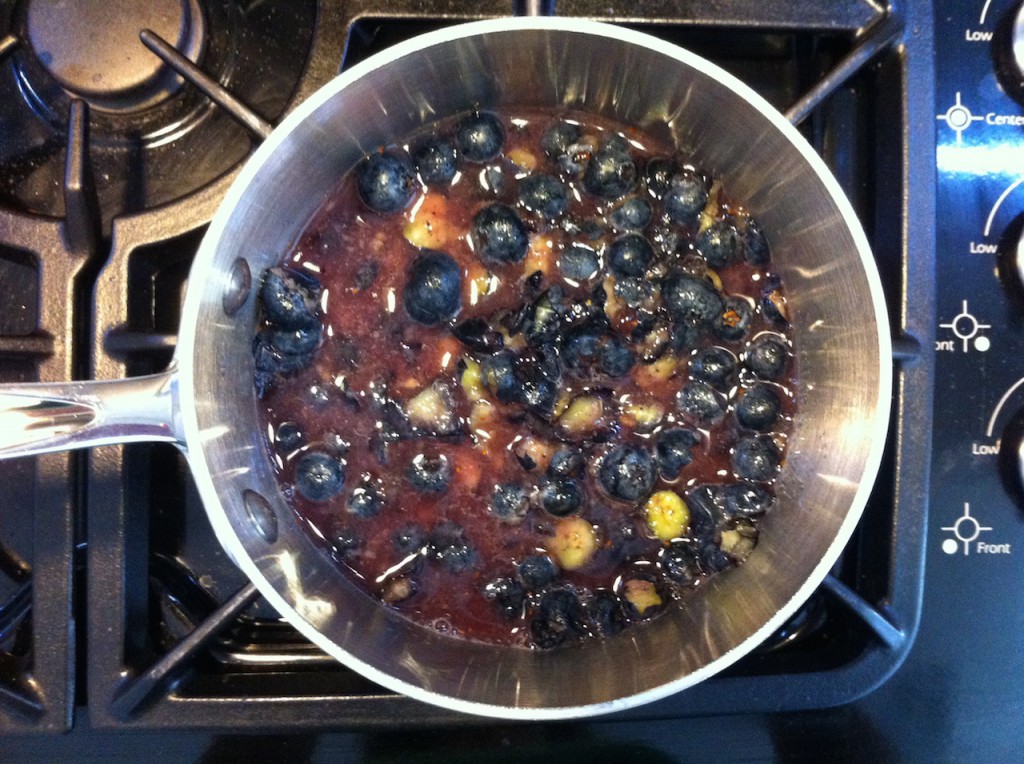 Step 2:
Get the berries and water into a pot and mash those berries a bit.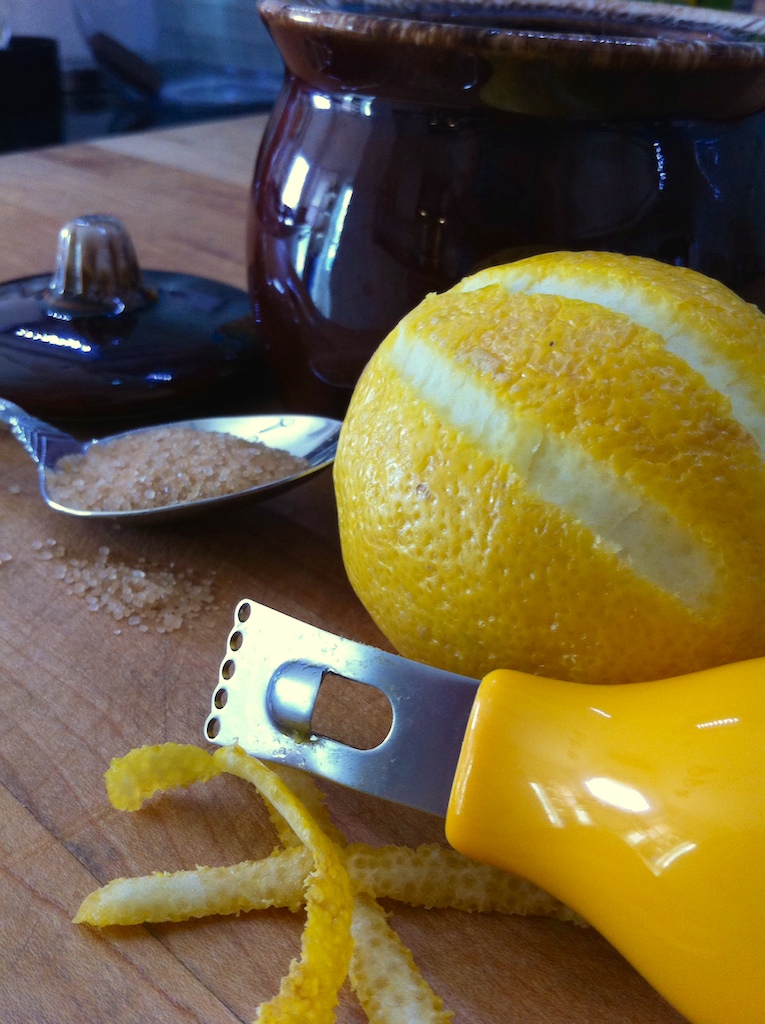 Step 3:
Zest the lemon with a paring knife or 'twister' so the zest pieces are large.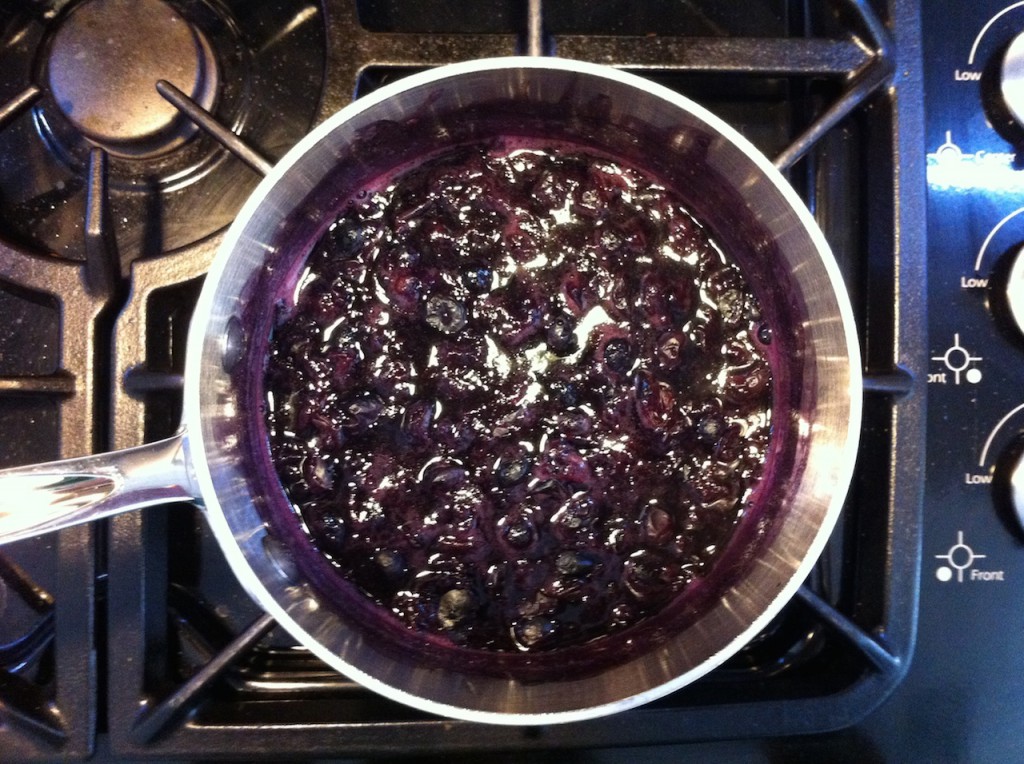 Step 4:
Get the berries simmering to bring out the juice.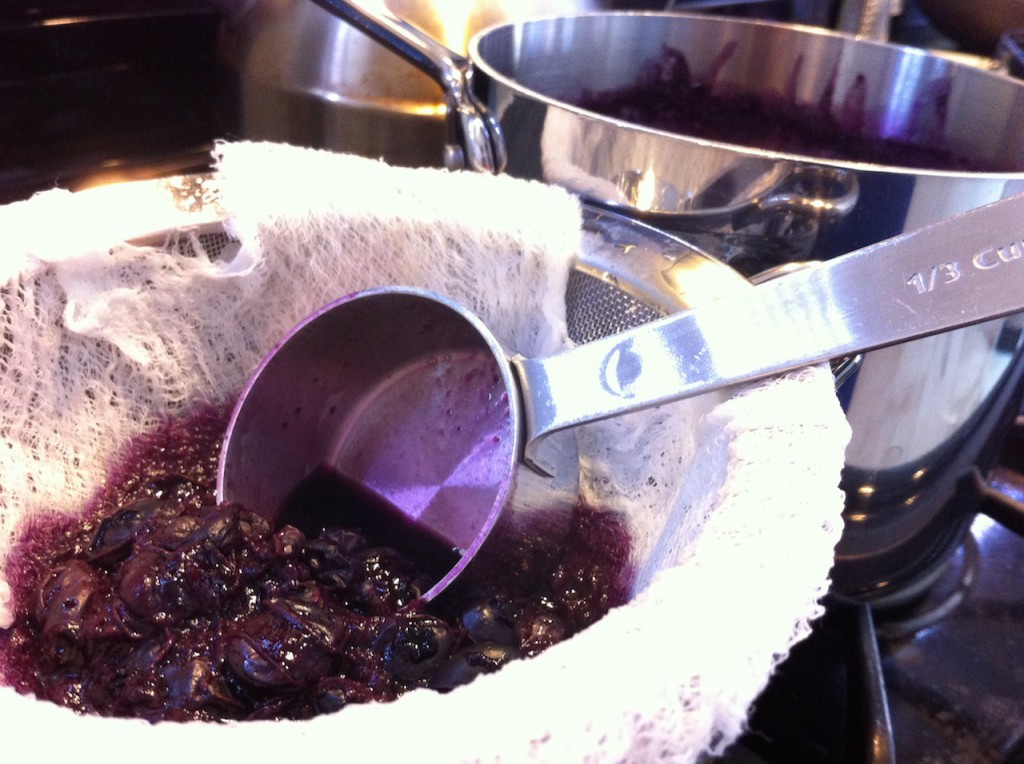 Step 5:
Get out a strainer and a sacrificial cheesecloth – you won't want to use it afterward. Strain the juice from the pulp of the berries.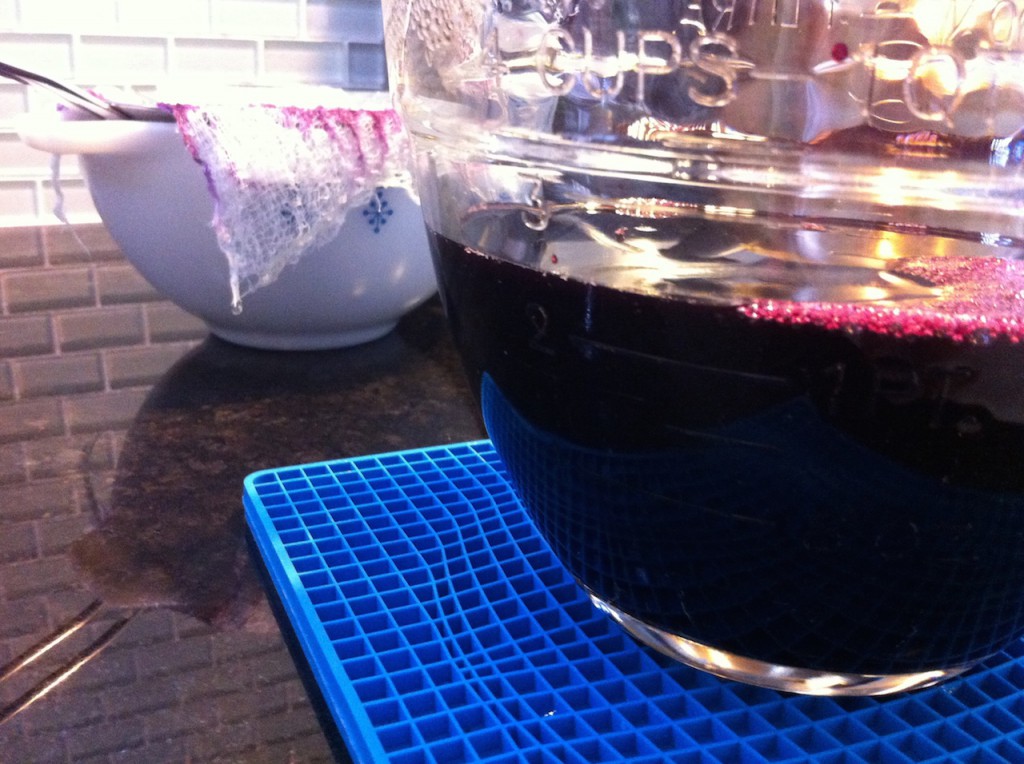 Step 6:
You should get about 2-1/2 cups of juice. Now, go and rinse out that pot – it's covered with seeds and pulp. Return the juice to the heat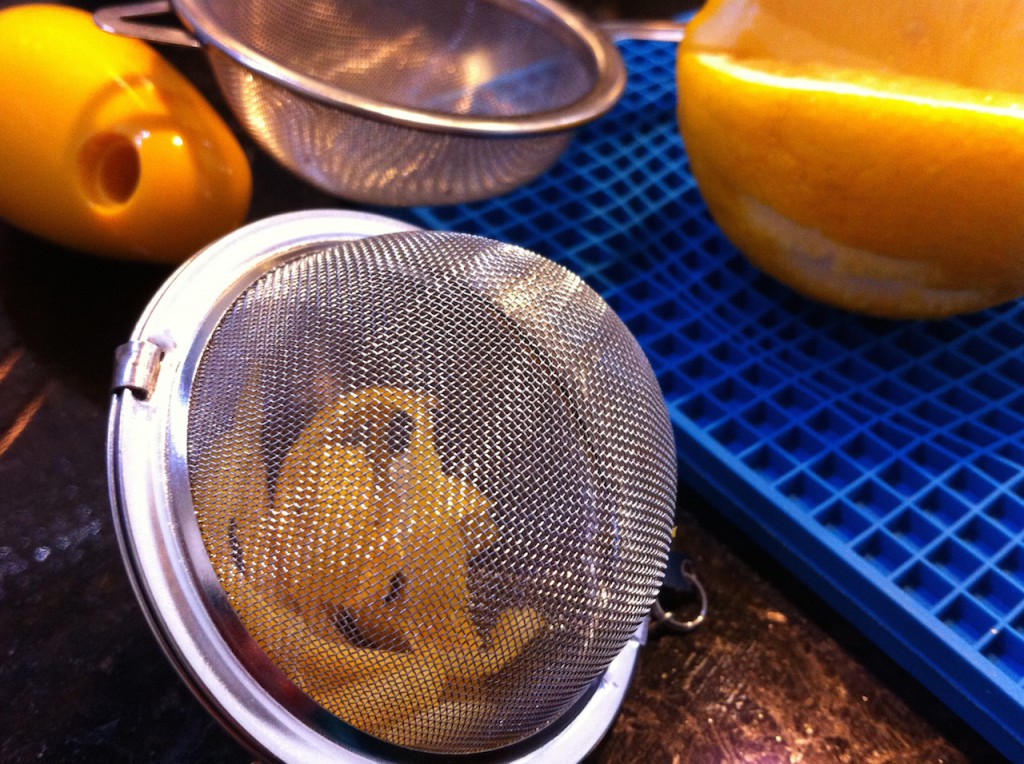 Step 7:
Get the zest into a tea strainer – or just be ready to strain out the zest afterward. I use this tea strainer a lot. From adding spices to jams to mulling wine, this is 5 bucks well spent!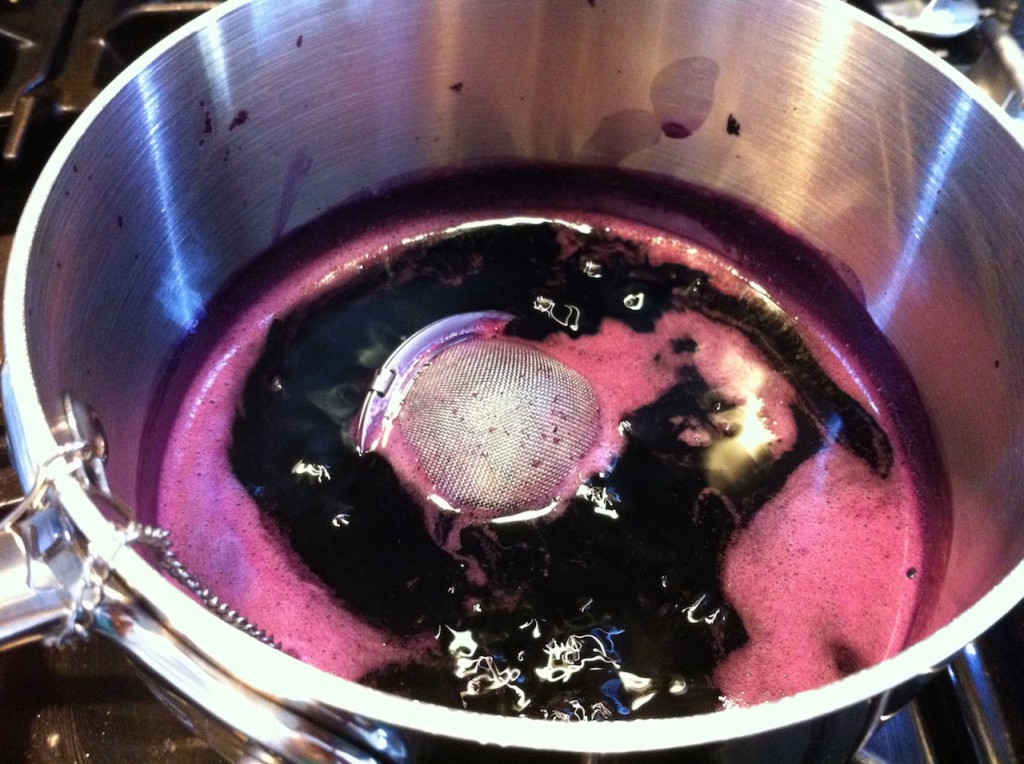 Step 8:
Return it all back to the heat with the sugar, and lemon zest (hold the juice-not yet!). The original recipe called for all Turbinado Sugar, which I think was a great call. That's the 'Sugar in the Raw' that I love in my coffee. It brings a slightly molasses tinged flavor to the party. But it is all sugar, and I want a less caloric style. That's why I cut it with the Whey-Low (75% less calories than sugar). Let it thicken (about 10 min), and just before you remove it from the heat, add the lemon juice.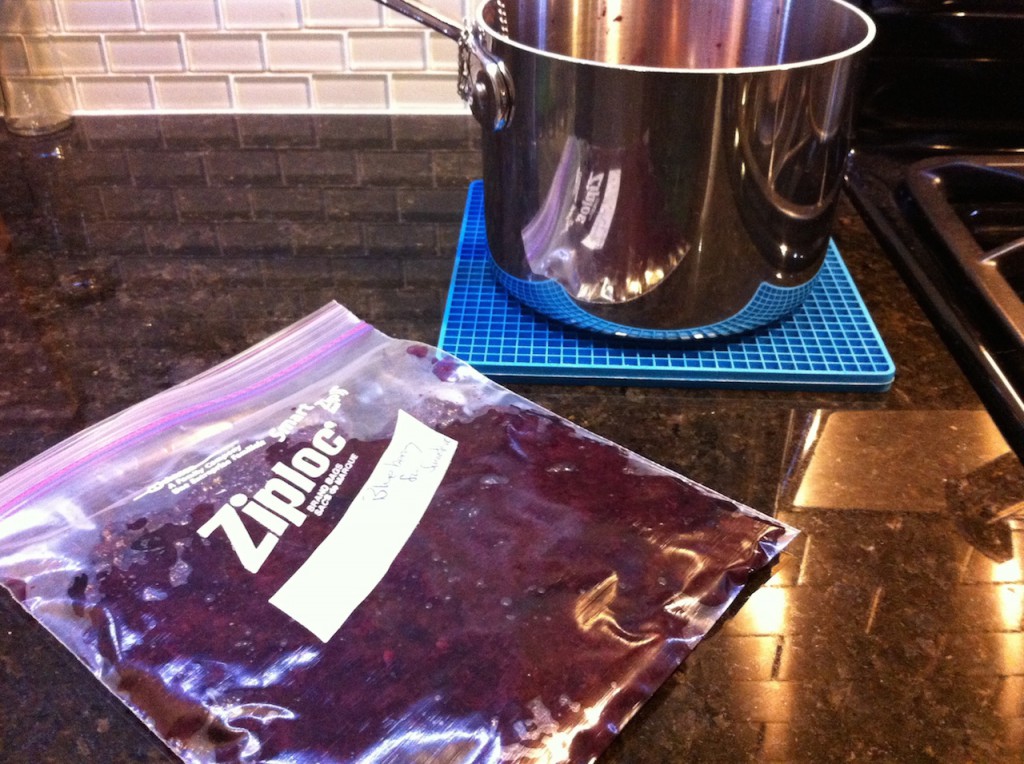 Step 9:
Remove it from the heat and let cool a bit. Meanwhile, put the blueberry pulp into a freezer bag so you can add it to smoothies later. Break off a chunk and toss it in as you would the ice cubes. I don't have patience to put it into ice cube trays and re-freeze. Not even I am that Martha!
Get that yummy syrup into a bottle and figure out how to use it – you could thicken it further with a bit of pectin. But I want to drizzle this into a lemonade (or a martini), or over some frozen yogurt…the list goes on and on.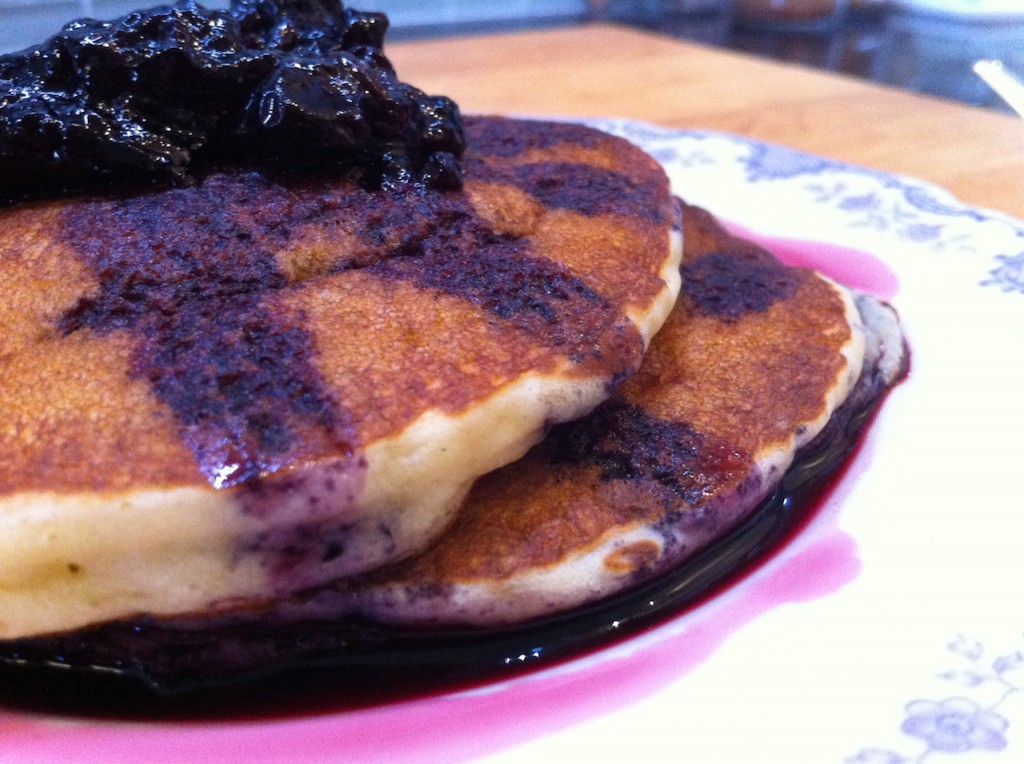 Blueberry Syrup
2014-06-10 08:20:18
Simple, Healthy, and Not just for pancakes.
Ingredients
5 Cups Blueberries, fresh or frozen
1 Cup Water
1/2 Cup Turbinado Sugar
1/2 Cup Whey-Low, natural sweetener
1 Lemon, zested and juiced
Instructions
Add berries and water to pot and cook up to release juices. Mash a bit to help them along.
Strain out the pulp. Rinse the pot.
Return the juice to the heat and add in the sugars, and lemon zest. Cook about 10 min, or until slightly thickened. Lastly, add in the lemon juice.
Remove from heat and let cool a bit.
Funnel into a sweet syrup dispenser and look for ways to use it.
Notes
You can thicken it a it by adding in a teaspoon or so of low-sugar pectin during the cooking time. But just a bit - careful or you'll end up with jelly!
Feel free to add this to drinks and smoothies, ice cream and even icings...a cool purple color and interesting taste. Have fun!
Adapted from SimpleBites.net
Adapted from SimpleBites.net
BadZoot https://badzoot.com/