Wikipedia says: Blueberries are "perennial flowering plants with indigo-colored berries from the section Cyanococcus within the genus Vaccinium (a genus that also includes cranberries and bilberries)." OK, that's nice, but what ARE they? Well, until I started picking them, I never really thought about it much. It's a berry from a bush, from somewhere. Some people figure they just came from the grocery store. After the big freeze in the '80's many of the tangerine and orange groves were plowed under. Some of those fields were sold to developers, but some sat dormant as the farmers tried various ideas to make their land work for them again. Then one day someone planted a blueberry bush.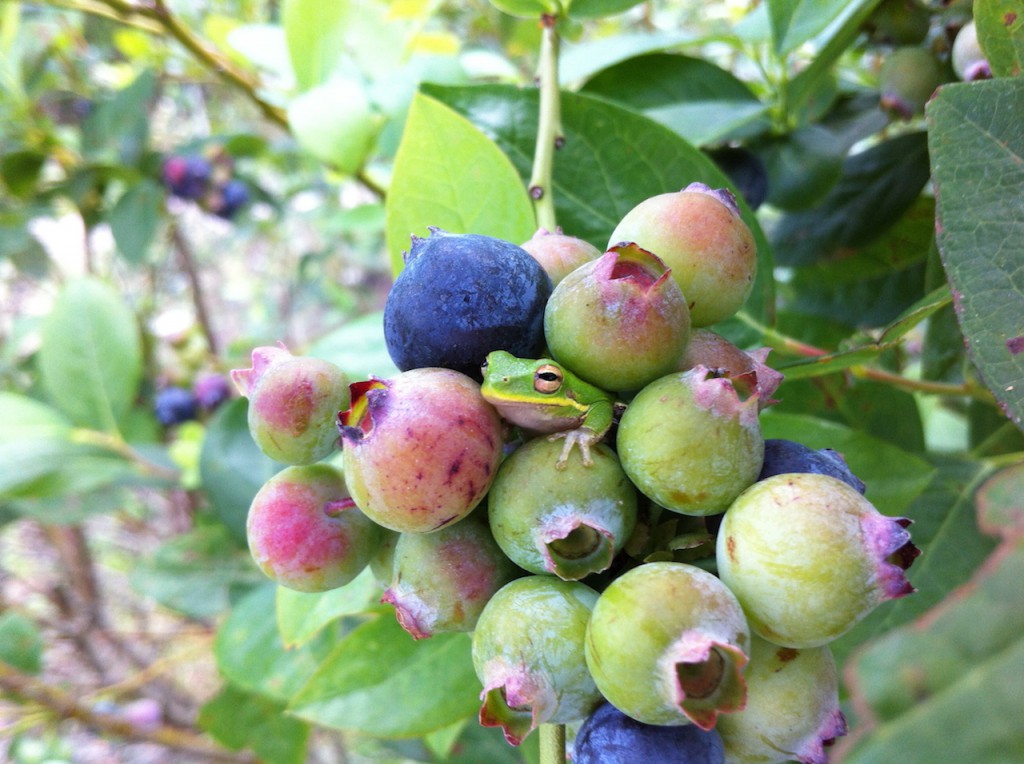 Blueberries are actually native to Florida, unlike some of what we're more famous for cultivating here: oranges, and retirees – and they do just fine in the here until it freezes. Although, just like there are different oranges, and retirees, blueberries come in varying sizes, and flavors. You see, much like the 'snowbirds', the most famous berries are from the Northern woods. The Maine blueberries are small and full flavored, but not very sweet. Ours are from the swamps and woods. If you're familiar with what we consider 'woods' here, you'll understand why it wasn't initially a booming business. I'd imagine collecting prickly pears in the desert is easier than combing the swamps and palmetto scrubs for tiny berries. Is it really worth getting eaten by a gator – I think not. The modern Florida berry has been cultivated to grow in fields instead of the forest and produce large, sweet berries. And unlike the supermarket strawberries, another woodland wild fruit that has been bred to be beautiful and tasteless, these hold up on their own. To me, they are so different from the wild Maine variety that started it all, that it's nearly a completely different fruit. And I'm actually OK with it.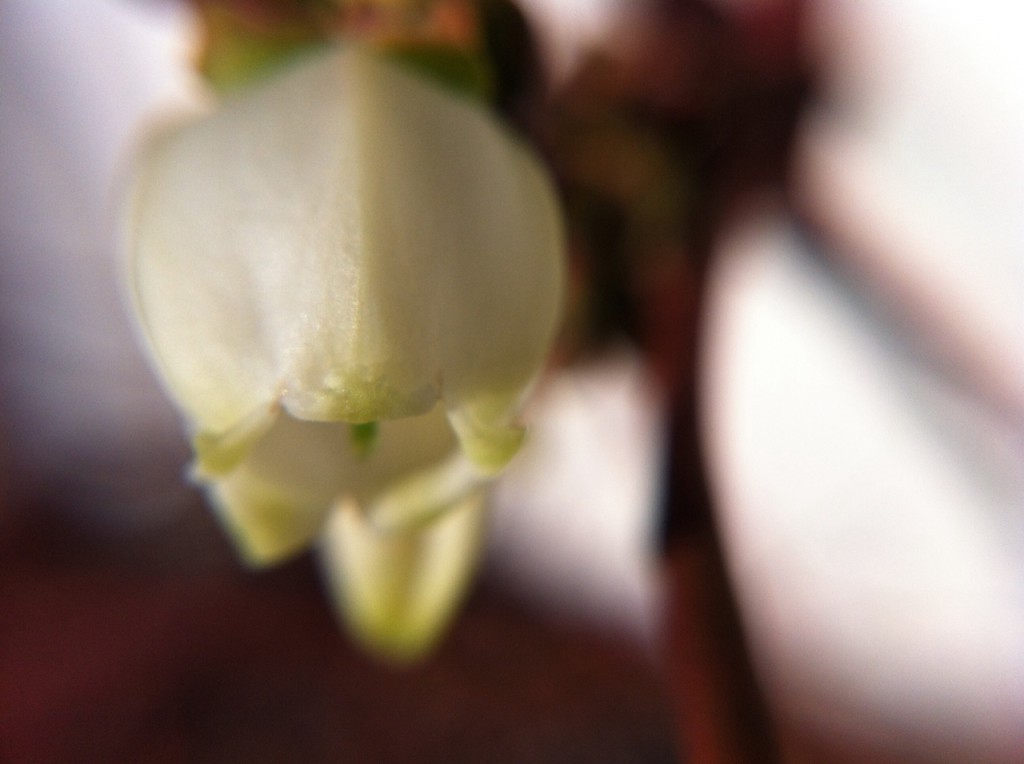 I decided to try and grow one myself. I bought a spindly little gallon potted plant at a local grower. Next I had to dig out a huge pot from the shed to plant it in. The most difficult step was to find the pine bark mulch to plant it in. What? No dirt? No, no dirt. You see, these woodland treasures don't care about that Florida sand. They live in finely ground bark, as they would in the forest, but now in the sun, they prodigiously produce blooms and fruit. That is, when they're given enough water and fertilizer. I have a feeling that somewhere in the future, they will end up on my 'bad for the environment' list for those reasons. Where did I find this bark? Well, I was lucky to get some info from the grower and he sent me to Sherwood Forest, a local nursery that sold me a big bag for a small price.
It never did get to be the size of the field variety, but then again, I'm no farmer. Later, as Fall set in, the leaves turned a bright red and some fell off. It was beautiful – why do they cut them down after the harvest? Well, I'm sure there's some farmer reason. I'm keeping mine the way they are.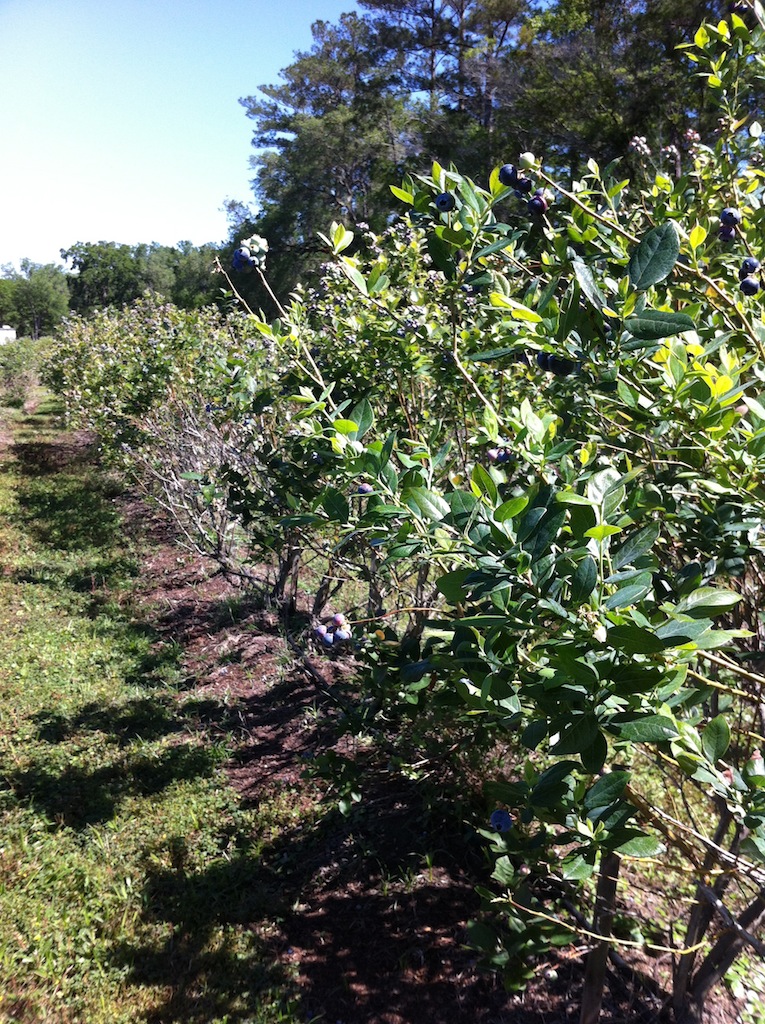 As the cool weather left us, I spotted blooms on my little bush – I'd not seen them at this stage. The fields that I go to pick at are only open to locals after the commercial harvest. That means all the blooms are gone by then. I never knew how beautiful these tiny blossoms were until I took a closer look.
Those blooms became fruit and I watched and watered with anticipation. They were green when the birds spotted first them. While many will invest in an elaborate netting solution, or rely on the cat keeping them away, I had my own netting solution. The pool screen. I drug my pot into the sunny corner of the pool patio and told the dog to keep an eye on it for me.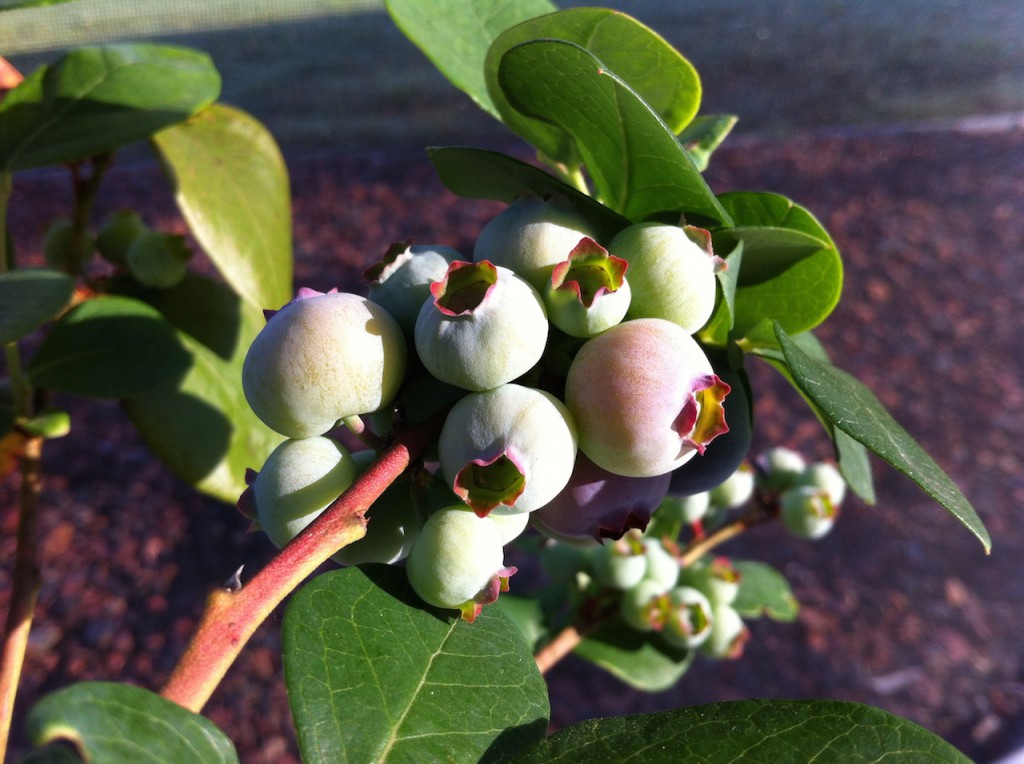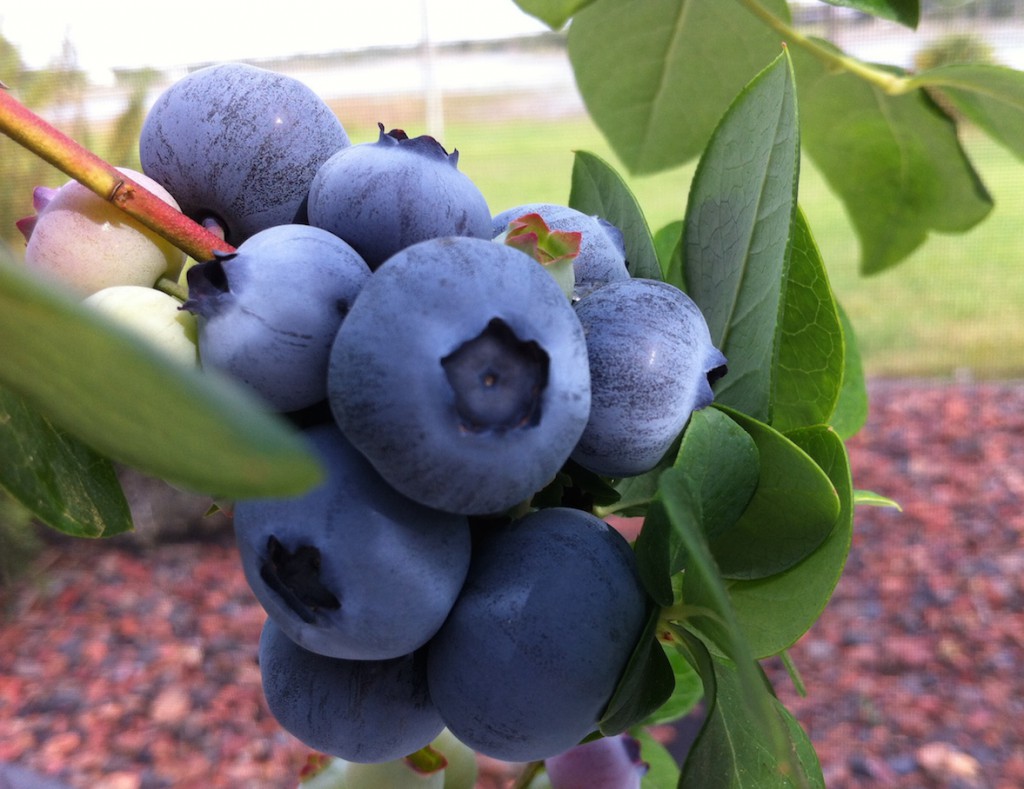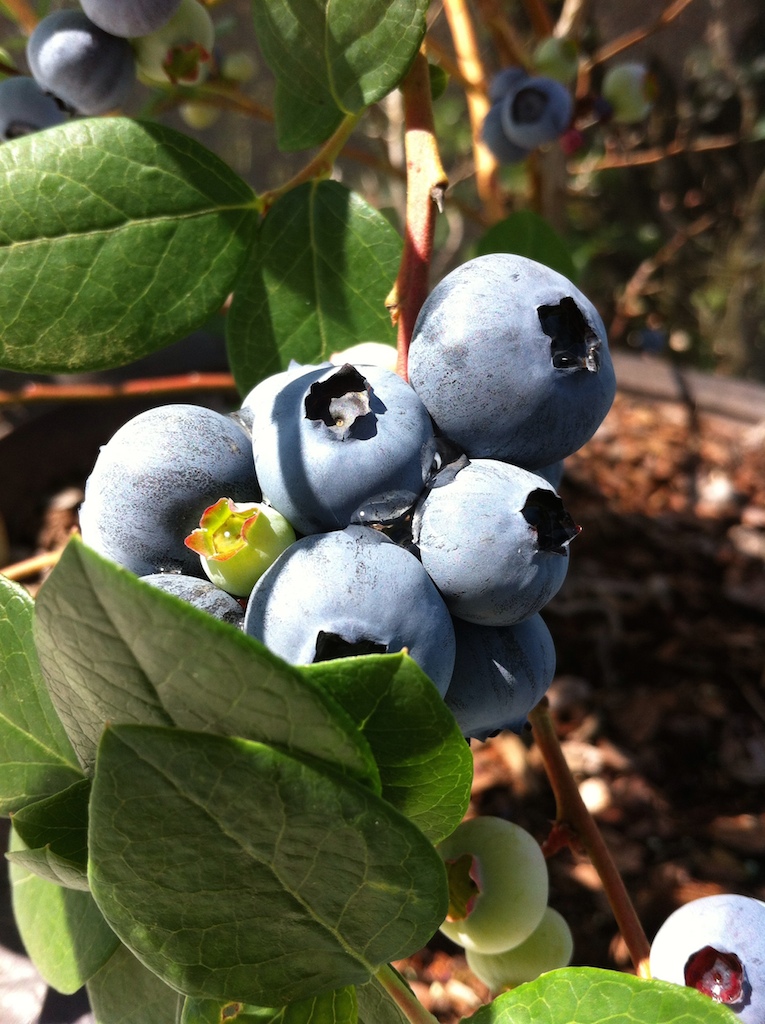 In no time, those berries were ready for my cereal bowl. As I came out to take some photos, I had to test them. Yummy!! Just like the farm variety. The birds were very irritated that it was hidden behind the force field an guarded by the hound! Speaking of the hound, she and I share little treats from time to time. Usually, I give her a bite of whatever I'm snacking on. It's usually a pretzel, peanuts, or her favorite, pita chips. I wasn't thinking about that as I stood there pulling the berries off one by one and popping them in my mouth. I looked down to see the dog licking one section trying to pull them off with her more delicate front teeth. 'Yuck – Mom, you EAT those?! – Blech!!' was the look I got from her. No, no blueberries for the puppy – just for me – all mine!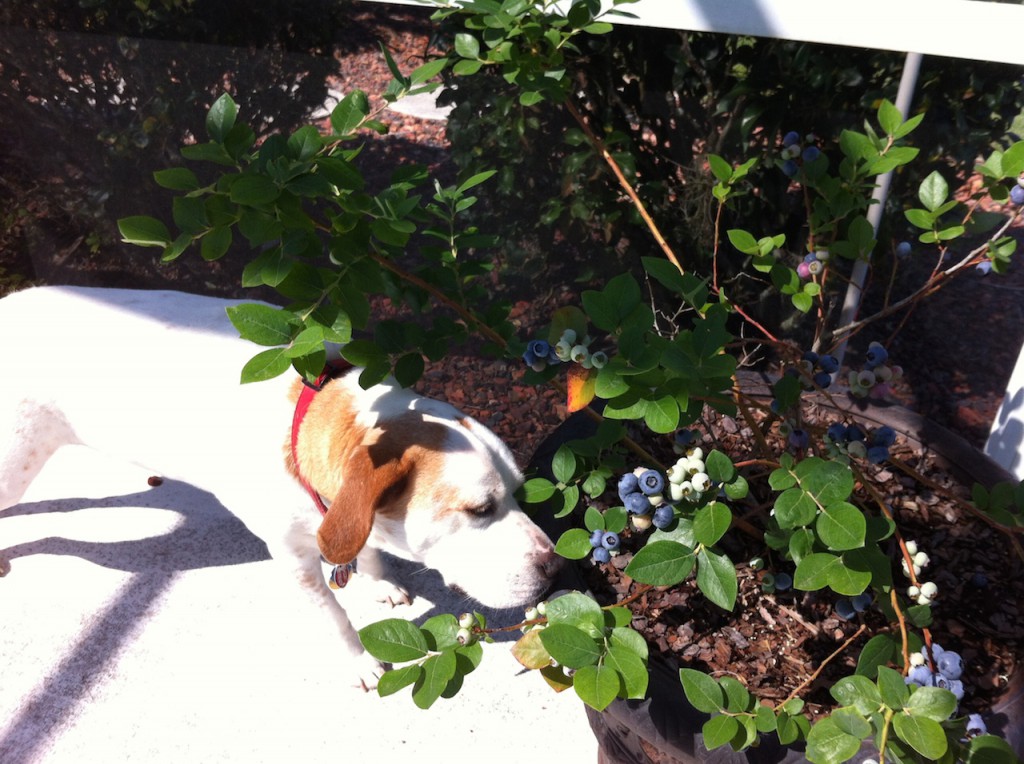 So, next time you see one of those snaggly bushes for sale – buy one ! There's plenty of blueberries for my cereal or yogurt each morning off this one miniature bush. They'd make a nice Mothers Day gift that won't whither in a week. And next year, there are blueberries for Mothers Day, again! I'm even thinking they'd be nice hedges – but that's a project for next year.