Diets Hate Pizza. They just do – there's nothing un-fattening about a pizza. What's one of the big advertising catch phrases for those expensive 'diet plans' "…and you can eat pizza!…" What 'they' don't tell you is that it's a pizza-like-item made up of a saltine crust that's only slightly larger than an english muffin, some recycled parmesan cheese rind and 2 tablespoons of a substance similar to pizza sauce. Yuck – yuck – yuck! But I can't eat pizza with The Boys. Have you see the stuff that comes delivery? "Better Ingredients, Better Pizza,…", really?! OMG – the grease level is off the charts (from all those delivery people). Not to mention the salt, and Oooo that super thick crust. I'm paying what for this? – and have to run a 5k to work it off. No thanks. I don't think it's doing myself or my guys any favors. I've known for a long time that our local supermarket bakery has a little chill chest stacked with pre-made pizza dough. One day it was BOGO (buy-one-get-one) and I picked some up. I thought I try and convince The Boys that my pizza could be good too. I have created a monster.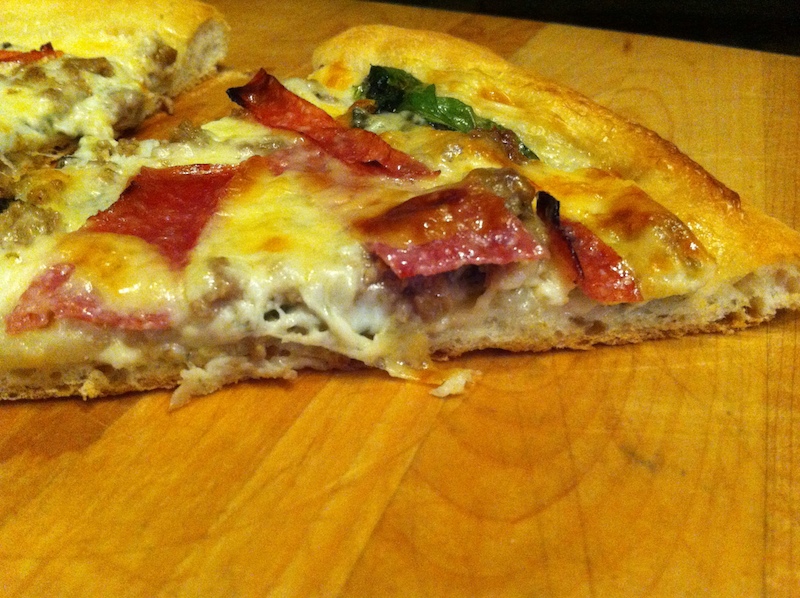 You see, for a long time I've taken those freezer pizza's in the 4-cheese variety and added salami, and 'pizza meat' to it because we just don't like what they call sausage and they'd rather do without pepperoni. At $6.00 each it was more cost effective than having an acne-inducing gut bomb delivered, or driving to pickup a cheaper variety of the same. This beats them all by a mile. It's difficult to calculate the price or caloric savings, but when you look over this list and run your own local price comparison – I think you'll be joining me in my pizza parade. Grab your stone and walk this way…
Better Pizza …period
This list is just the shopping list – you add it and mix it up as YOU like…but this is mine.
1 Ball of Pizza Dough (yes, you can make your own – but I'm lazy and don't)
1 Bag of fresh Baby Spinach
1 jar Bertoli (or other) Light Alfredo Sauce* (I like the garlic variety)
Reduced Fat thin sliced Genoa Salami
Provolone Cheese – extra picante, because extra flavor means you use less.
Shredded Mozz Cheese (part skim is fine – but NO fat-free)
'Pizza Meat' – this is a pound of lean ground beef (sirloin), and 2 or 3 links of mild italian turkey sausage (casings removed). Browned up together and tossed in a zip-loc bag in the freezer. Ready to sprinkle on anything from nachos to stromboli to pasta sauces, oh and pizza too. It's a keeper, you'll see.
Sun Dried Tomato Flakes…this is my secret weapon in all things Italian. You can get a less expensive jar at Target.
Olive oil
Notice there's no jarred pizza sauce or pizza seasonings. *you can use a red sauce, I like the 'Classico' in the small jar. I has a homemade, fresh taste and not a ton of salt. Speaking of salt, pizza seasonings are mostly salt, it seems. There's plenty of flavor, and salt, in everything else you're piling on. Trust me – it's good.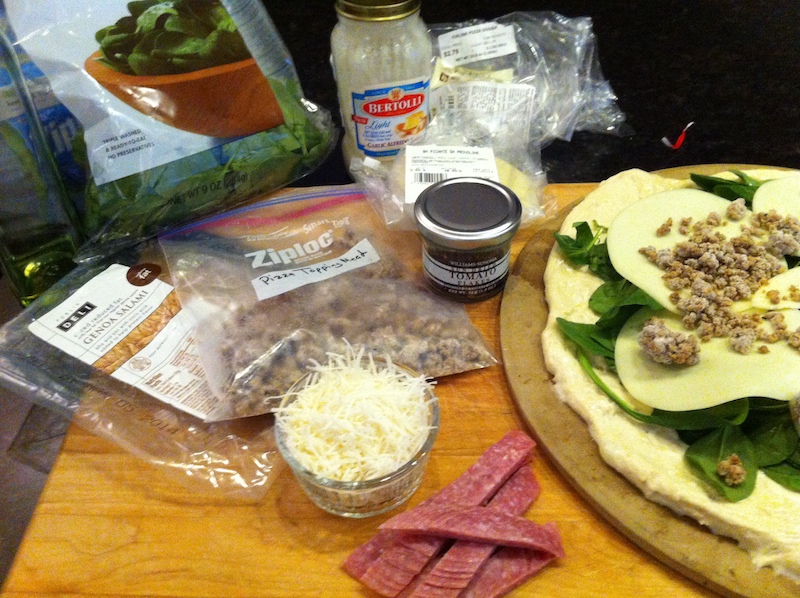 Let the dough sit out for about an hour to warm a rise a bit. Your patience will be rewarded.
Now heat that oven to 400deg. And get out a pizza stone, or a pan. I will say that a pizza stone is a wise investment. They make great free-form breads, tarts, and even cookies. And another great thing about a stone is that, if you've got an oven with 'hot spots', it's the best diffuser ever!
Carefully stretch out the dough onto the pan/stone. I like to curl mine around the edge to hold it a bit. It's some stretchy stuff…I have yoga pants with less bounce!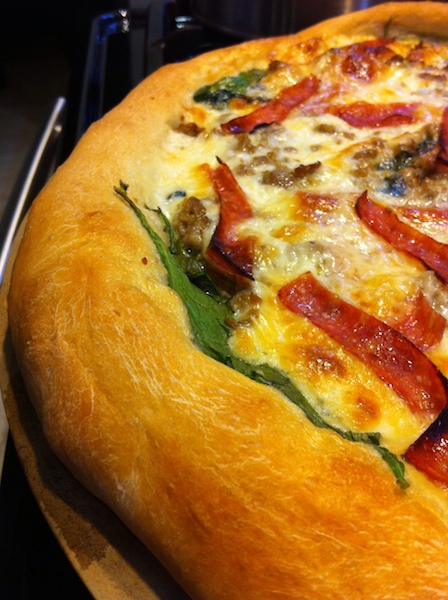 Now, I take a tiny bit of olive oil and smear on the dough. – Easy! Not too much, you can use a brush if you need to, or a mister works great for this. An oil film makes the dough nice and brown and crunchy, but not greasy.
Next, I spread out maybe 2-3 tablespoons of the Alfredo sauce, and sprinkle a tiny bit of tomato flakes.
Then, spread out the toppings at will. I think I use 1/3 of the bag of spinach, and sometimes toss in a couple fresh basil leaves chopped up. I try not to end with the cheese because it tends to become a crust of it's own (which I like, but the guys don't).
Pop that puppy in the hot box for about 20 min and you're DONE!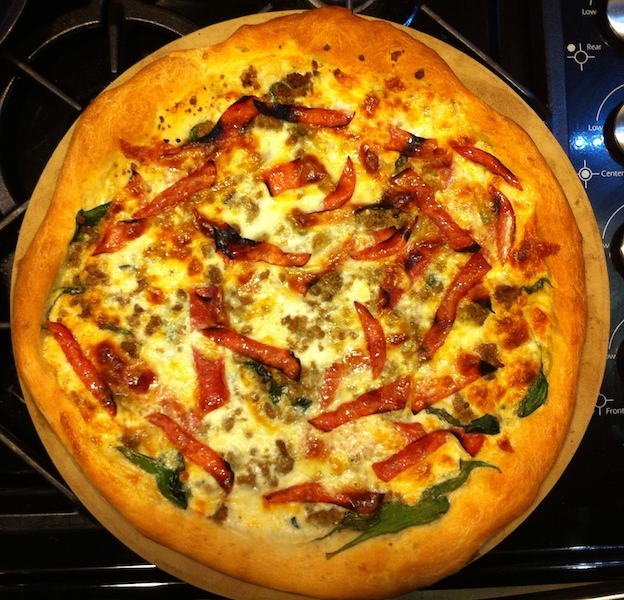 Now, you'll never go back…this is soooo good. And sooo worth the whopping ten minutes it took to assemble. So when you know is Sunday Night Football night or Monday, or Thursday, remember to pull out a ball of dough from the freezer in the morning before you leave, and let it thaw in the fridge. Then, by the time you get home, it's ready to set out on the counter for a hour while you do that voo doo that you doo when you get home every night. Later you can get everyone in on the pizza lovin' action! And to think you've made a pizza that you can actually consider a healthy meal and not a fall-back position, because it's just better pizza – period. Enjoy!