I don't want to step on anyone's corporate feelings , but I think all cooks know what I'm talking about. Of course it's Slumgullion.. what a horrifically unappetizing name for such a tasty dish! I though it was some weird name my Mom came up with, nope. Apparently, it's a real thing. It seems that nearly every country has a dish that's ground beef, onion, celery, tomatoes – stewed and soupefied mixed with macaroni. In my western Pennsylvanian world it was 'Slumgullion'. It's just the home version of 'Hamburger Helper' – only better, because it doesn't come from a box. It's cheap, fast, and easy (and those aren't words I normally combine).
Why bother posting this? Well, I have some 'beginner cooks' in my fan base and I want to make sure this gets added to their repertoire…you've already got this stuff at home! It's maybe 30 min, and makes awesome leftovers. No Boxes!
Slumgullion : Better Help for your Hamburger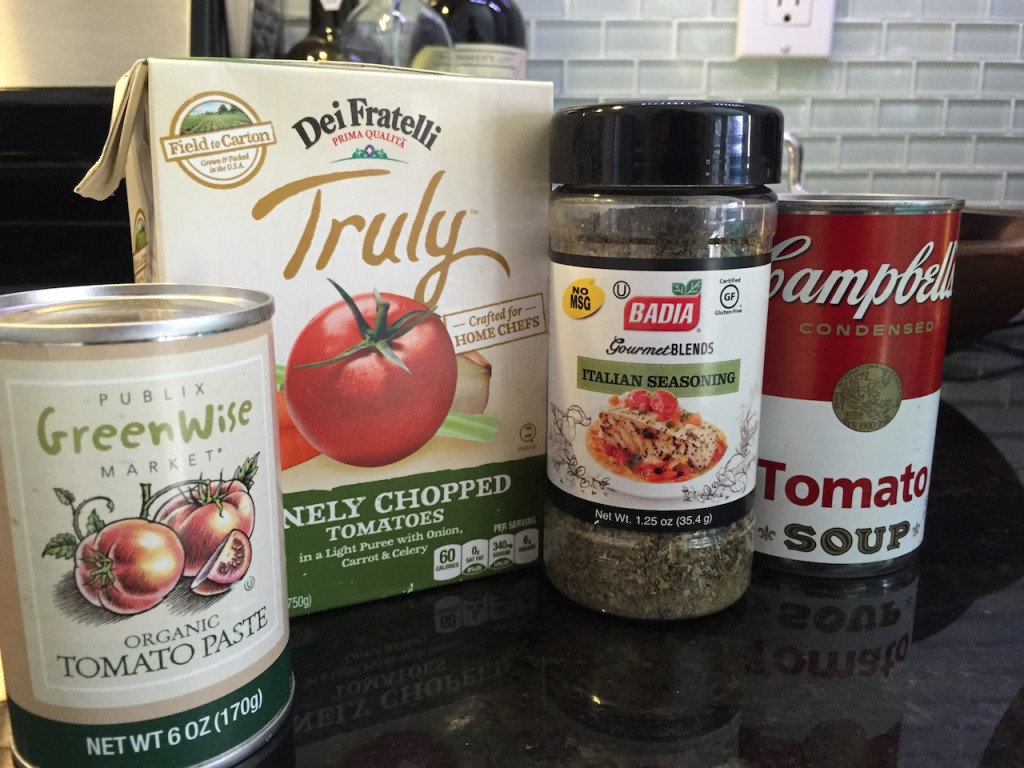 Get thee to the pantry and pull out your cast of characters,…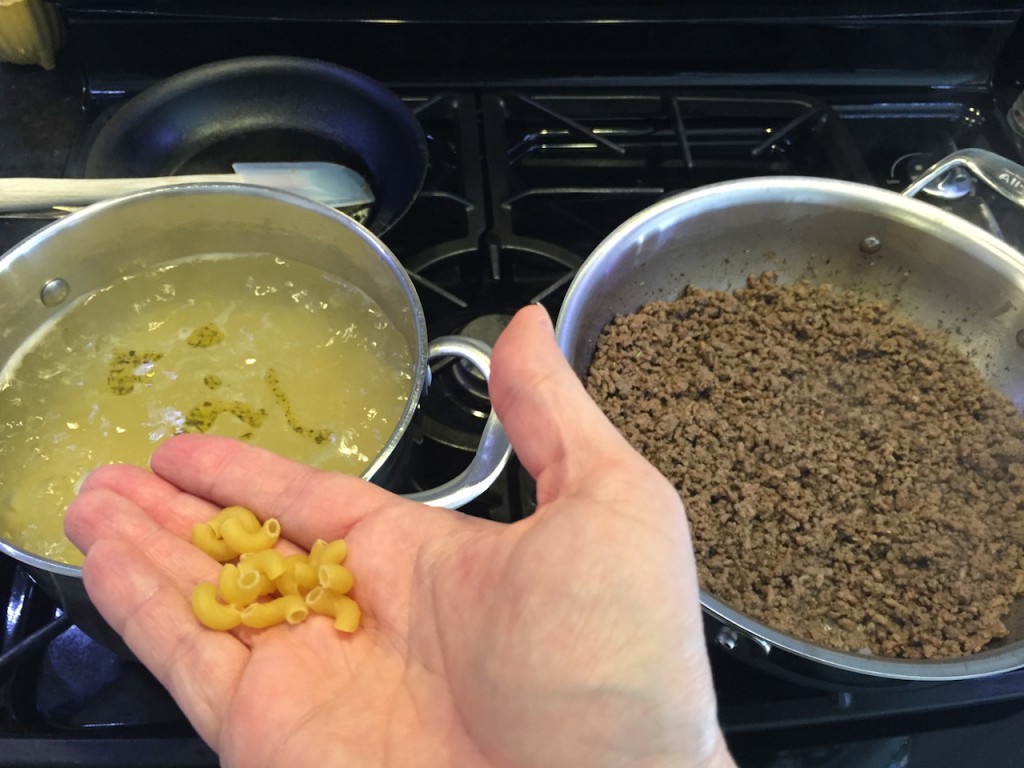 Step 1
You already knew about the hamburger, so get a pound + and get it browning. I use a ground sirloin, which has less fat. Ground Turkey is great in this too, but I add a cube of beef bouillon to it to amp up the flavor.
Also, get a pot of pasta going. About 2 cups of elbows. Now, these are Barilla Elbows – they are different. Each one has ridges that hold sauce, and they have an extra curl in them.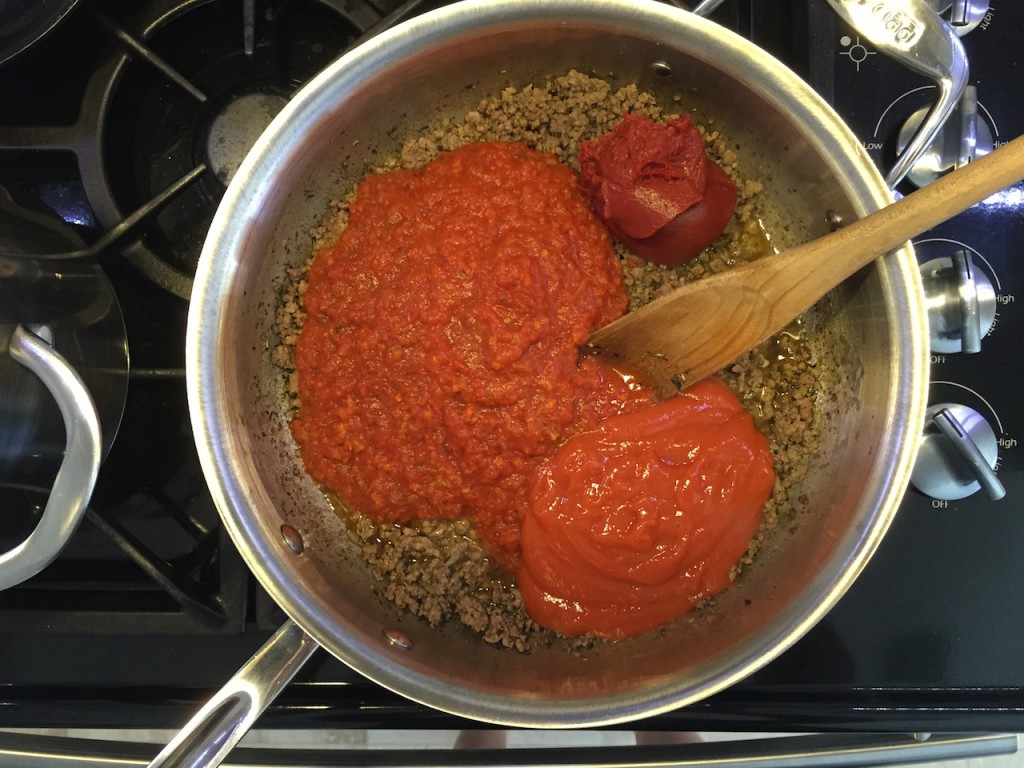 Step 2
Normally, I'd tell you to sauté an onion, and celery, etc…nope – I'm cheating here. Back to the ingredients, that 'box of tomatoes' is my cheater bolognese. It's tomatoes, onions, celery, and carrots all chopped fine and ready to go!
Dump in the box of tomatoes, the can of tomato soup (naturally fat free), and half the can of tomato paste. Season with the italian mix as you like.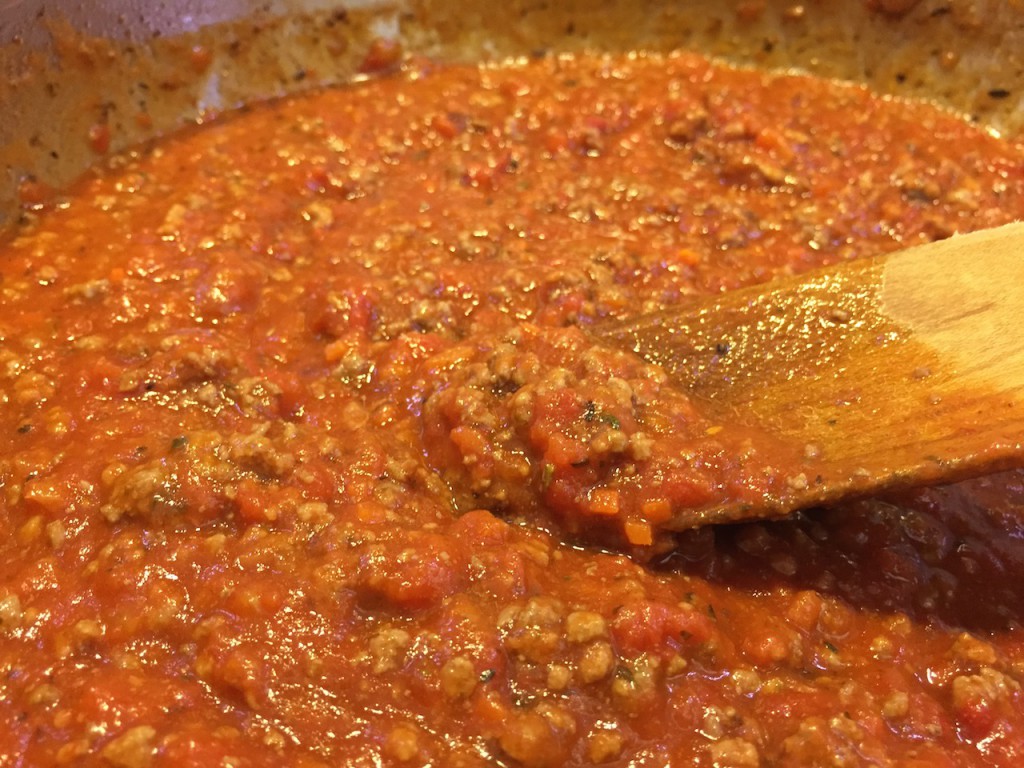 Step 3
Mmmmm, good. Give it a stir and simmer until the pasta's done.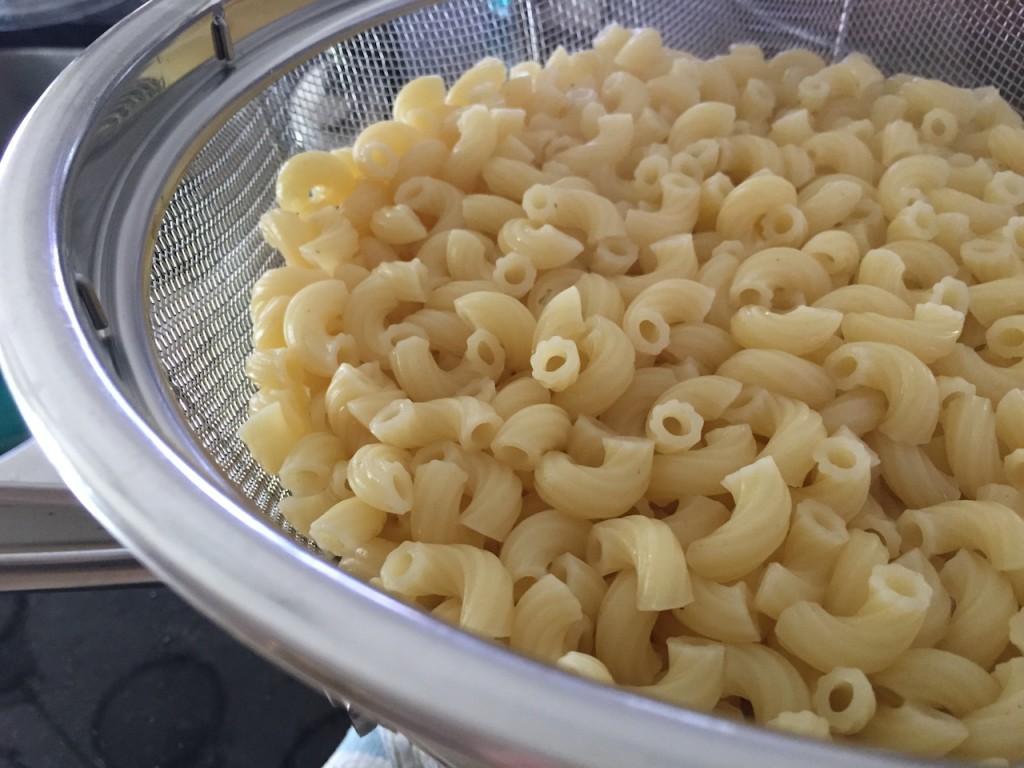 Step 4
Drain that pasta. See the ridges? Don't cook them to death, just al dente' (with a little tooth)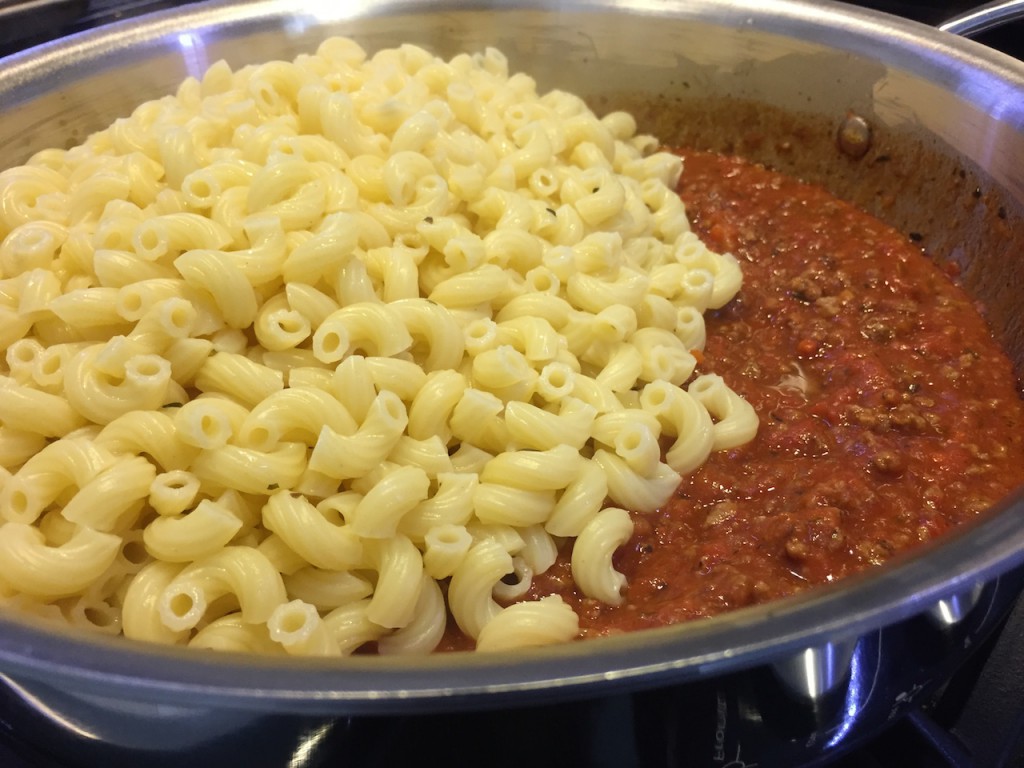 Step 5
I hope you started with a slightly large pot? Add the pasta and give it a stir. You're done !!!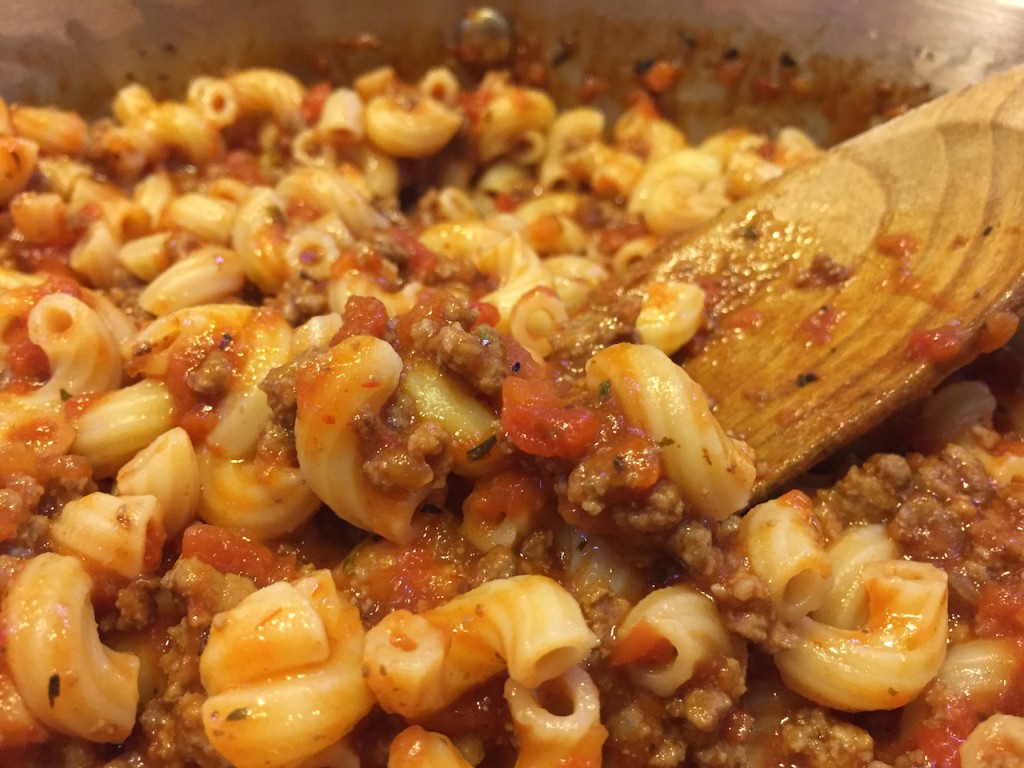 Finale:
This is so much healthier than that box stuff. And if you use a whole grain pasta, then it's even better. A sprinkle of parm cheese, a little garlic bread and you're good to go !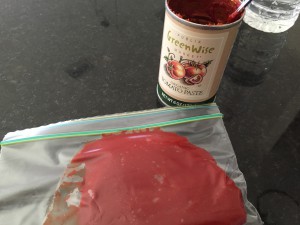 Oh, that half can of tomato paste? Don't toss it back in the fridge, it'll just go bad. Get a sandwich baggie and load it in. Squish it a little flat and toss it in the freezer for your next batch of better hamburger help….er.
Enjoy !!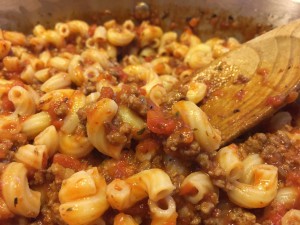 Slumgullion
2014-10-16 16:05:44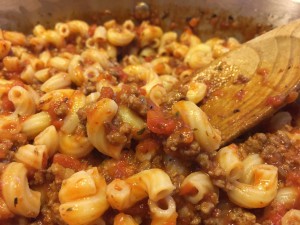 So easy - So good !
Ingredients
1.25# Ground Beef
2 Cups Pasta
1 package (box) Finely Chopped Tomatoes (w/ carrot, onion, celery)
1 can Tomato Soup
1/2 can Tomato Paste
2 tsp Italian Seasoning
Instructions
Brown the beef, Cook the pasta
Add the tomatoes to the beef and simmer.
Drain the pasta and add to the beef mixture.
Adapted from Everywhere !
Adapted from Everywhere !
BadZoot https://badzoot.com/