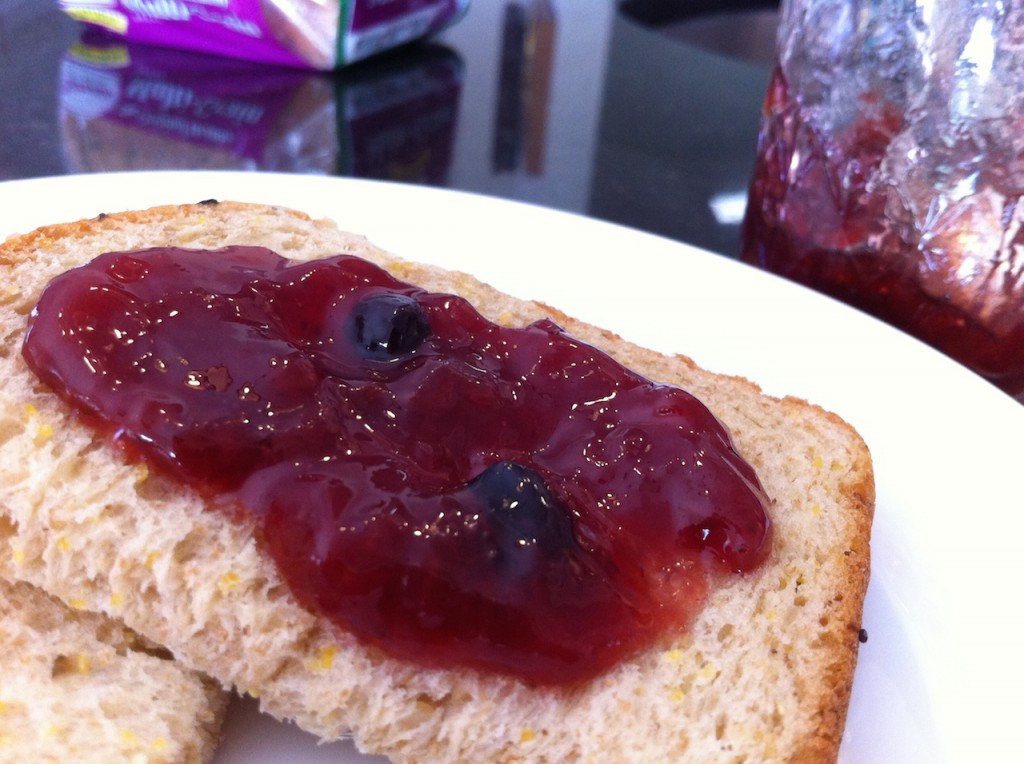 When life gives you strawberries,…
You can't make 'lemonade', and you can't just let them rot! Last week I posted to my Facebook a photo of a wedding cake that I'd helped my Mom deliver one gorgeous Saturday afternoon. It was a really simple cake. Very rustic buttercream icing slathered over moist white cake, but best of all, it was filled with strawberries – fresh strawberries!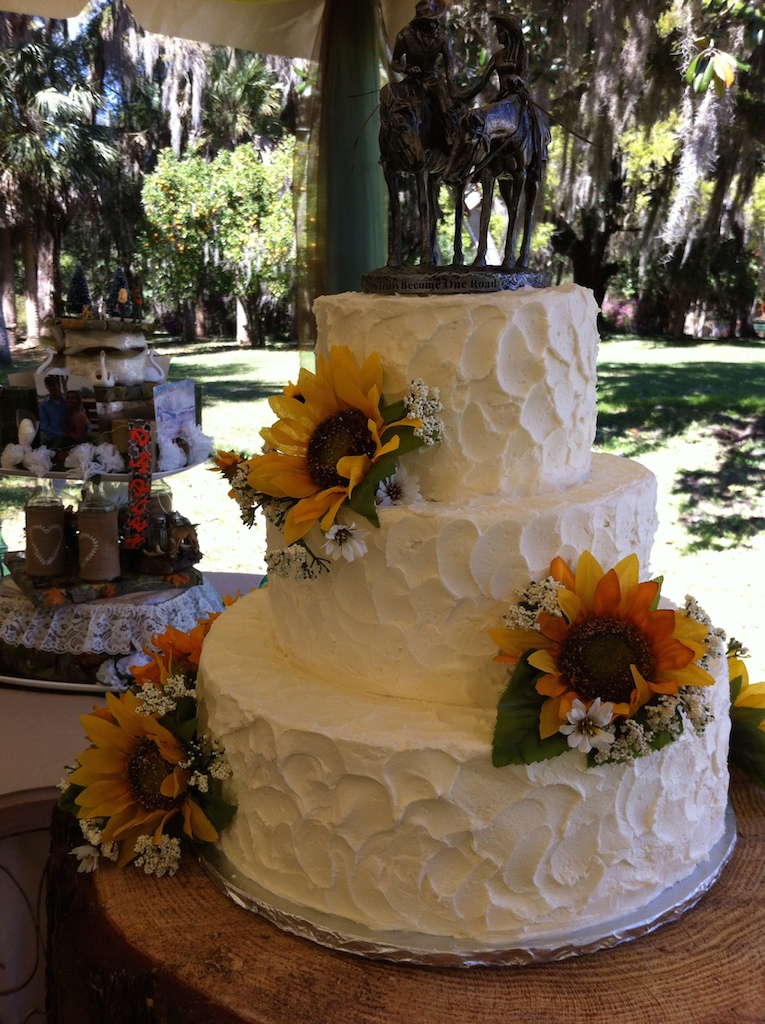 Being as wedding cakes are a one-shot deal, you have to be sure you've got plenty of berries to account for mishaps. Besides, this is central Florida and this time of year, those juicy, red gems are everywhere. You just can't have too many! Well, maybe you can. After we finished dropping off the cake to the party, Mom says, "Oh, and I have some leftover berries you can have. I'm sure you'll find something to do with them." That's great (besides, how many could there be). Wow – she hands me a great big bowl of cleaned and sliced berries. Too juicy to freeze for smoothies, a shame to dehydrate, and they'll go bad fast now that they're cut up. That means it's a short list – a shrub, a syrup, or jam.
Now, why on earth would you bother to make your own jam. I mean really, what a pain, right? Jam is cheap too. It's fruit and sugar – period. BORING ! This is when you make something that you can't buy at the store – any store! So, go and get some fresh berries, get your gourmet hat on and don't be a sissy ! (LOL)
Bad Berry Bliss Jam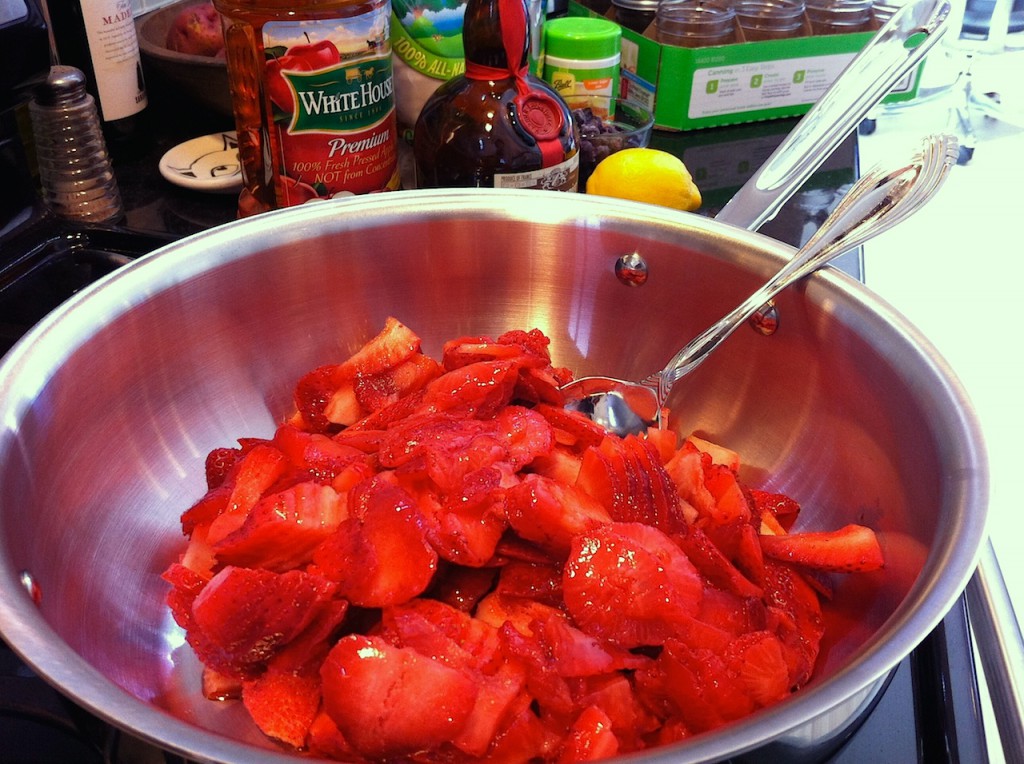 Step 1:
Get those lovelies cleaned up and sliced – or cut into quarters. It's always nice to have some larger chunks of fruity goodness in the jam.
Preheat the oven to 250deg. Put a couple of spoons in the freezer.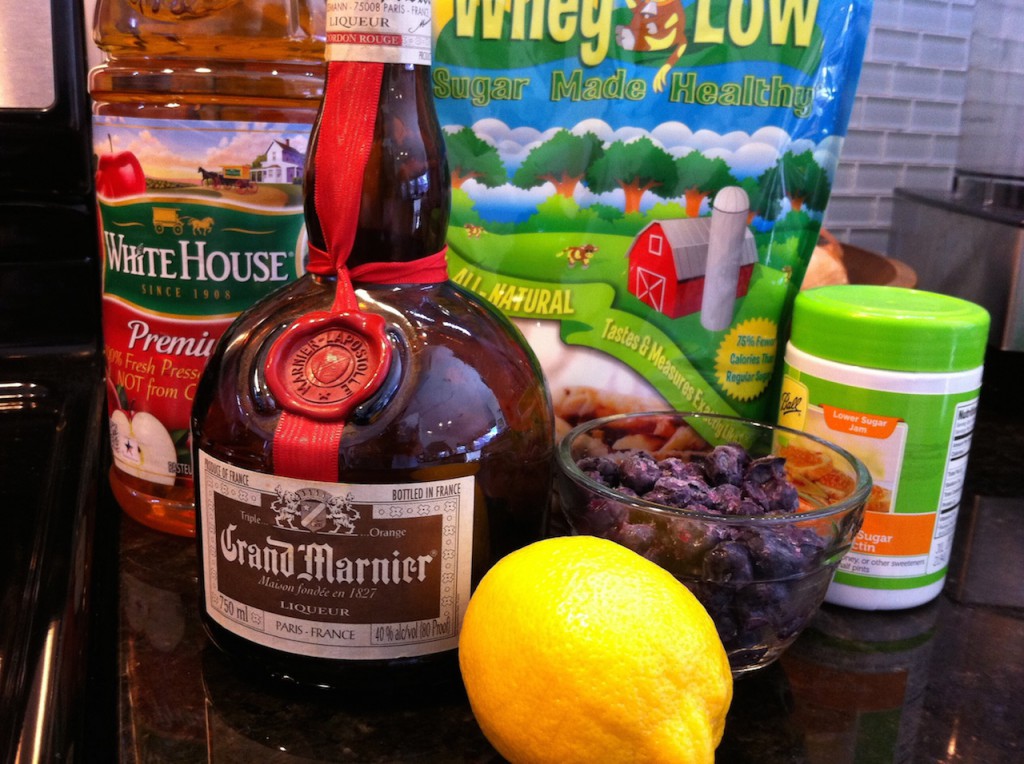 Step 2:
At some point you have to decide where you're going with all this. Maybe you don't like Grand Marnier, so you might use a vanilla rum or something. But Grand Marnier is so luxurious and just enough orange (I'm drooling, I know). I keep it here for recipes way beyond margaritas. Maybe you have Cointeau or even a nice Brandy left over from the holidays. You can be creative here, but just think about the way it will marry to the fruit. The alcohol will cook off for the most part, so don't waste your good vodka.
Shopping list:
Strawberries (about 3-4 pints cleaned and cut)
1/2 Cup Blueberries (fresh is best, but I had some frozen to use up)
1 Lemon, to zest and then juice
1 Cup Apple Juice (check your labels for USA products or go organic)
2 – 1/2 Cups Whey Low (or your choice of sweetener*)
3 Tbl GrandMarnier
4 Tbl Ball RealFruit Sugar-Free Pectin * (1-box =3 Tbl)
*Your choice of sweetener may vary. I like Whey-Low, it makes great jams and baked goods. But anything other than real sugar will require a pectin made special for lo-sugar jams. If you opt for regular sugar, use a solid 3 cups of sugar and regular set pectin. Regular jams are almost 1-1 sugar to fruit ratio. Yeah, that 's why I make the lo-sugar varieties.
Speaking of pectin, there's about 3 Tbl in a pre-measured box. I found I needed more due to the lack of pectin in strawberries, and the addition of alcohol. Yours may set fine with just 1 box.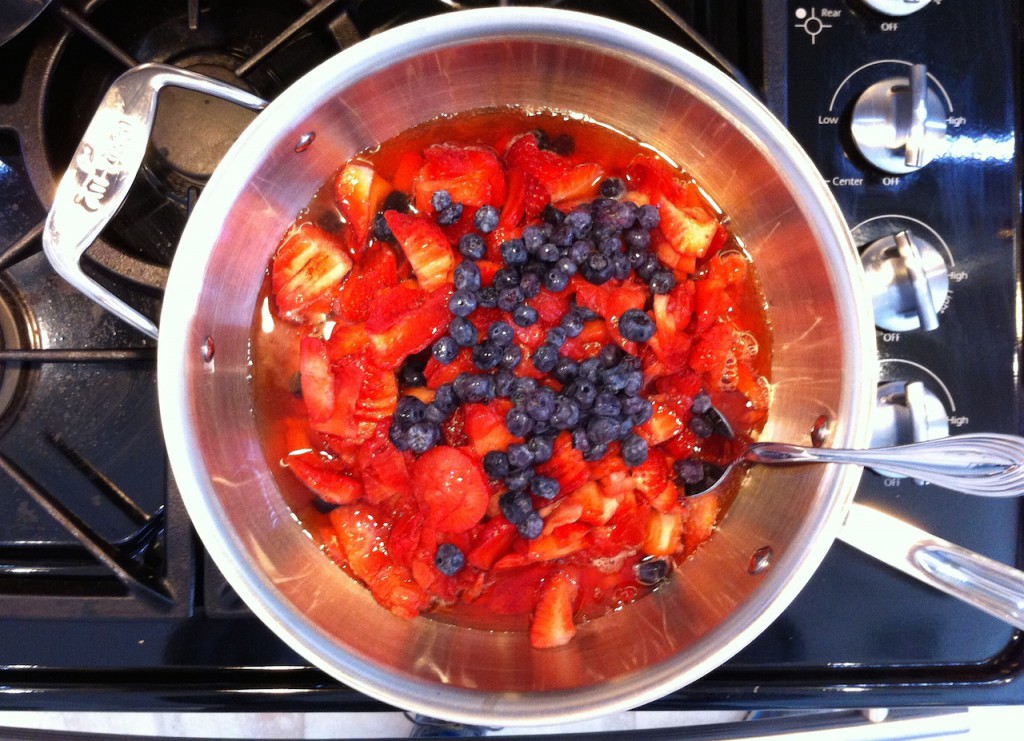 Step 3:
Get the fruit into a med/large pan (this is a 4qt). Meanwhile, get your jars and lids sterilized. Set on a cookie sheet for 30min in the oven (@250). Also, get a pot of water boiling on the stove to sterilize your scoop and funnel for the jarring process. Now, if you intend to keep this in the fridge, then don't bother. Just put it in clean jars…it may not last long anyway!
Step 4:
Zest the lemon. You did wash it in warm water first, didn't you? Eww, you don't know where that zest has been! OK, now juice it.
Get it all in the pot. Careful adding the booze – turn off the flame, if you're on gas, while you add. We're not going for a flambé' here folks!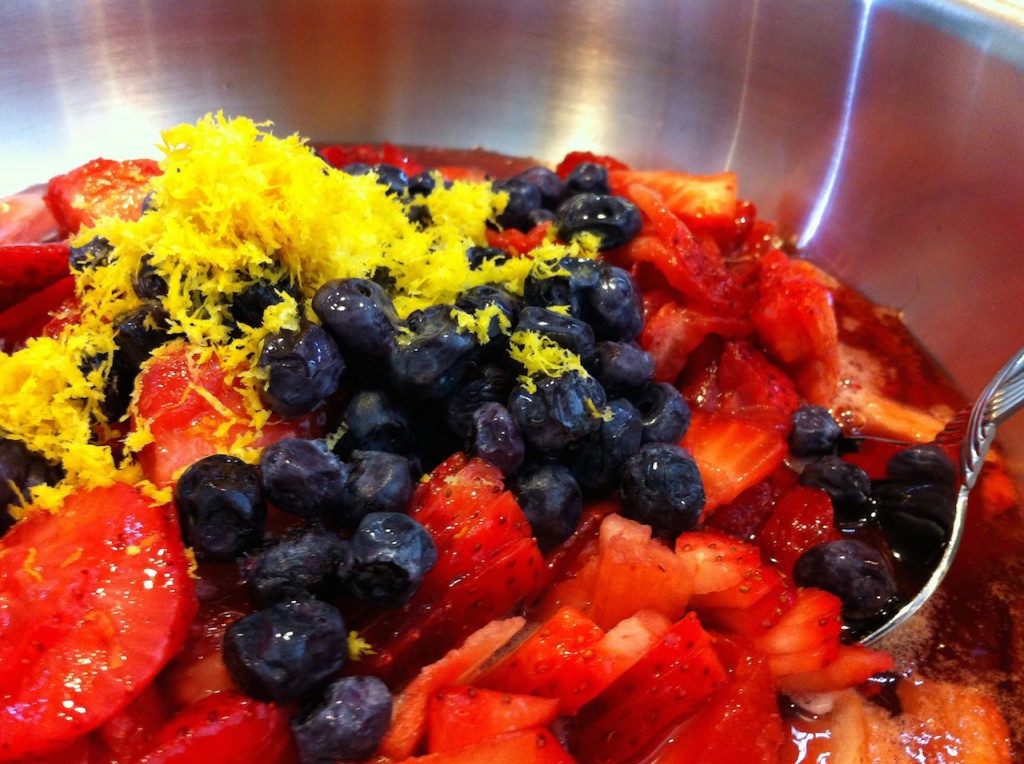 Wow – Looks like a fruit salad. I would drizzle this with the booze and serve at a picnic! (a mermaid picnic, wink-wink)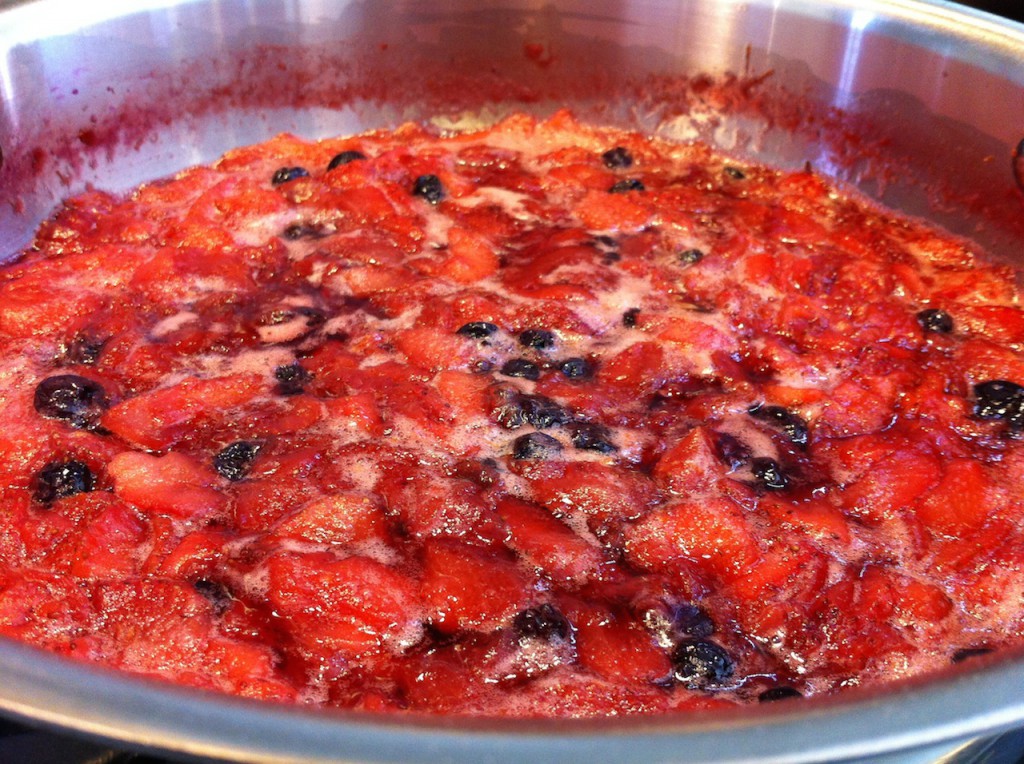 Step 5:
Cook it up. Careful it doesn't cook too long. The blueberries have lots of pectin on their own and they help with the color. Strawberries can turn an unappetizing color without a ton of sugar to preserve it. The lemon zest gives a brightness that lasts beyond the canning process.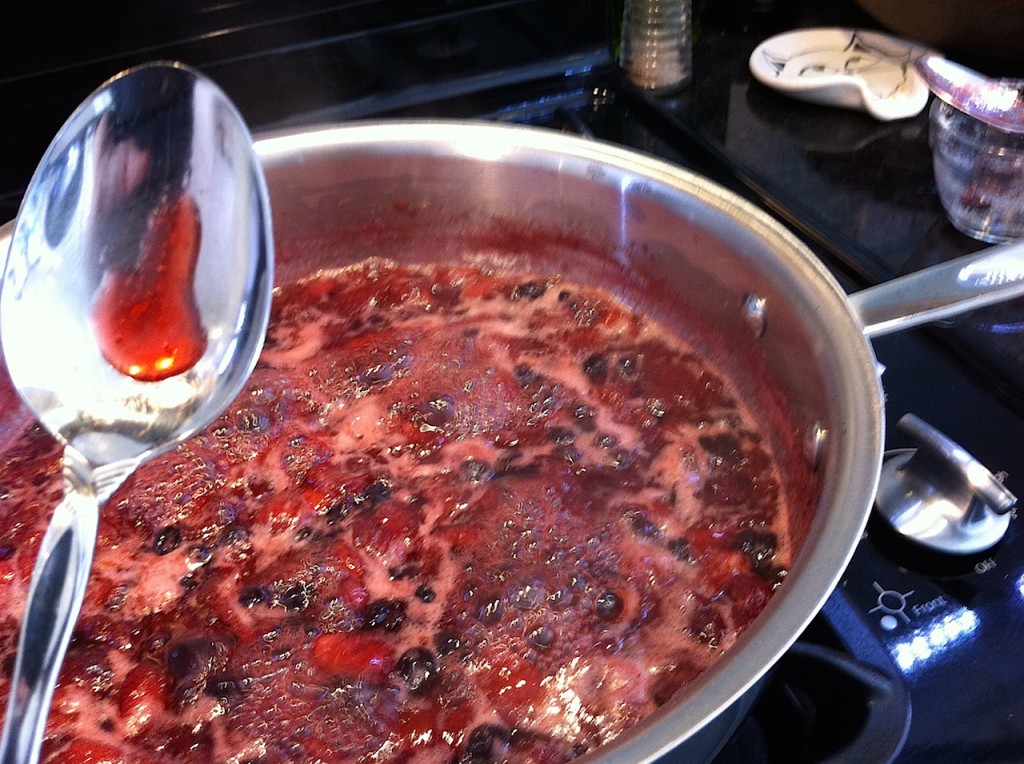 Step 6:
Remember those spoons? OK, go and get one drop a tiny bit of the sauce on it and you'll see if it gels. If it doesn't run off the spoon you're good to turn off the heat. If not, keep cooking a bit. And check it again.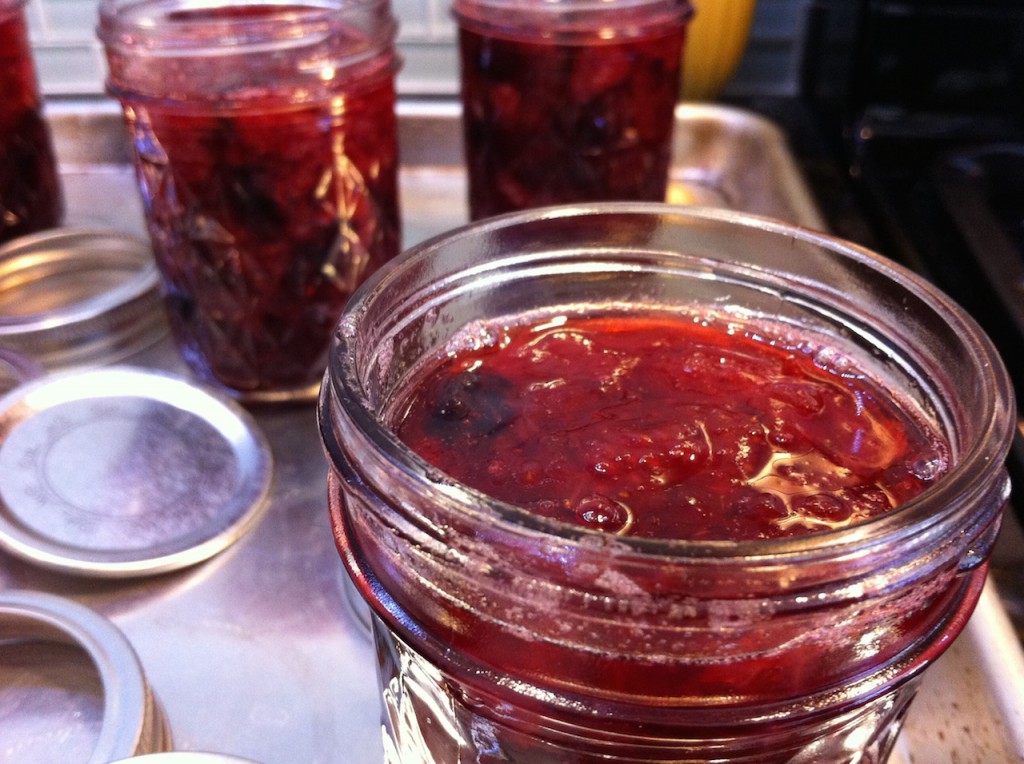 Step 7:
Get that yumminess into their jars.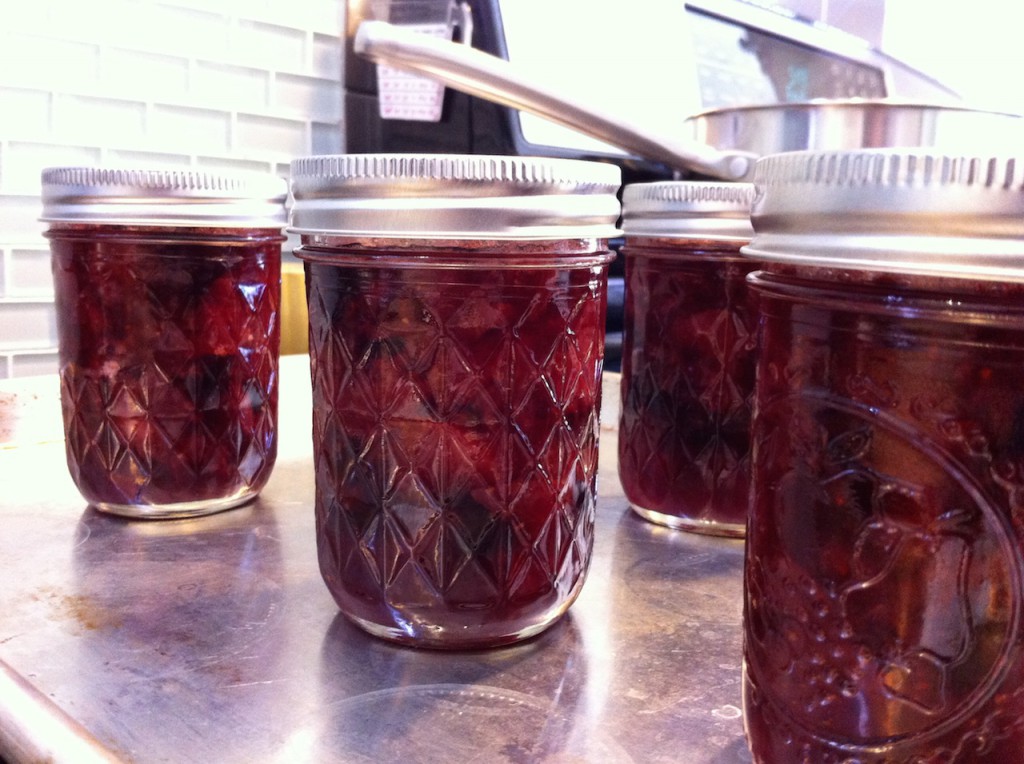 Step 8:
Finger tighten the lids. Set them in the oven for 30 min at 250deg. To 'process'. When they come out the lids will pop as they cool and you know they're safe.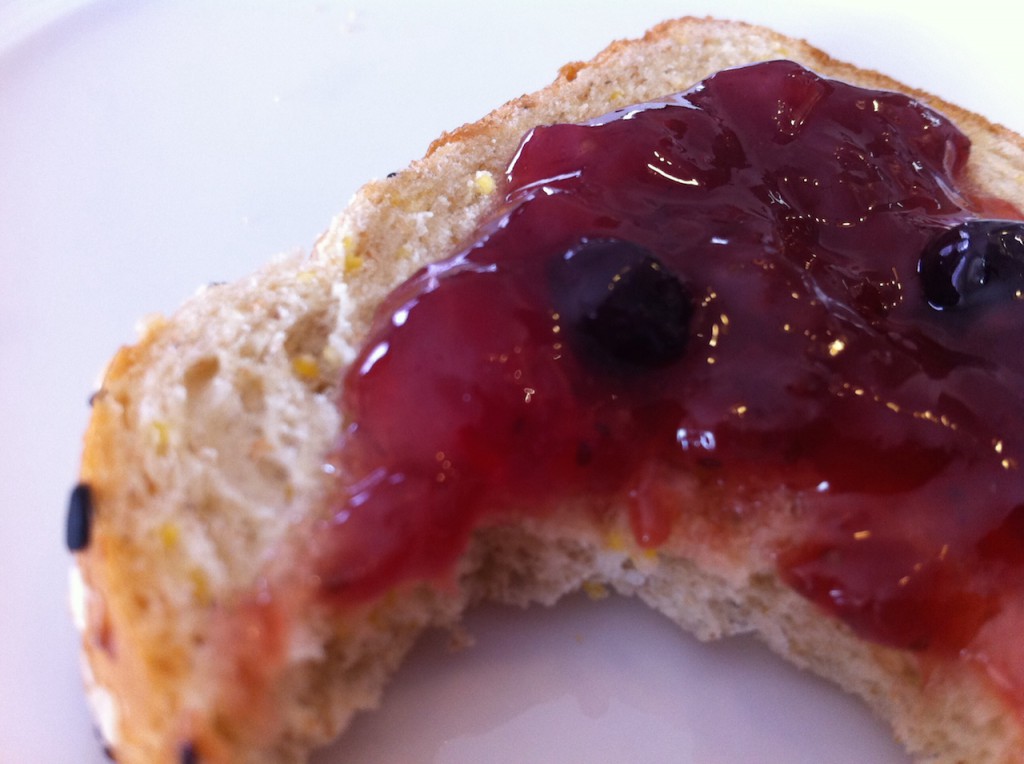 Now, taste it. Ooooo, so bad! But in a good way…you can taste everything in it! The lemon zest, the orange tinged liquor (minus the alcohol) and the freshest berries. This is why you took the whopping hour and a half of monkeying around in the kitchen to do this. There's 6 – 8oz jars to last me until the next fruit comes into season and I'll be lacing my pancakes with yet another healthy, creative concoction that I'll never see on the store shelves !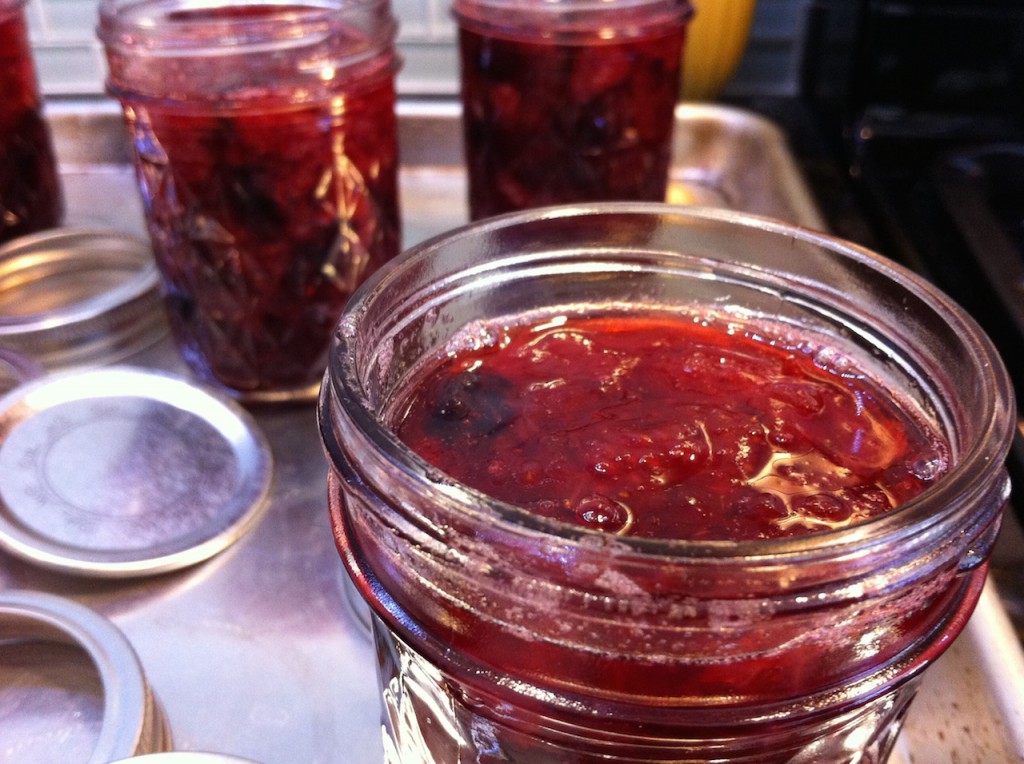 Berry Bliss Jam
2014-04-19 17:52:19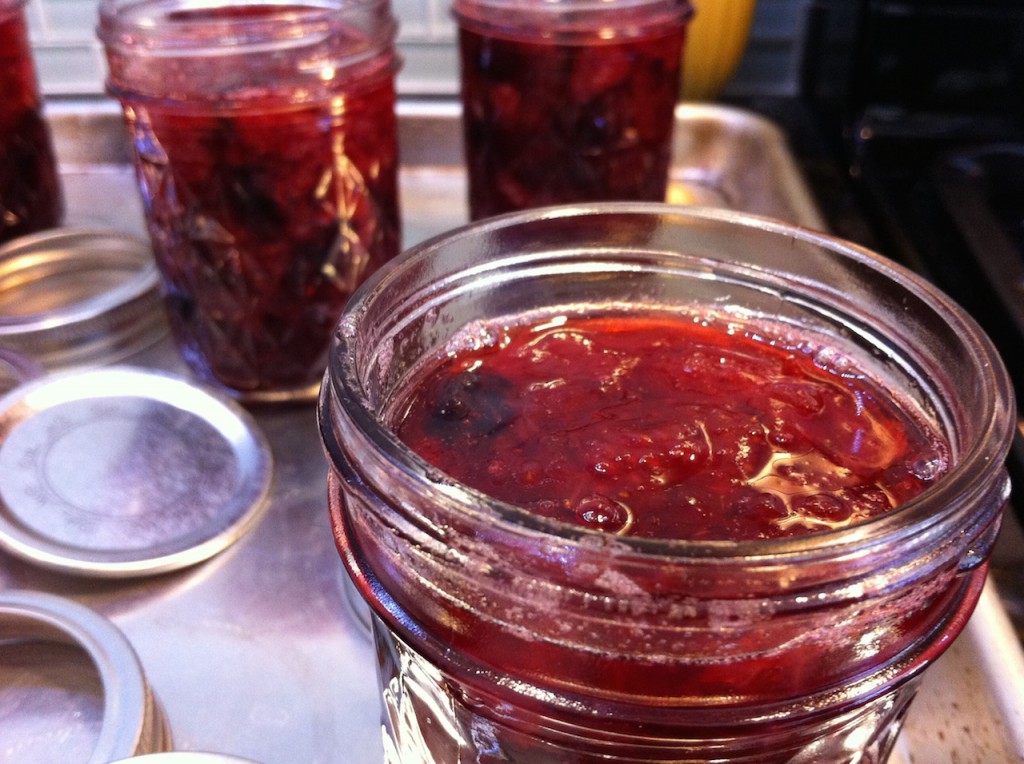 You can't buy jam this good.
Ingredients
Strawberries (about 3-4 pints cleaned and cut)
1/2 Cup Blueberries (fresh is best, but I had some frozen to use up)
1 Lemon, to zest and then juice
1 Cup Apple Juice (check your labels for USA products or go organic)
2 - 1/2 Cups Whey Low (or your choice of sweetener*)
3 Tbl GrandMarnier
4 Tbl Ball RealFruit Sugar-Free Pectin * (1-box =3 Tbl)
Instructions
Preheat oven to 250deg, and sterilize jars. Place some spoons in the freezer.
Get the fruit, zest, juices, and sweetener, into a heavy pot and bring up to a simmering boil.
Add the pectin, turn off the burner (gas only) and add the liquor. Re-light and continue to cook.
Let it cook until the pectin sets. Use the spoons from the freezer to see if it's ready.
Get it into the jars and finger tighten the lids. Pop back into the oven and 'process' for 30min.
Notes
*If you use regular sugar, you have to change the pectin (see the box for more directions)
This is so good. You can taste the lemon and the blueberries keep the strawberry a darker color, and add some pectin. The liquor? Well, the alcohol will burn off, but you can taste it. It's that little something that people can't put their finger on,...but they like it.
Adapted from Ina Garten's Easy Strawberry Jam
Adapted from Ina Garten's Easy Strawberry Jam
BadZoot https://badzoot.com/