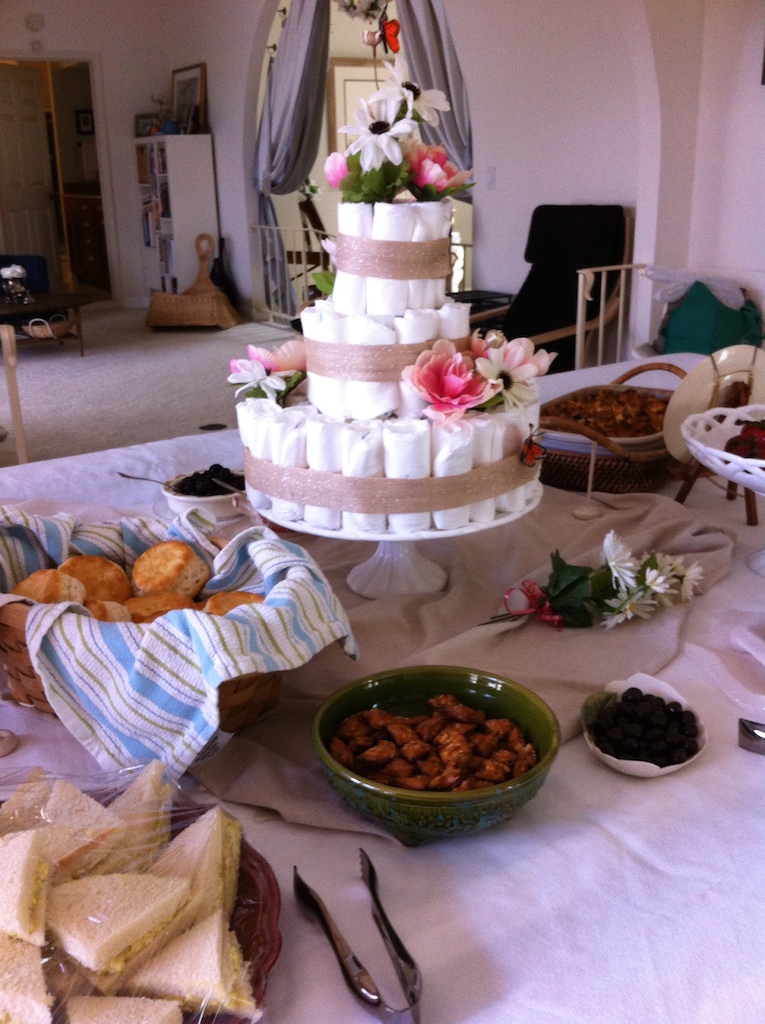 This past weekend I threw a Baby Shower for my Niece and things have been a little tight, budget-wise, around here lately…like for the past 4 years! Never fear, I've thrown tons of parties in the past and as a pack-rat, I keep everything!
Last year I threw a Bridal Shower for my cousin. That one, the weather and time delays made a mess of, but I still held on to all the decorations and ideas that I'd planned on using…now, where did I put those boxes? Also, as an antiques freak, I've got lot's of cool Transfer-ware plates and old pottery pieces that go perfectly with a more rustic look.
First off, the table, we have a pool table near the kitchen area, and that'll do fine. I used the table cloths for standard conference tables, that I had gotten at the warehouse club for cheap, last year. Topped them with some sparkly-linen fabric that I picked up at Jo-Ann's home decor section for 50%. At 60″ wide, a yard and a half or so, cut (rather haphazardly) longways was plenty to use as runner accents for those long tables,…but this time I'll use it like a sash on the gift table and wound around a flower garland (garland half off too!) as decor. See – don't throw anything away!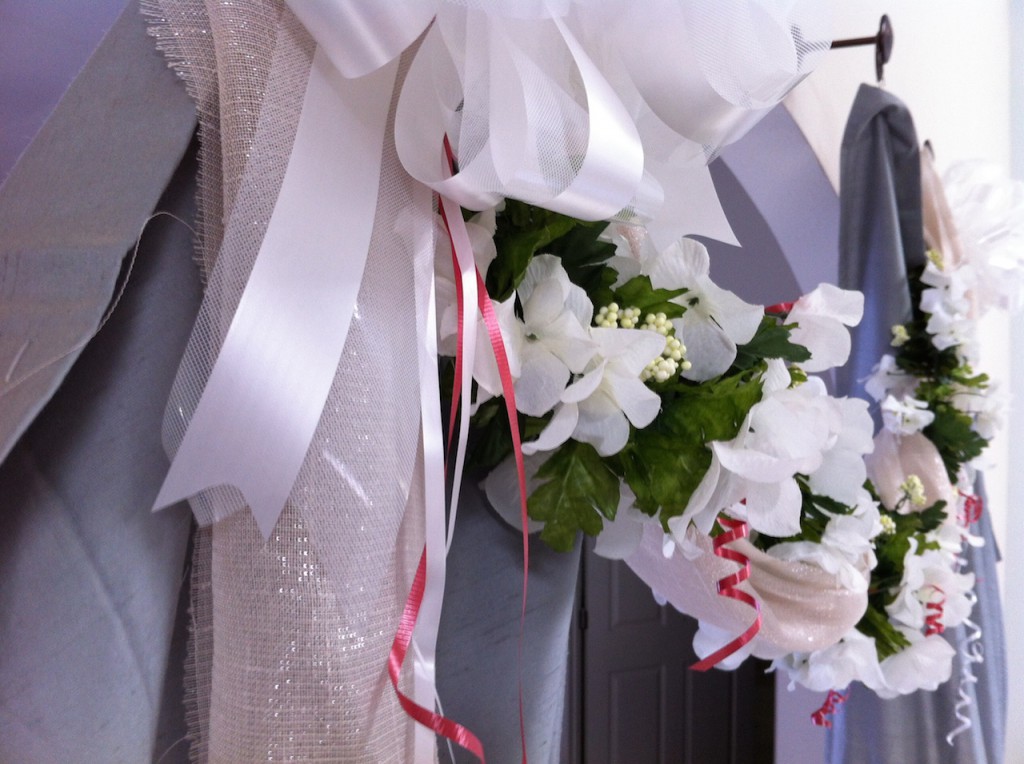 I did buy new things, like the bows. I do not tie bows well – I'm lucky I can tie my shoes! When I went to the Dollar Tree, they had pew bows in a pack of 2-for a dollar! Yes! But they look very wedding-like. I found some dollar curling ribbon in a pinky/coral color that was perfect. You see this Mom-ToBe is not very traditionally girly. No pink bows, thank you.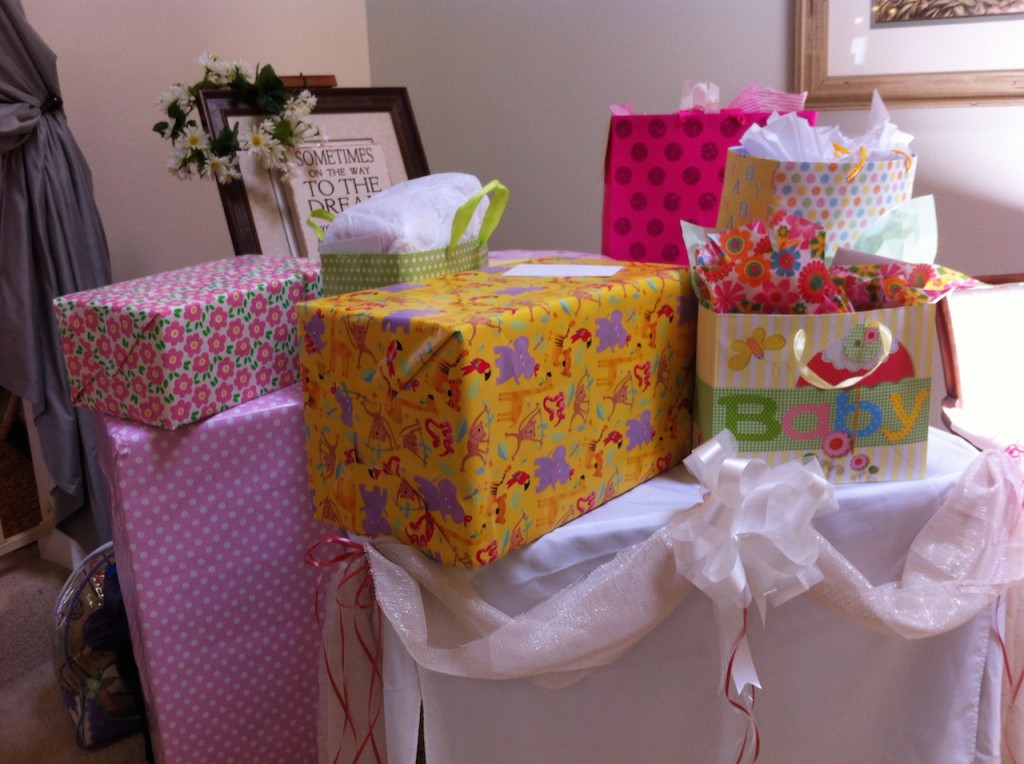 Next, the black-hole-of-time called Pinterest got me in trouble with a 'Diaper Cake' – wow, I love it! I can do that! Do you think I could find a tutorial? No, just pics. How hard could it be? Oh, did I actually say that – then begets the nightmare of wrapping 80 something diapers! "Wait – how do they get them to stand on end in a circle while you wrap them?" (much cursing!) Then I thought, I need to do a step-by-step for the all-thumbs people like me out there. So, for your viewing pleasure I bring you …The Diaper Cake.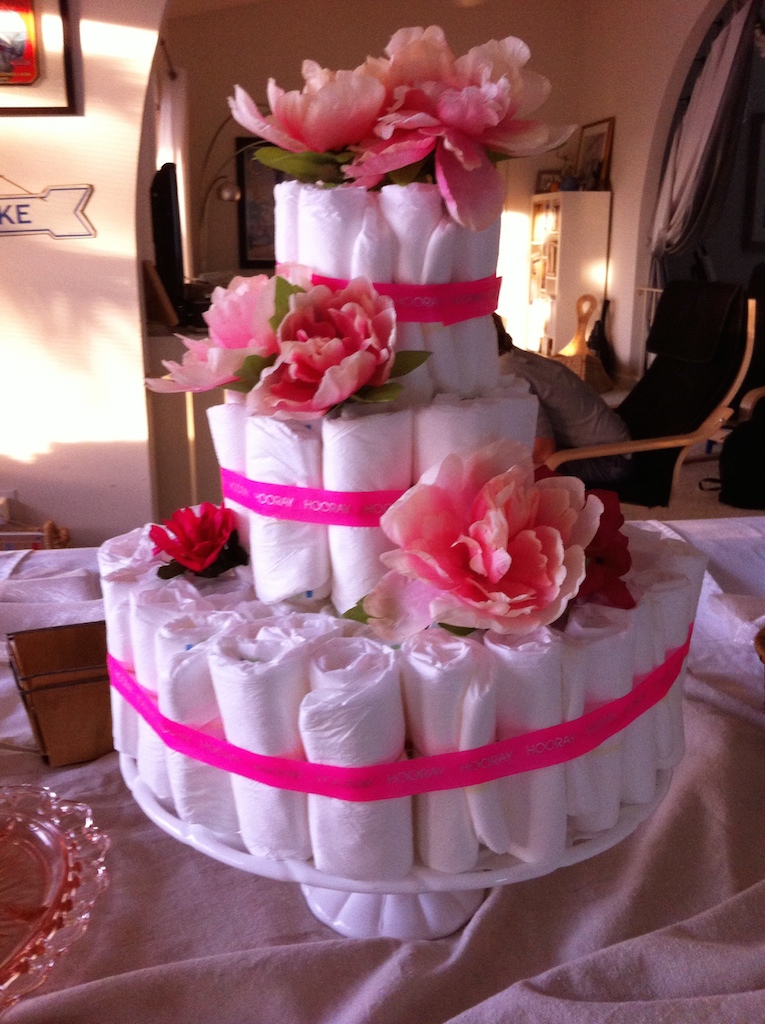 I know, this doesn't look like the one in the original post photo. That because I changed it after it looked too, well, pinky.
Step 1: Get a ton of diapers (cause she's gonna need 'em). OK, maybe just one pack of #2's. Some rubber bands, washi tape or ribbon, flowers, and lastly some kind of round form to start with. Say, an 8″ cake pan.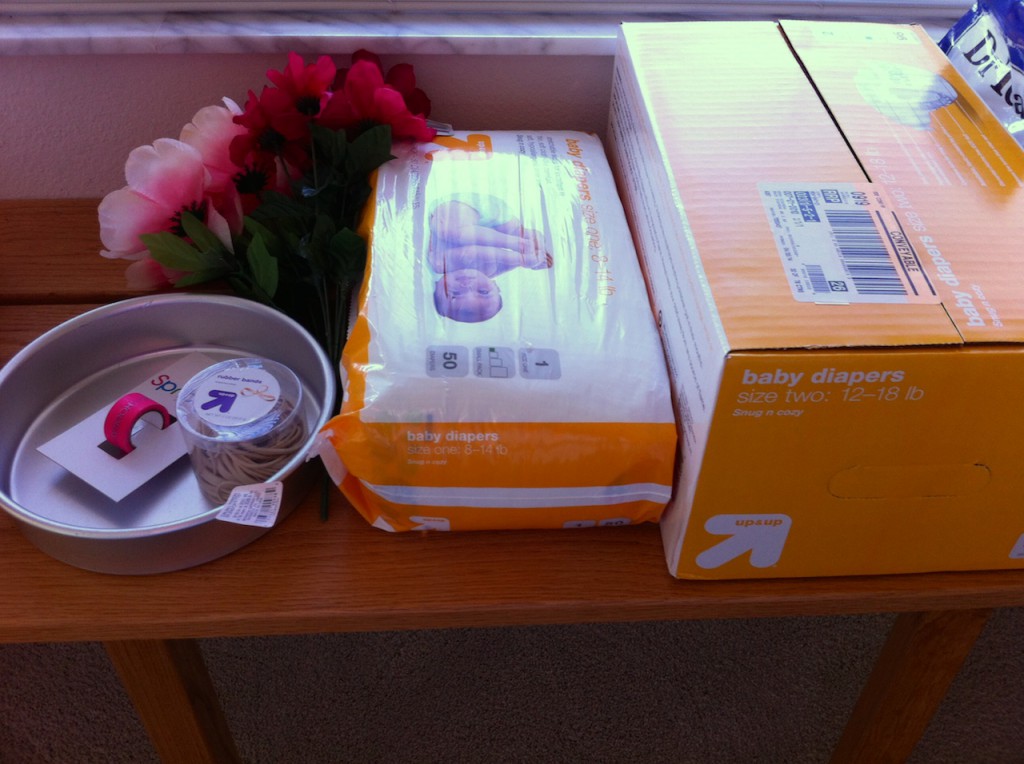 Step 2: Get rolling and wrapping ! Make sure that waist band is on the inside – you didn't buy printed diapers did you? – ugh, that's just more work.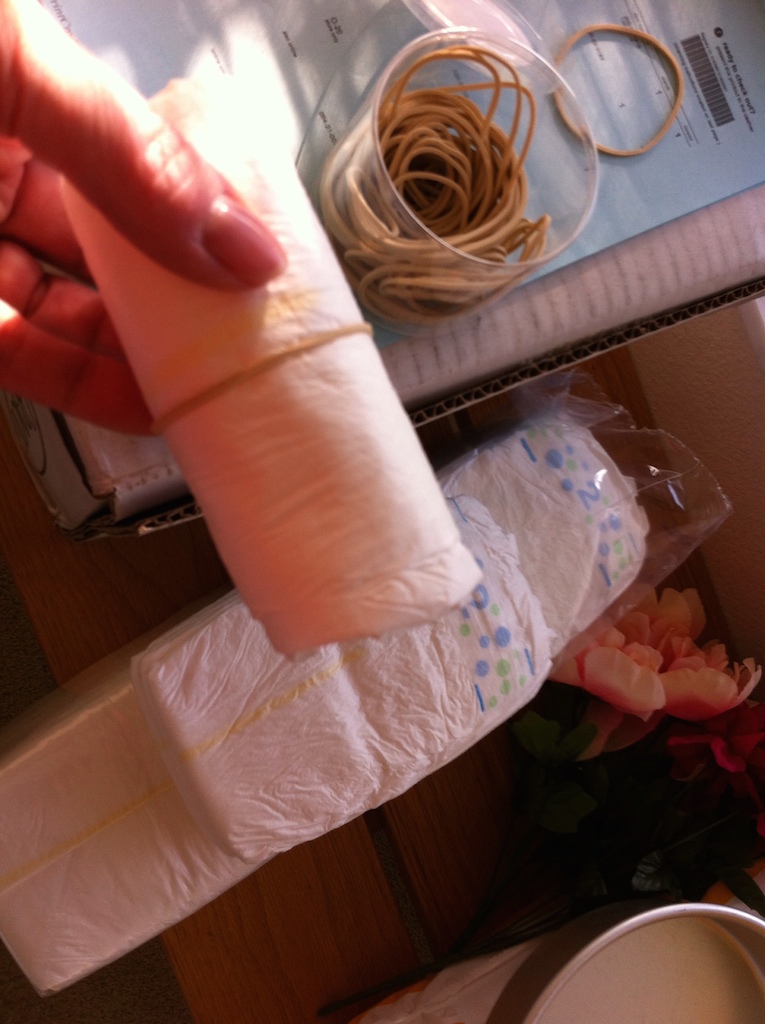 Step 3: Set them in the pan to form the circle, this is your middle layer. Hurry up, the sun's going down!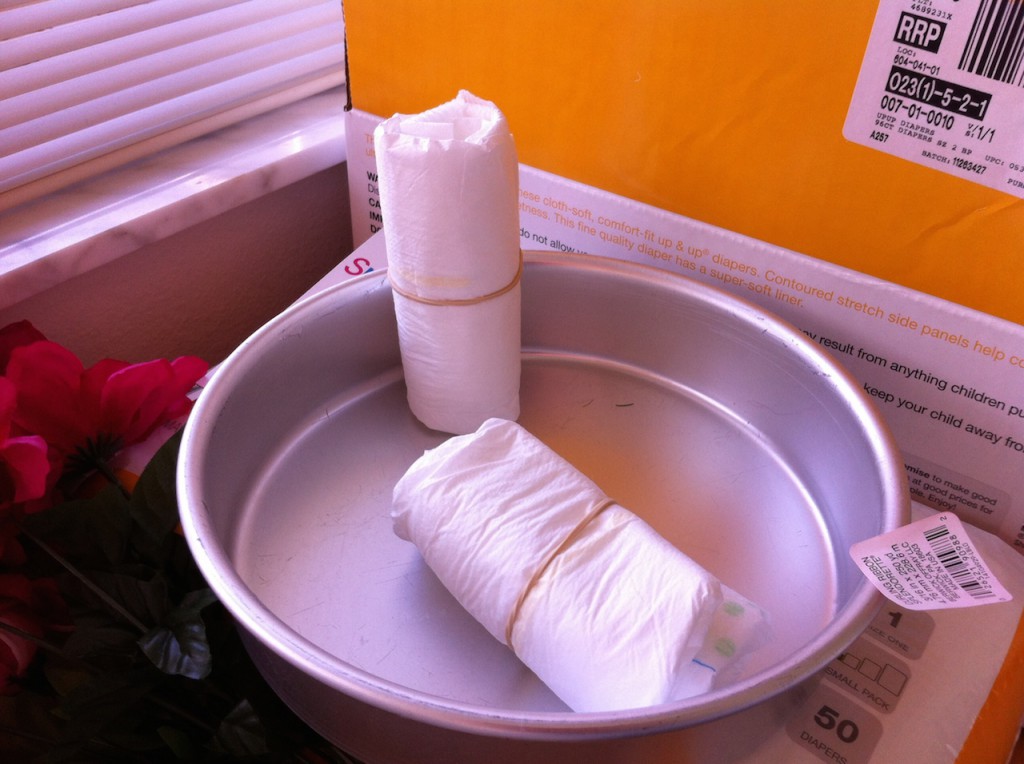 Step 4: Now that it looks like a 'cake', wrap it with the ribbon or washi tape and set aside.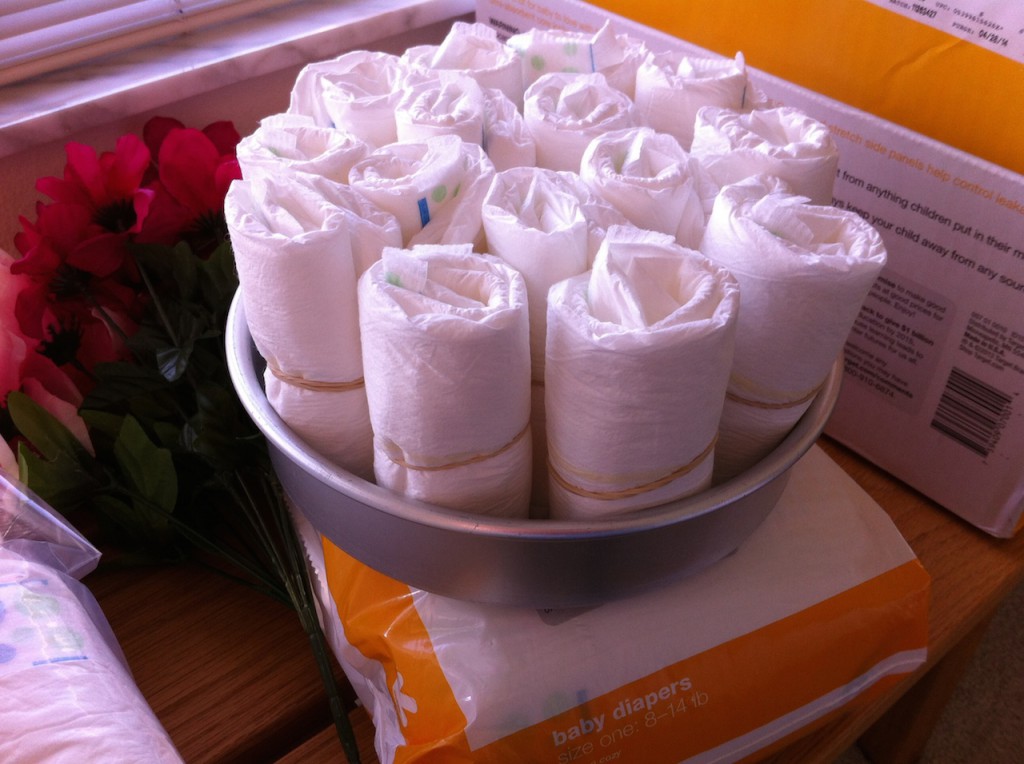 Step 5: Make the top layer with 5 or 6. Wrap it the same, and set it aside. Now you need to make another cake layer base like the middle layer. Wrap it the same and then add another layer on the outside to make an even circle. Wrap it and set it on your cake stand or plate. I have an old milk glass cake pedestal stand.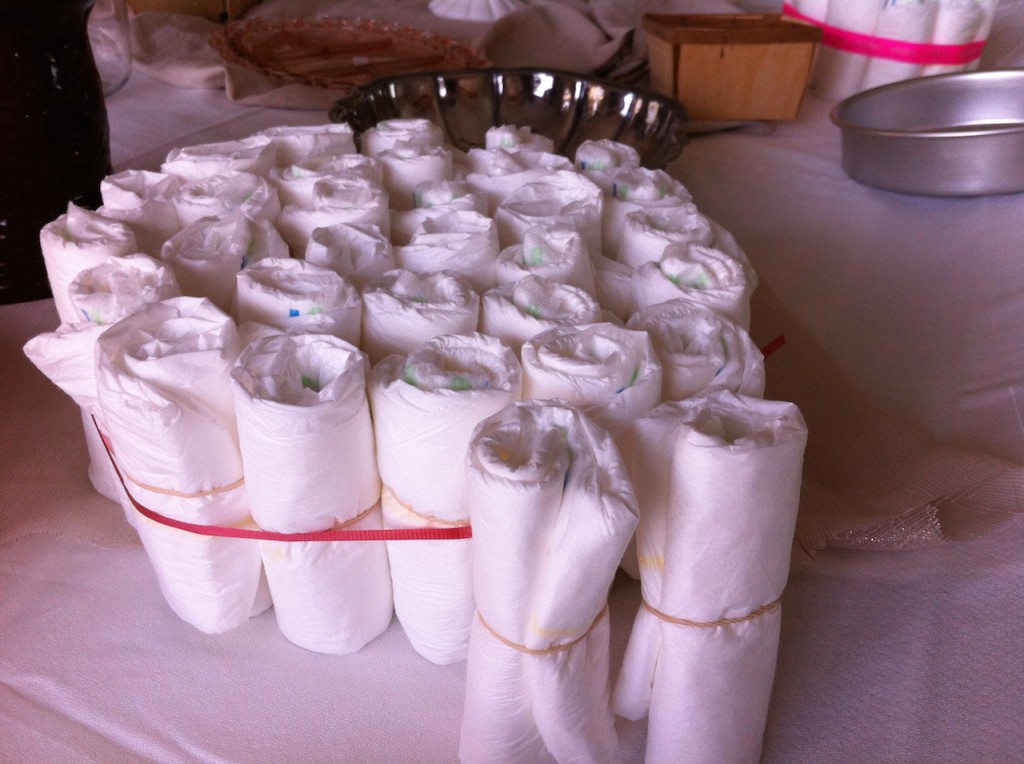 Step 6: Stack them nicely ! Looks like a cake – now sprinkle it with flowers and you're done!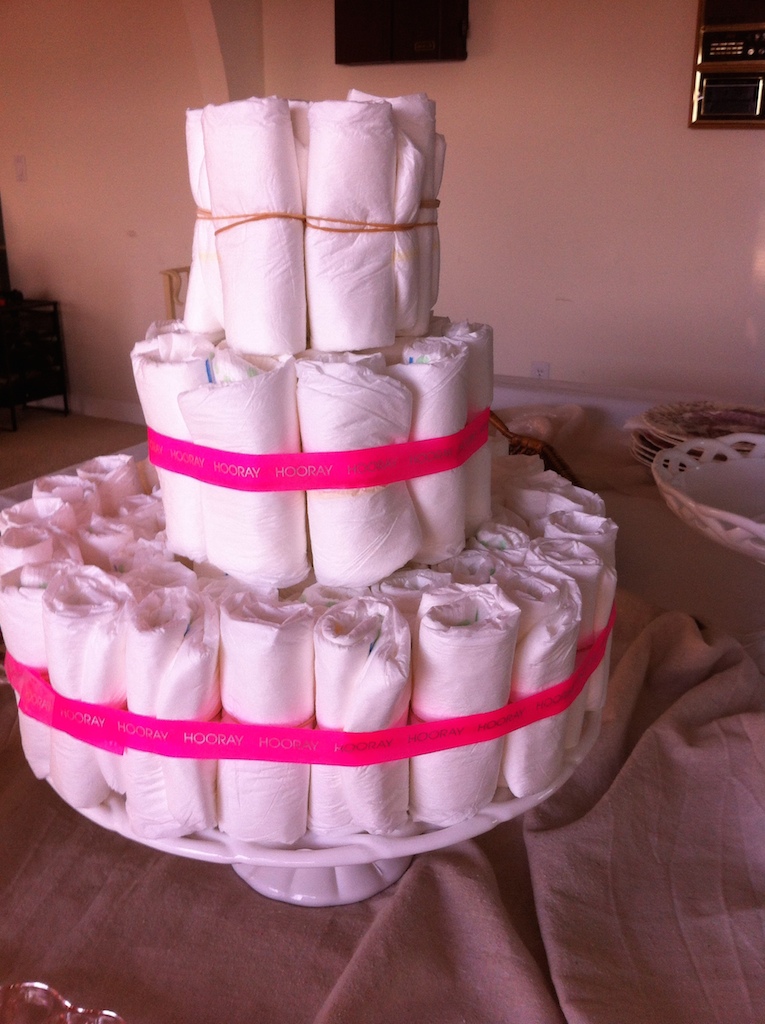 OK, that is if you're not me. Later, I decided I didn't like the washi tape. So, off to Michaels, with my 50% off coupon, I went. I found some linen ribbon, then I found linen ribbon with sparkly bits in it – Ooooo!
Finale: Oh, yes – that's perfect! I even found some little butterflies and daisies for her hair. But ribbon doesn't stick to itself like washi tape. That's when I break out my go-to sewing device…the stapler!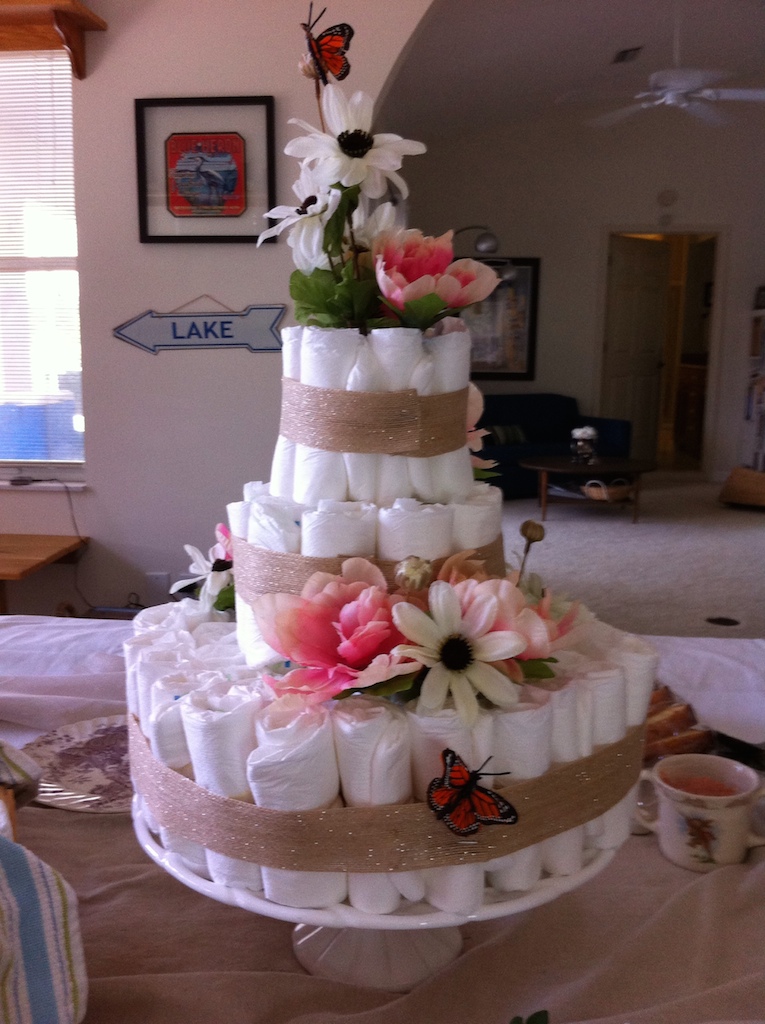 By the way, the flowers were almost exclusively from the Dollar Tree. I had no idea they had so many things I could use for this – my checkbook is sooo happy for that! While there I found little napkins with butterflies …a dollah! Wrapped up with my standard kitchen napkins – yay and stowed in my 50cent thrift store basket, they look so festive (and cheap – shhh!)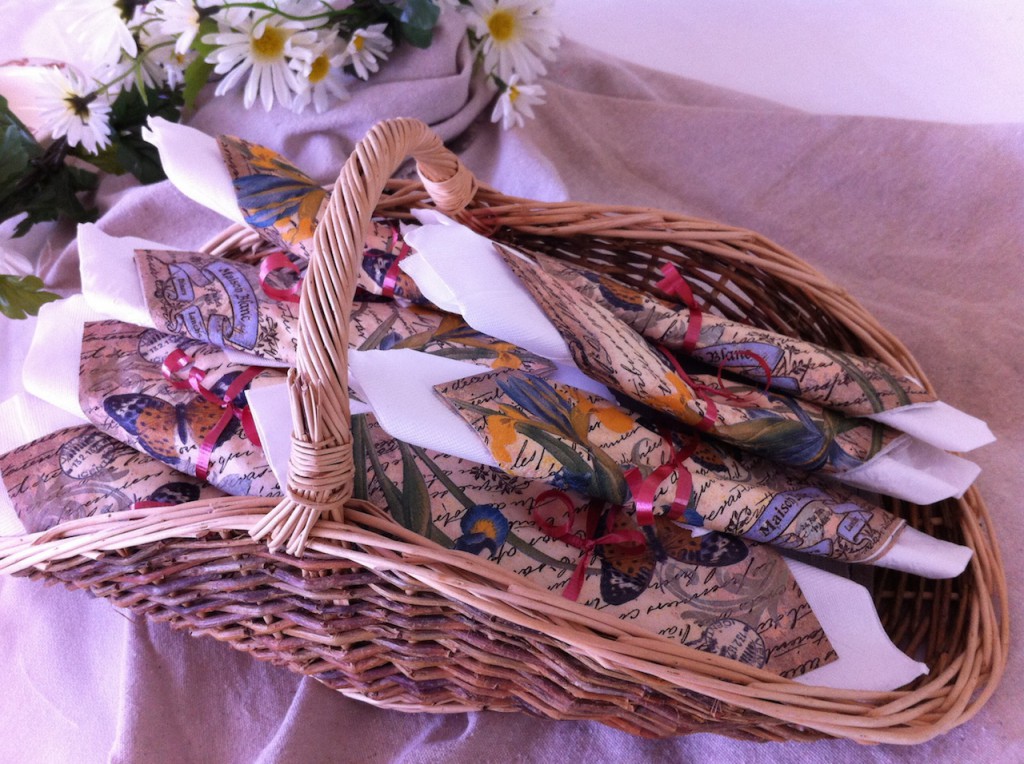 Oh, yes Showers have games. Hmmm, I don't do games, but one of my guests that will be there is a pro. She promised to handle them if I'd make sure there are prizes. OK, that I can do – back to Pinterest.
I had picked up these glasses, puffs, and plastic metallic look spoons at the Dollar Tree. Then a stop at Target for a bag of Dr.Teals Scented Epson Salts (like $4.00 for a bag and there's plenty left for me!). Target also had those neat barber pole straws, and little boxes of wild flowers seeds in the 'dollar section'. Then, I had to go to Sally's Beauty Supply for other things and spotted these tiny nail polish bottles in cherry red for like a dollar…luvin' the dollar routine! I wound some floral wire around the cap to keep them standing up in the puff like a cherry. So cute – it's sickening!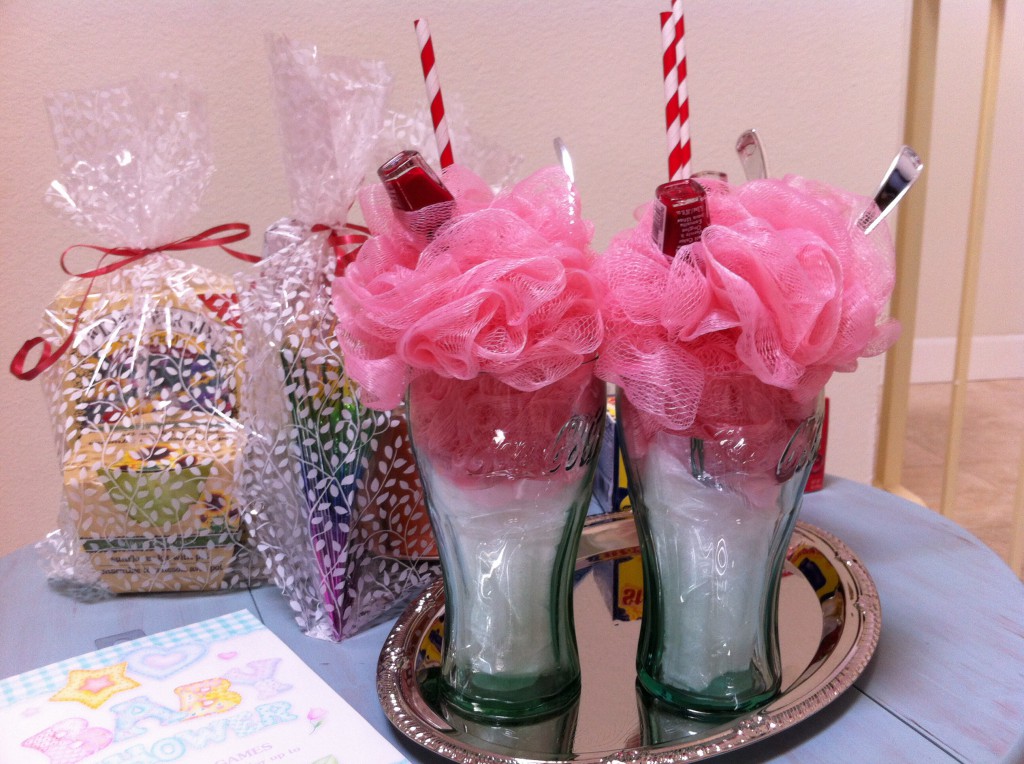 The whole thing turned out pretty well. The guests ate well and seemed to enjoy themselves. Saving money on the party itself meant I had a bit more cash to put towards a nicer gift. That was so worth it!
Smiles were everywhere to be found – especially on our Mom-to-Be !