Whaaaaat?! Oh, yeah baby ! The lovely lady over at 'OhHowSheGlows' posted a little ditty on using coconut milk as a non-dairy and gluten free whipped topping. So good I had to try it ! I mean, it should really work. You know I can't leave anything alone – let's take it up a notch.
Icing and frostings are one of those items that are really hard to make without their main ingredients,…sugar,…and fat – either dairy or vegetable. I mean, buttercream icing, without butter … or cream ? GASP! What decorator icing is usable without Crisco,…honestly. And I know what I'm talkin' about here people, my Mom's our local 'Cake Lady' and has been a professional decorator for as long as I can remember. And that, my friends, is a l o n g time.
In my previous search for a healthy alternative to cake icing, I spotted a recipe in one of my favorite newer cookbooks, 'It's All Good' by Gwenyth Paltrow, which I reviewed earlier. (Sorry, Martha, it really is a good book) That said, there was one thing out of that book that I did not like,…that 'Healthy Buttercream Icing'. Not good.
This alternative, however, was.
Coconut Milk Icing:
1 Can Coconut Milk, organic please.
1 Cup Powdered Sugar (I used Whey-Low for calorie savings)
1/2 tsp Vanilla Extract*, or other flavor
1/4 tsp Vanilla Paste (more or less)
* add accordingly. Meaning, almond extract might only need a few drops)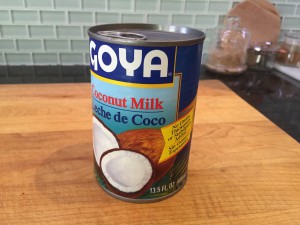 Let's talk about the milk. I bought a couple cans because the brand used on the other blog wasn't available. She said 'choose one without stabilizers'. Goya has no stabilizers. Just in case, lets try another brand as well. I tossed them both in the fridge.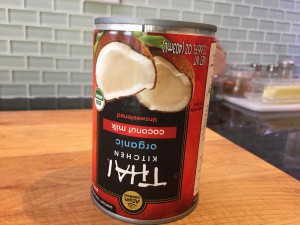 Ok, I get it, that when the solid fat sinks to the bottom of the can, it's easier to open the bottom and pour off the liquid. Then you can pop the top and the solid rolls out into a bowl.
But that's not what happened…
Open the can and….? Ewww.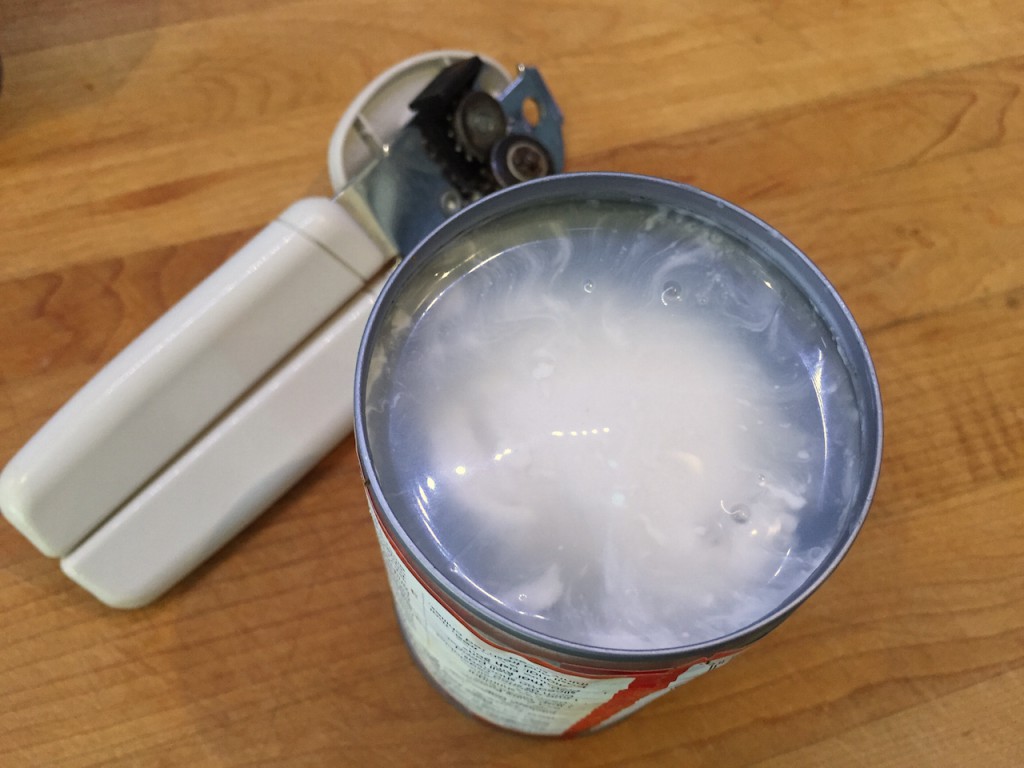 Step 1:
Needless to say, pour off the incredibly unappetizing 'water' portion. She said to save it for another use, so I did. Sort of.
Scoop out the solids in the bottom.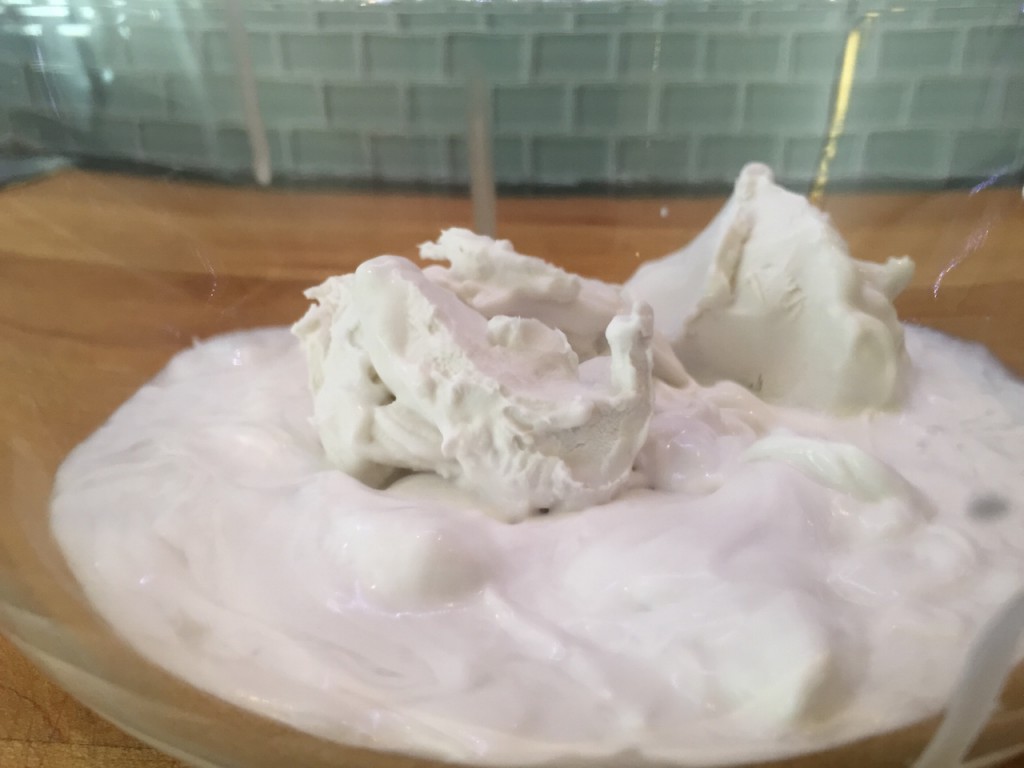 The Goya brand never did separate. Upon opening, the entire can had tiny lumps of the fat suspended in it. I sat it aside, and moved on with the Thai Kitchen can.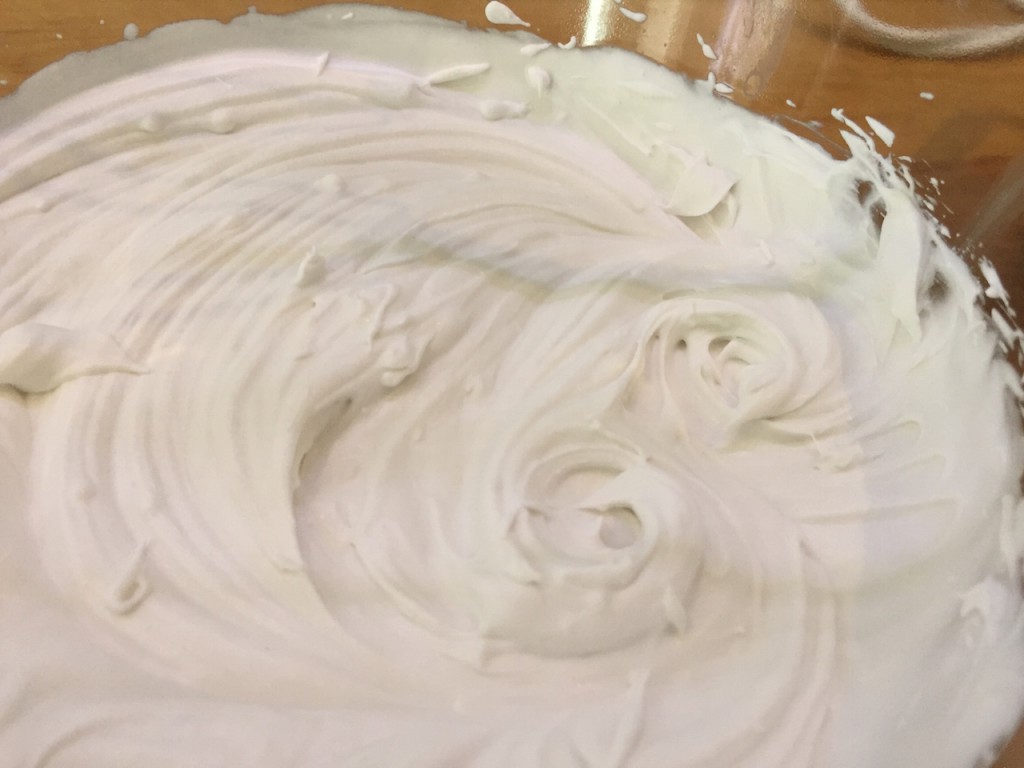 Step 2:
Now get out your hand mixer and whip it – whip it good. (yes, I'm dating myself,…and not in a good way)
Here's where you can stop and use it as a whipped cream substitute. It's so simple – so good.
Speaking of subbing, I Wiki'd coconut milk to see if the fat solids were better for us than, say, milk fats. Turns out, they are! "Coconut milk is rich in medium-chain fatty acids (MCFAs), which the body processes differently from other saturated fats. MCFAs may help promote weight maintenance without raising cholesterol levels."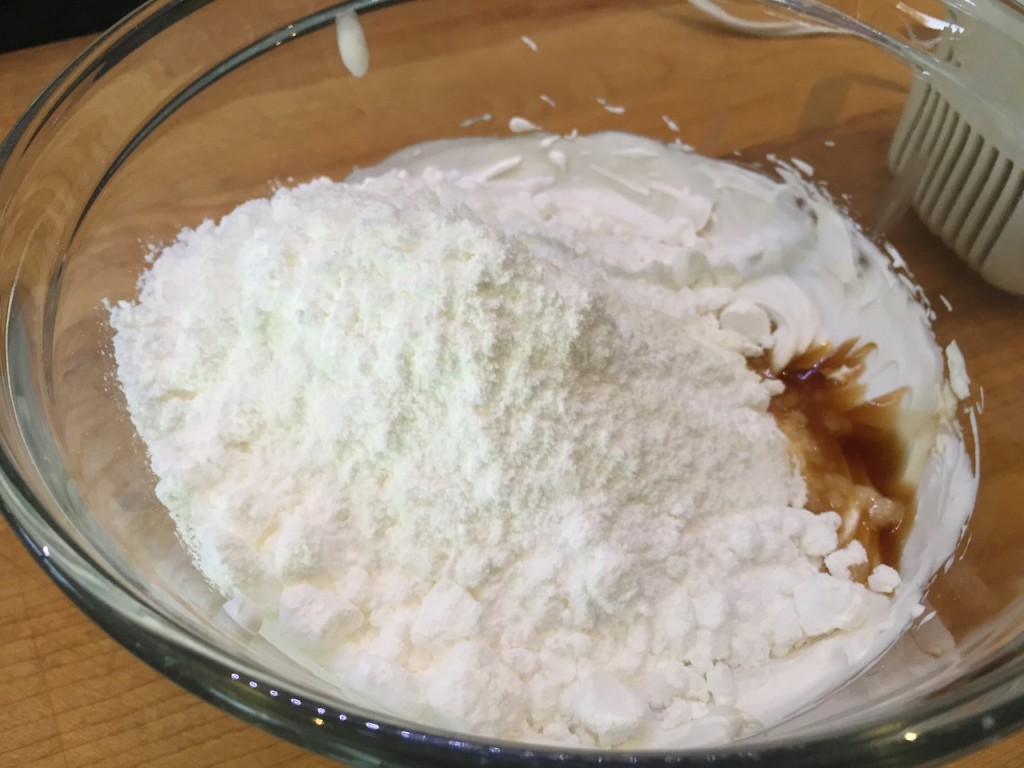 Step 3:
Just like regular icing, add in your vanilla and powdered sugar. I mixed it with the beaters off to keep from wearing all that sugar! And then let 'er rip!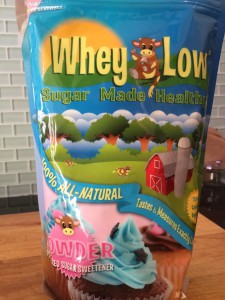 Whey-Low is wonderful. Made from the sweetness of milk, 75% less calories and all natural – yum!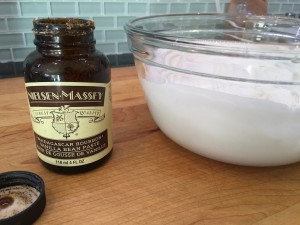 Vanilla Paste is one of the seven wonders of the cooking world (in my opinion!).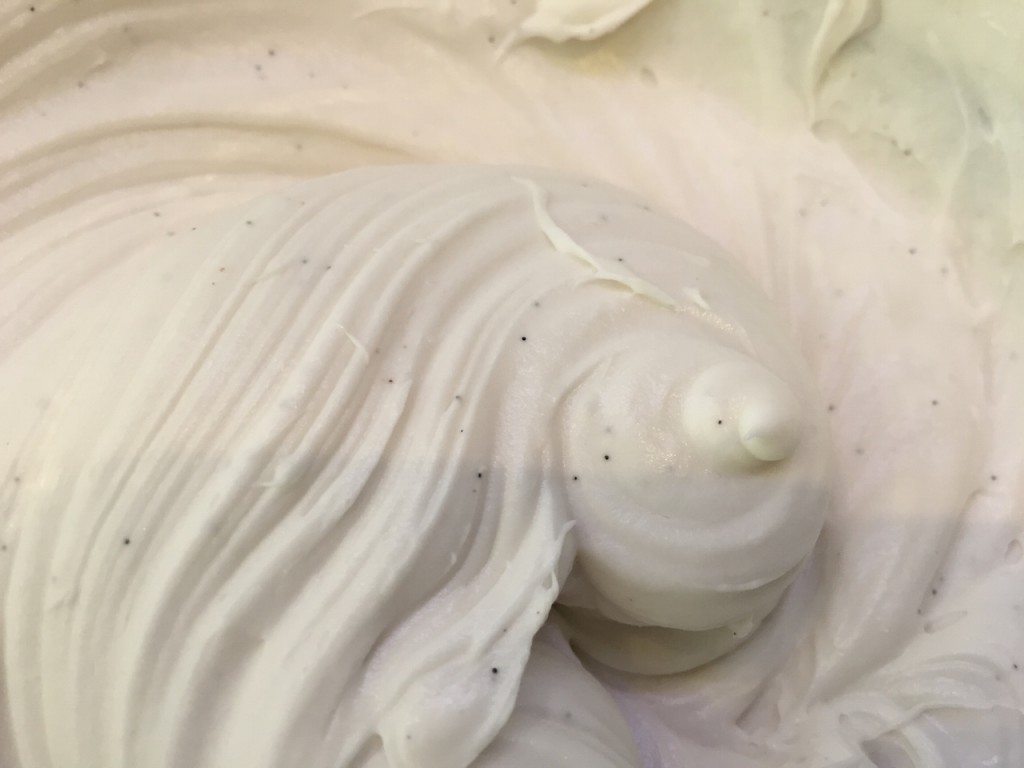 Step 4:
Oh, can you smell that!? Oh,…you can't , sorry.
That's it… you've got about 3 cups of creamy guilt-free decadence.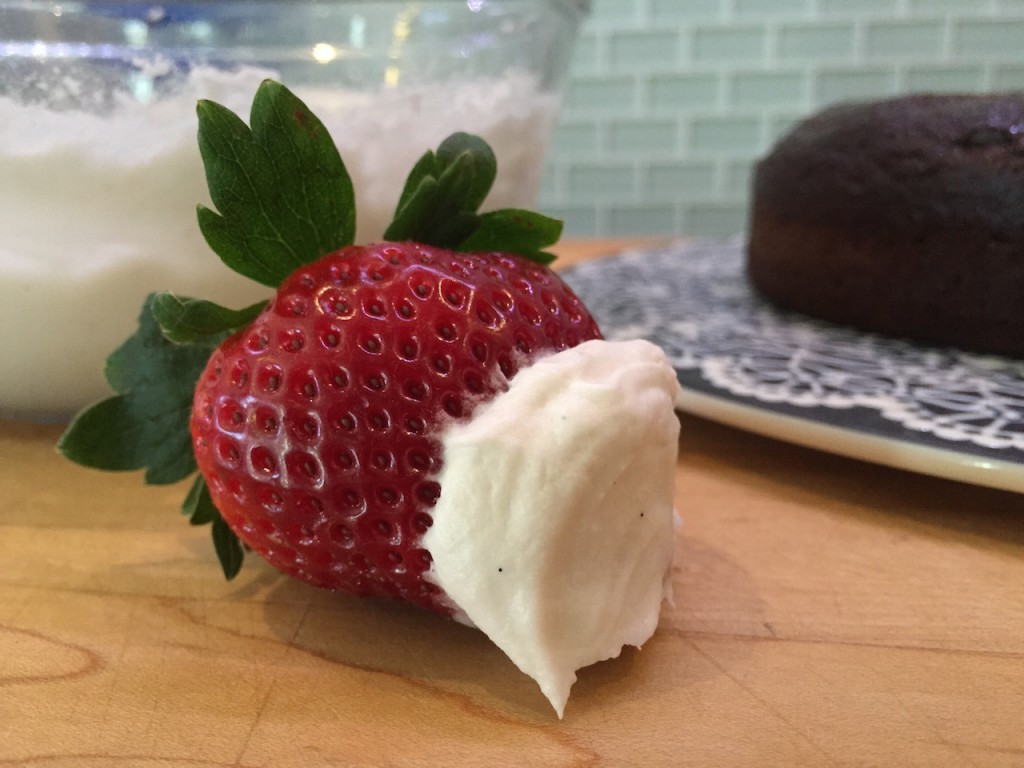 Can you decorate with it? Oh, yes you can !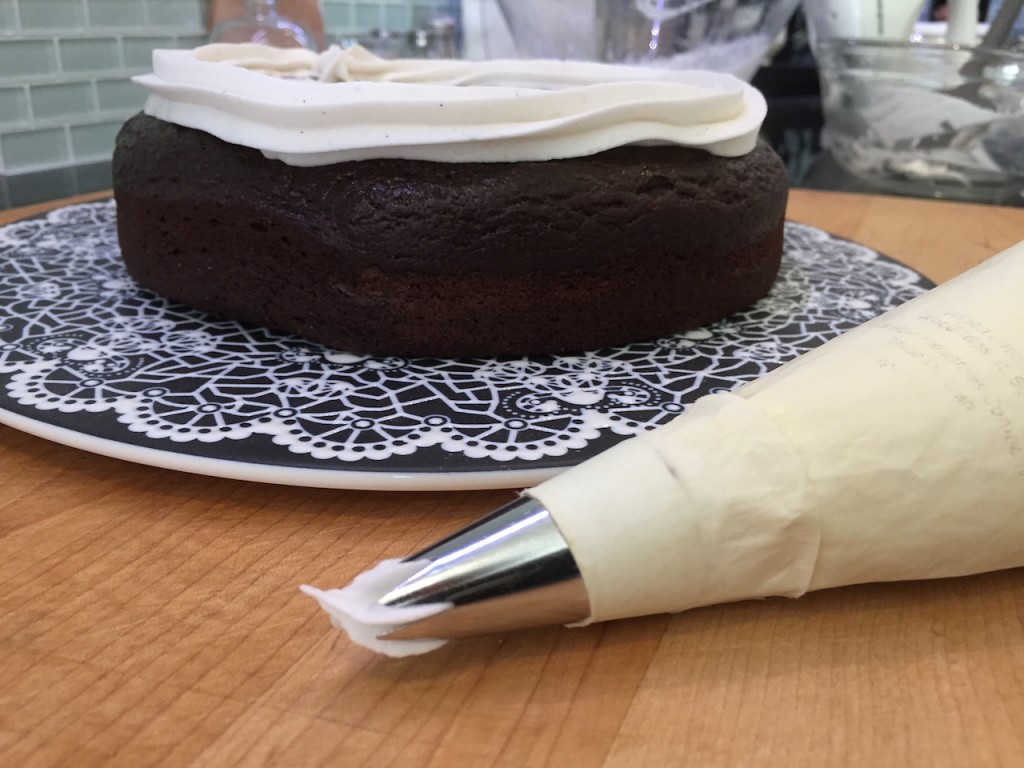 Gorgeous! I even left a slice out at room temp to see if it would melt – after a couple of hours, only one little ribbon fell away off the slice, but never lost it's ribbon shape. Awesome!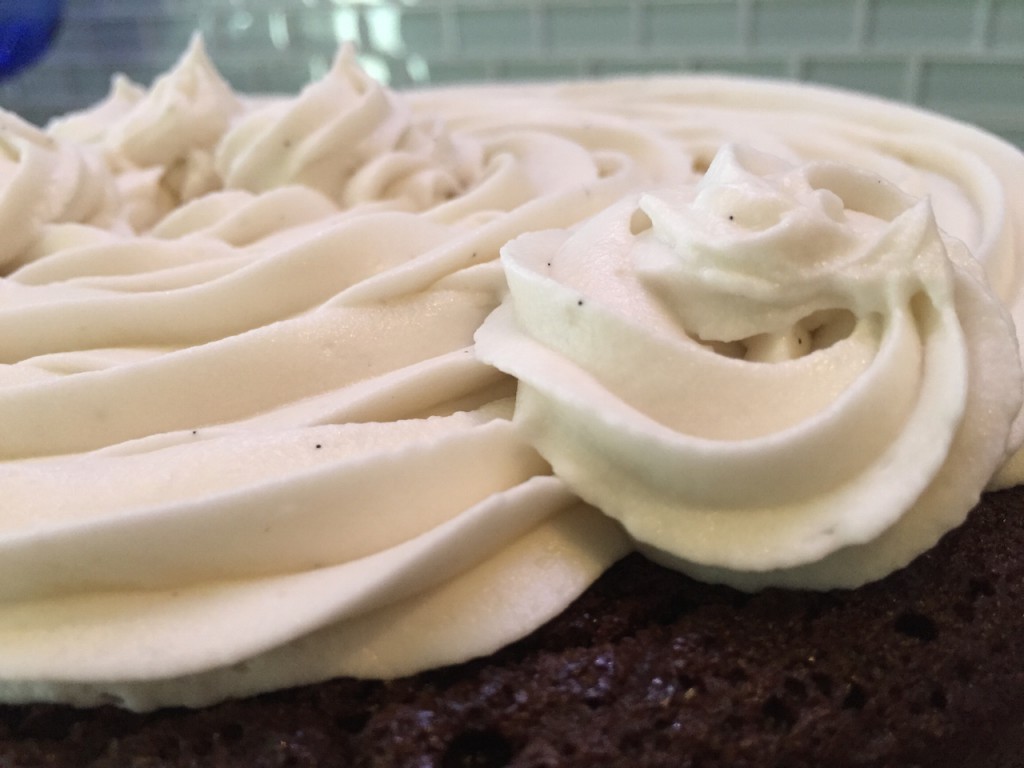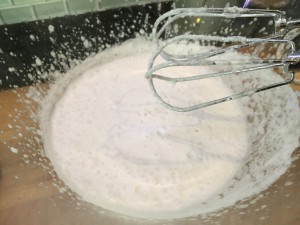 So, what happened with the Goya can? Well, I attempted to whip it – and just made a mess.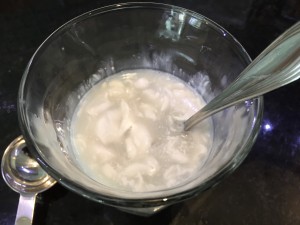 And what happen with the watery mess from the Thai Kitchen can? I really couldn't imagine consuming that… ever. Um, no,…not going there…
Ok, here's one last pic…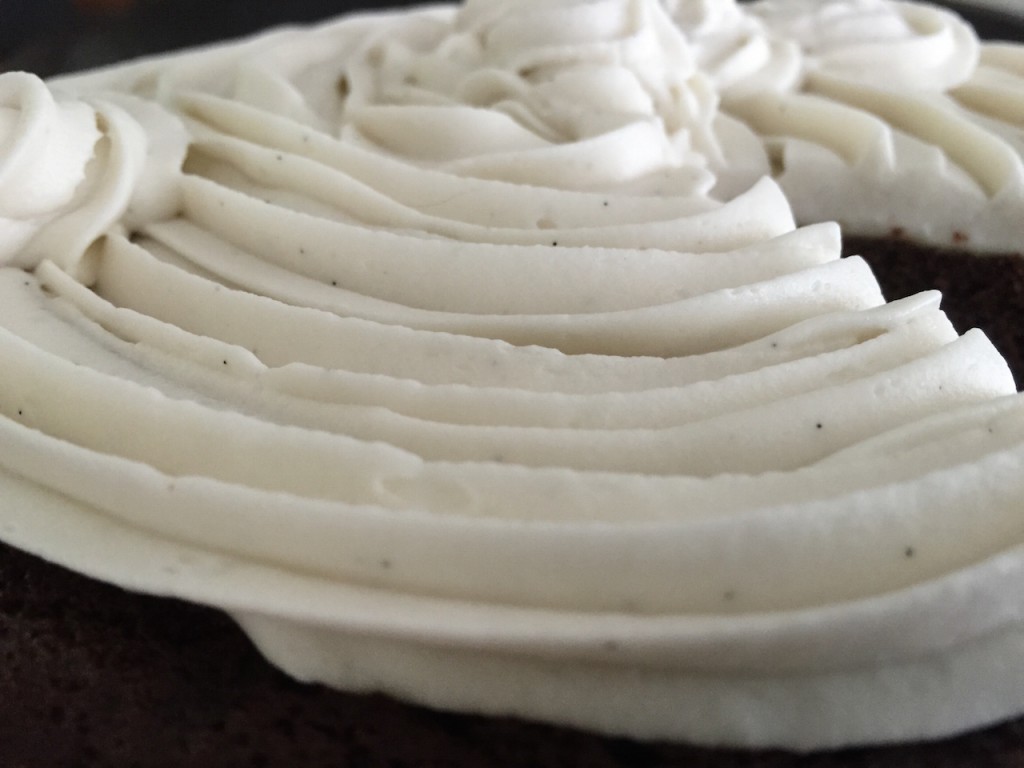 No, it's not part of an Alexander McQueen dress,…it's icing. Delicious, creamy, vegan, lower fat, lower calorie…icing.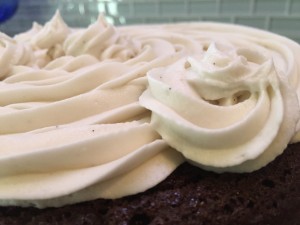 Coconut Milk Icing
2015-02-04 10:57:53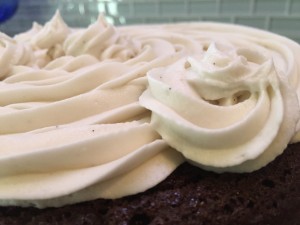 Creamy guilt-free decadence.
Ingredients
1 Can Coconut Milk, organic please.
1 Cup Powdered Sugar (I used Whey-Low for calorie savings)
1/2 tsp Vanilla Extract
1/4 tsp Vanilla Paste (more or less)
Instructions
Cool the coconut milk in fridge overnight to separate out the fats. Drain off the 'water'.
Whip the solids. Add in the sweetener and vanilla. Continue to whip until smooth.
Use at will.
Notes
You don't have to use vanilla. Feel free to go with almond extract for a cherry flavor, or Fiori Di Sicillia for a citrusy twist.
BadZoot https://badzoot.com/